Visit Date: May 2, 2015
A little more tour of the Kasbah.
Take the halfway paved road.
On this day, after visiting Ait Ben Haddou, we drove around a little bit and visited the nearby oasis and Kasbah.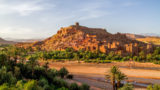 2015 Israel & Morocco Trip No.12 Ait Ben Haddou
Visit Date: May 2, 2015Enjoy the synonyms of Morocco.View of 'Ait Ben Haddou' from the hotel terraceThis da...
Since Ait Ben Haddou is located slightly off the national highway, we took a side road to get there, but the pavement here was not in good condition. Only the middle of the road was paved with asphalt.
So, if there is no oncoming traffic, you can just drive in the middle of the road, but if there is an oncoming car, you have to drive on the right side of the road because you will hit it. This means that the wheels on the right side of the road will run on the unpaved part. It was difficult to drive because the car was slightly tilted and rickety, but since there were many such roads in Morocco after that, I gradually got used to it.
In addition, the national highway is well paved and comfortable to drive.
The Oasis of Fint
We chose this place because it was very hot during our visit to Ait Ben Haddou and we wanted to go somewhere a bit cooler. The oasis is located about 30 minutes south of Ait Ben Haddou, but it was disappointing and uninteresting. And it wasn't very soothing (laughs).
The actual village is about 30 minutes to an hour's walk from the entrance where we parked our car, but we decided not to go there. Because it seemed to destroy the whole day. As for the Berber village, we think we can enjoy it fully in Merzouga where we will go in two days.
However, the road and scenery to get here was surprisingly interesting. At first, it's a paved road. However, there is a mysterious development area (apartment complex, industrial area). This is the only place where the road was well paved.
However, from a certain point, you will be on an unpaved road.
It shakes quite a bit, but I'm getting used to it.
It's rather fun to drive. It must be hard for the passengers…
Another Kasbah "Tifurtut".
This is one of the more well maintained Kasbahs in the area. I just dropped by The Oasis of Fint a bit and toured the interior for about 30 minutes. "This kasbah is located in a town called "Tiflutut. This one also has a beautiful shape and has been used for movie locations.
It cost about 50DH to get inside. It seemed that someone inside would guide us for free if we asked, but since it was not so big, we decided to visit it freely by ourselves. I think the inside was almost the same structure as riads like we stayed in Marrakech.
By the way, from the town of Ouarzazate, you can get there in about 10 minutes.
Our last dinner at Ait Ben Haddou
This day was a sightseeing day, after sightseeing in Tiflutut, we had a quick lunch in Ouarzazate and then returned to Ait Ben Haddad. I was able to come back at 4 pm.
It was quite hot, but after a short sleep in the hotel room, we had dinner around 7:30 pm.
Moroccan style omelet that we had yesterday.
And couscous for the first time in this place. It was a huge volume.
The dessert was an assortment of fruits. Again, there was a lot of fruit…. It was so delicious that we felt bad about having so much left over.
This is the end of our stay in Ait Ben Haddou. Tomorrow we will start exploring the southern Atlas Mountains in earnest. The Sahara Desert is just around the corner! (To be continued)