Visit date: May 2, 2017, approximately 7:00 p.m., overnight.
To be honest, I don't have much to write about because I visited here 9 years ago and the main attraction is walking around the city. However, the old town is large and powerful, and it is definitely very attractive. I chose this city for the purpose of staying in the city and enjoying its atmosphere rather than for sightseeing.
To the Parador in the old town, parking is a challenge.
As usual, we arranged the parador from the official website. Because it is located in the middle of the old town. Nowadays, it is very easy to navigate with Google Maps, but it is very difficult to drive on the narrow and cobbled road with many tourists, and on such a cobbled road with many slopes.
Still, the parking lot behind the Parador was already full. What should we do with the car for the time being? We parked the car there in a double parallel row and went to the reception. It seems that there is a private garage in the place where I went out of the old town a little, and he guided me to there by car. It takes about 5 minutes on foot, but it's a bit far, so the hotel staff led us to the garage by wagon, and of course I drove my own car. After that, he took me to the hotel again with his wagon.
By the way, here is the location of the private garage. It costs 10 euros per night, but it is very safe because it is an indoor garage.
Enjoy the Parador's restaurant
If you are staying in a parador, you should choose the restaurant of the parador. Because it is easy to pay for the meal. As usual, the restaurant starts at 8:30 p.m., which is late. Especially in Estremadura in the western part of Spain, sunset is quite late, so I feel dinner starts even later. If you just arrived from Japan, it's very hard to wait for dinner because of the time difference.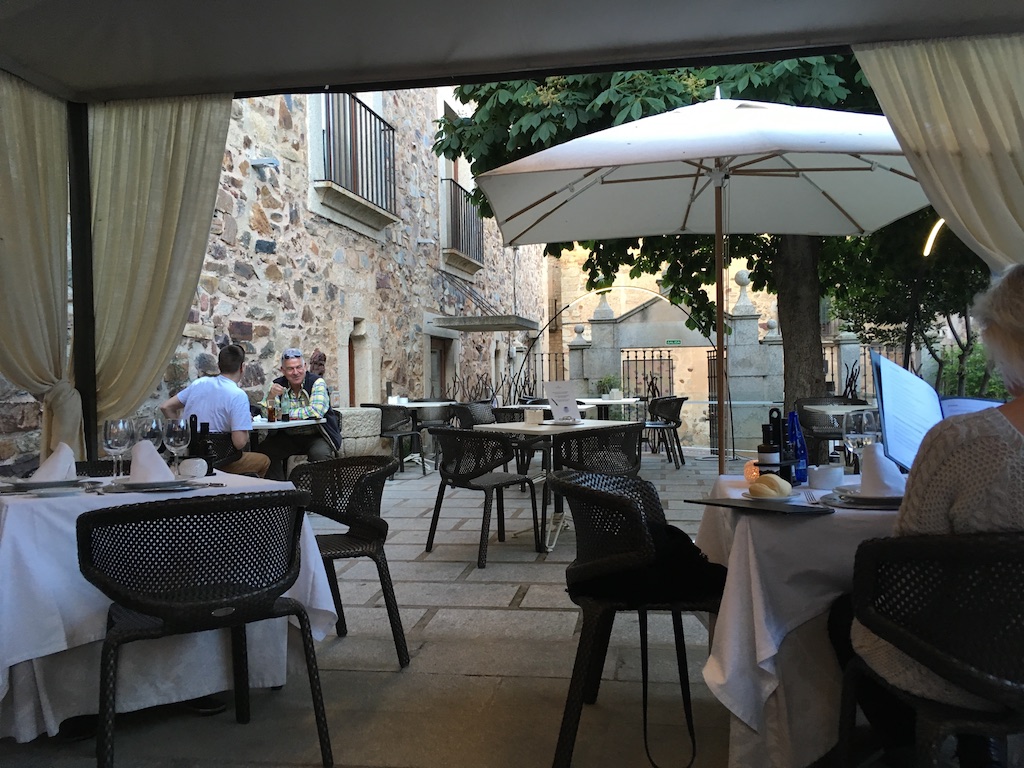 A bottle of wine arrives free when you order a menu item, just like any other parador. Really, this set-up is brilliant!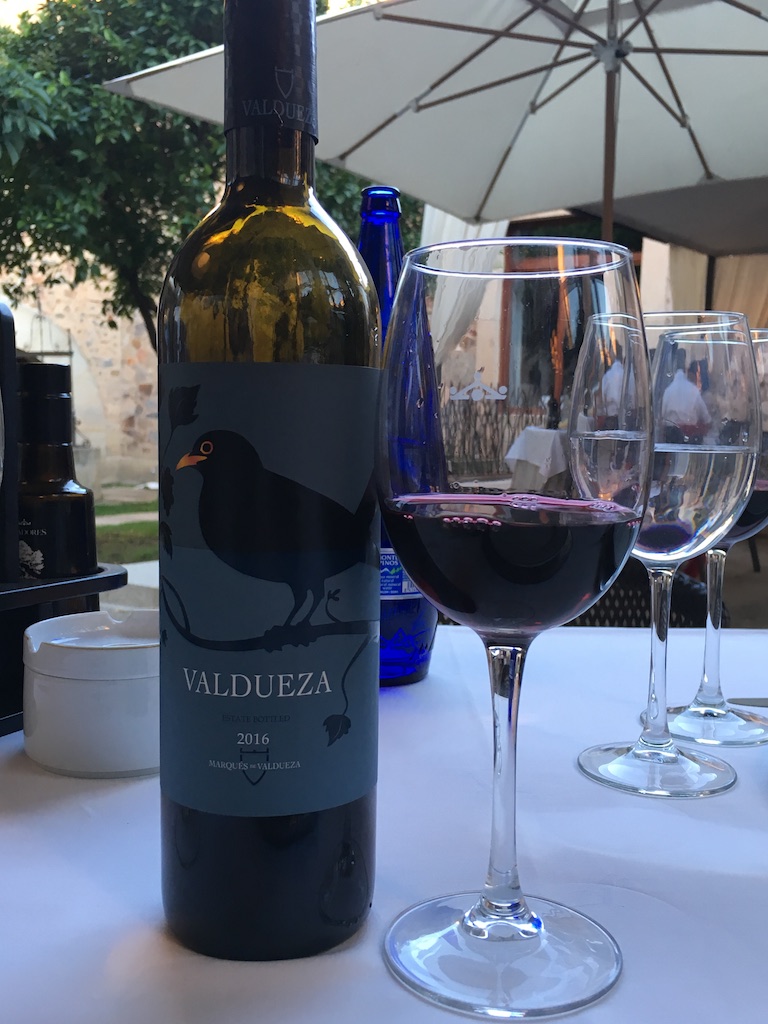 Estremadura is also the center of Iberian pig and Jamon Iberico production, as well as dairy farming. In the north, near the Duero River, a lot of good wine is produced, so it can be said to be an area of gastronomy.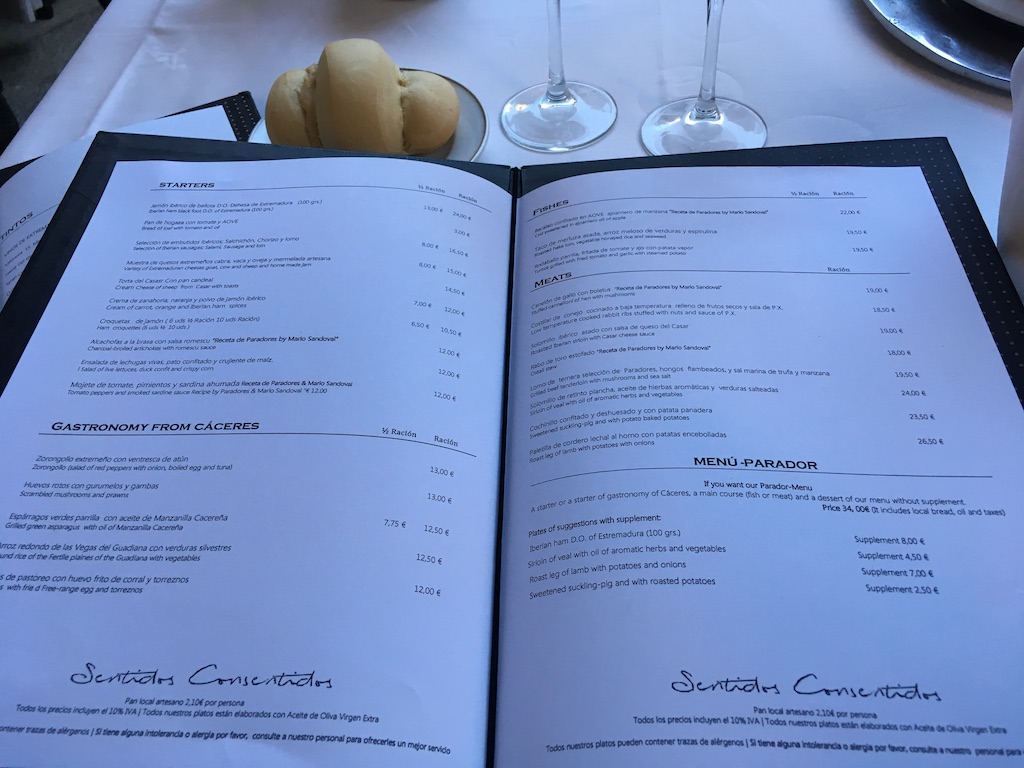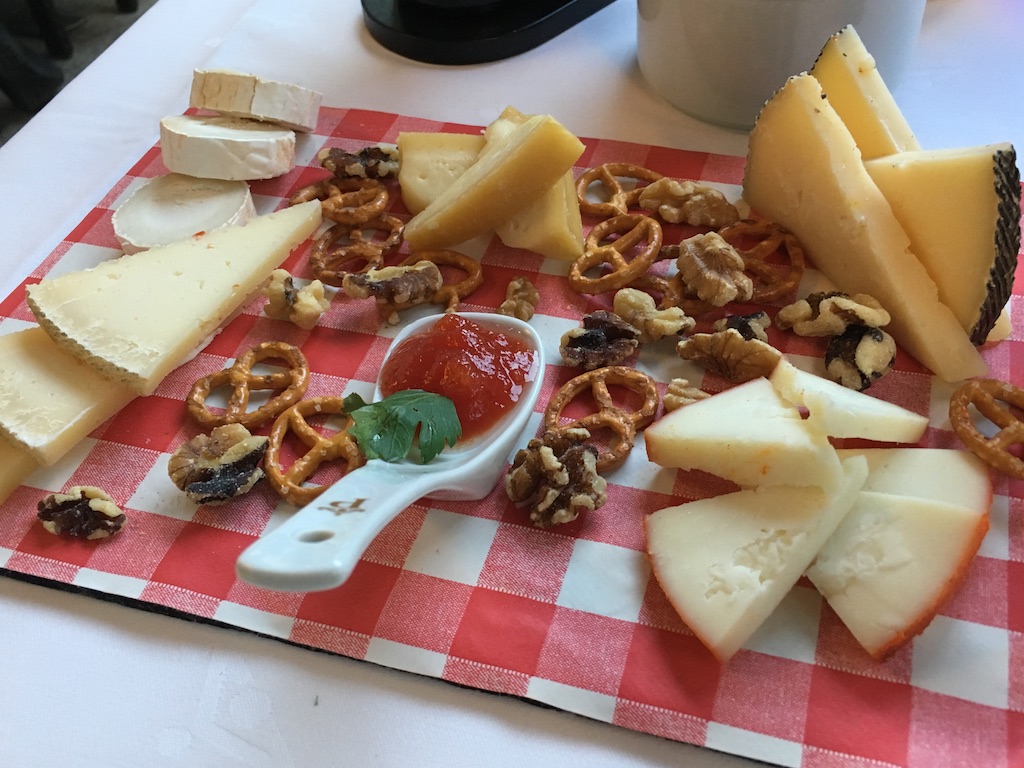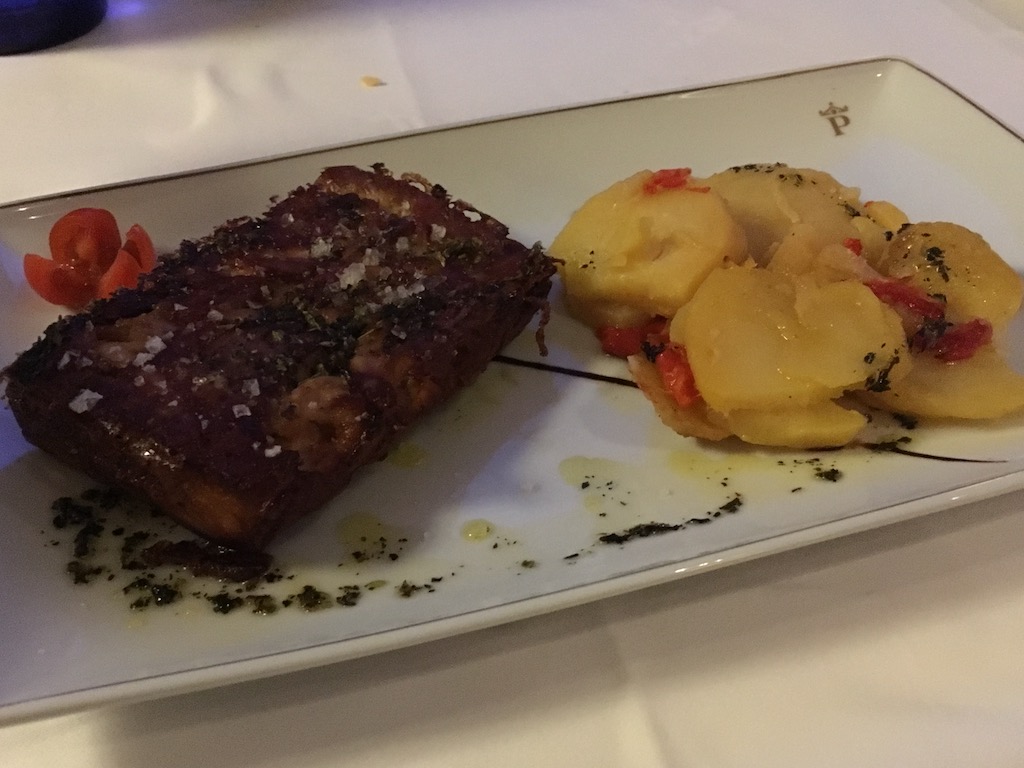 The old town, less sightseeing, less photos.
The old town of Cáceres is indeed beautiful. And it is powerful. It can be said that it is a medieval town of Europe exactly as I imagined. It is interesting just to walk around.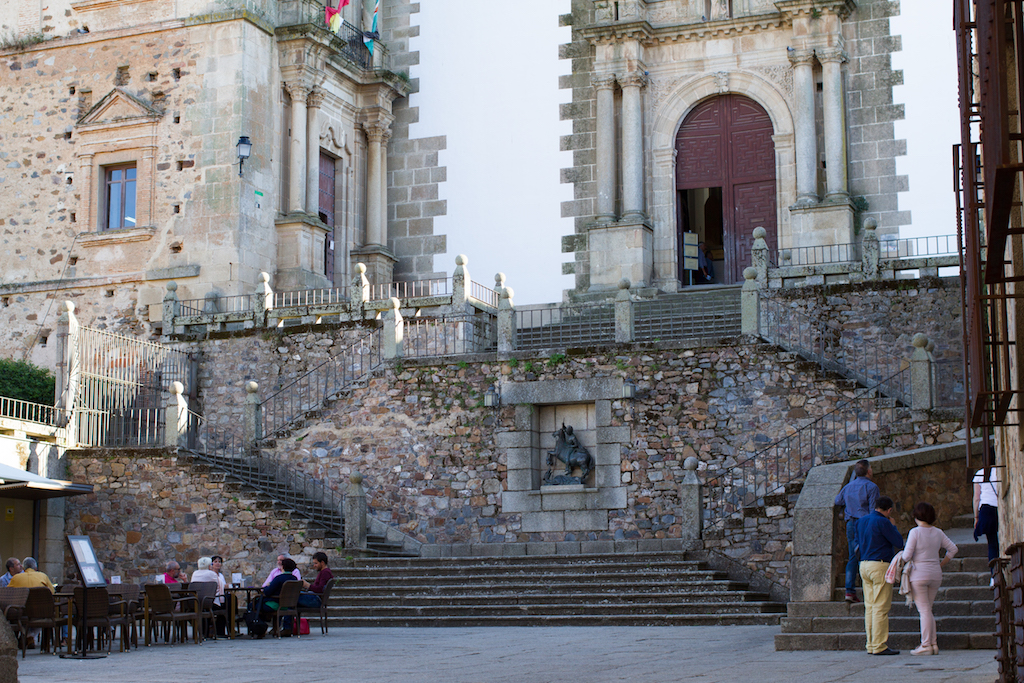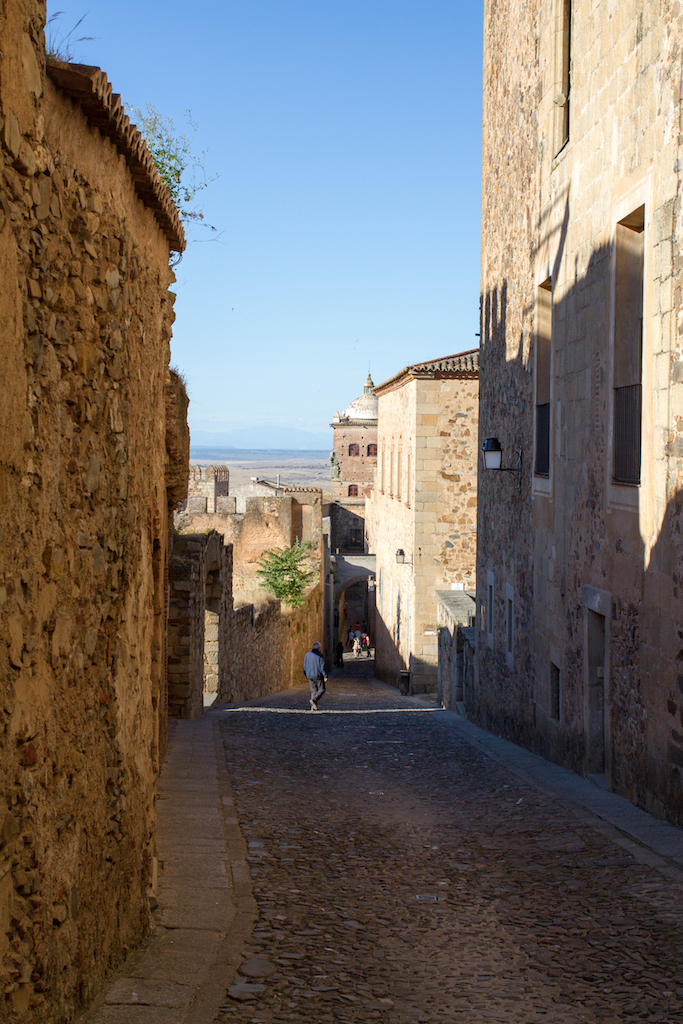 The history of Caceres is very old and it has already been inhabited since prehistoric times. As a city, it was first built in 25 BC as a Roman colonial city. After that, it was occupied by Muslims like other cities in the Iberian Peninsula. After the Reconquista, the city was surrounded by strong walls built for defensive purposes, and the interior is lined with brown stone buildings and Christian buildings, as you can see in other Spanish cities.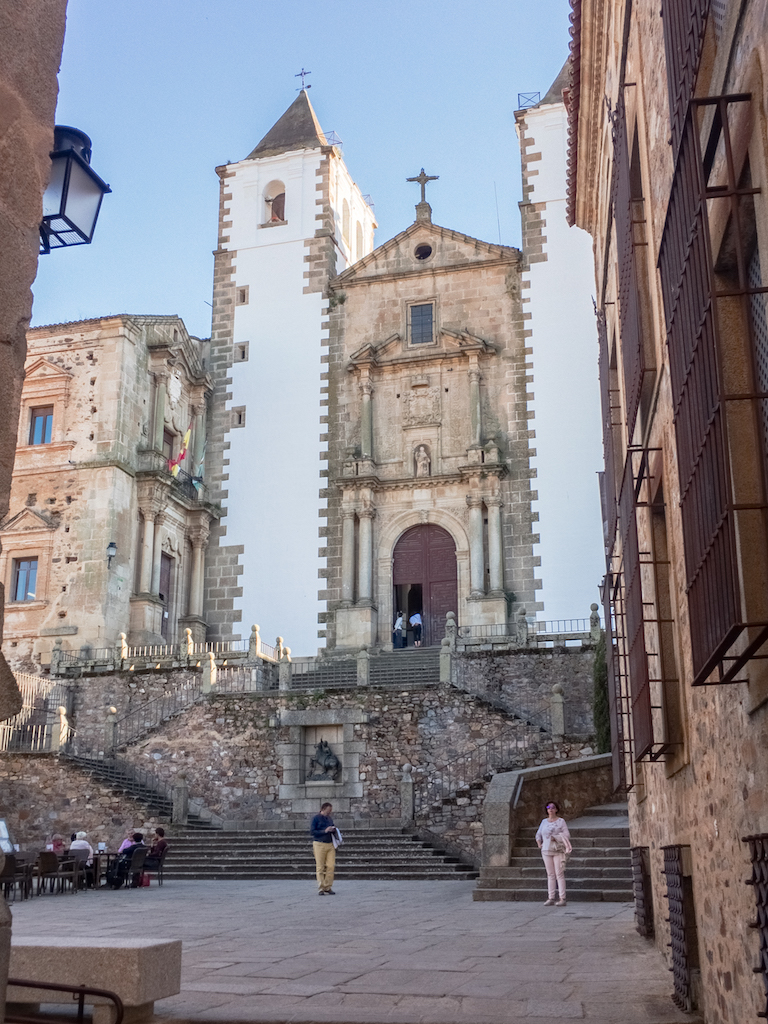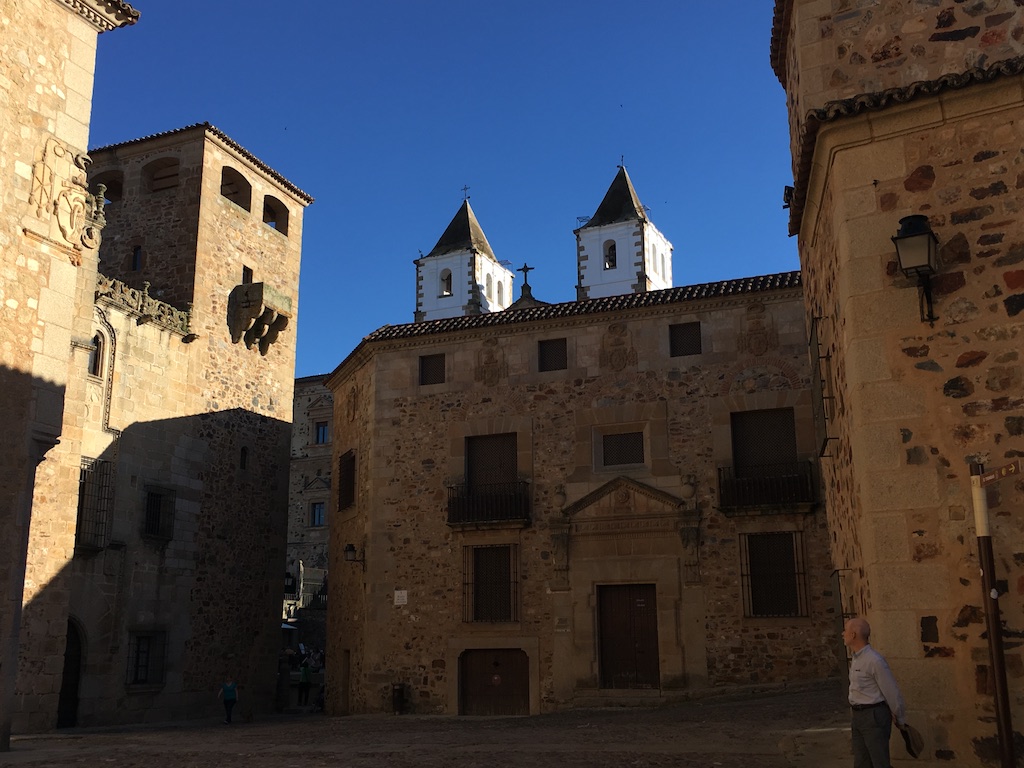 And this is also known as a major city on the "silver road" as well as Mérida and Salamanca (which we will visit the next day).
It was such a wonderful city, Caceres, but on the day we arrived, it was very hot and sunny with not a cloud in the sky, and because we had to visit three World Heritage sites to get here, we were honestly tired and didn't walk around the city much. So, there are really not many photos.
I think I didn't walk around the town too much, because I had seen so many small villages. At least I should have visited the Plaza Mayor and taken some pictures. (To be honest, the atmosphere of Salamanca was better…)
Even so, I think there is a problem in the way of the schedule. If I could have traveled a few days longer, I would have liked to stay two nights in this town. Anyway, I'd like to visit the Silver Road again, so I'm sure I'll stop by this town again.
The World Heritage section, which is not quite finished yet, continues. (To be continued)