Date and Time of Visit: September 12, 2017, approximately 12:00 p.m.
2017 is a year I'll never forget. This blog led to a career change. And in September of that year, I took advantage of the moratorium period before changing jobs to travel to Switzerland and France for about three weeks. I left on the 11th. I arrived at Charles de Gaulle Airport in France on the same day, rented a car and drove to my first destination, Switzerland. But we couldn't get there in one day, so we stayed one night in a town called "L'Engle", which is famous for AOC cheese, located in the middle of the airport and Basel, Switzerland. The next day, we entered Switzerland at noon on the 12th.
Before entering Switzerland, I dropped in at the EuroAirport Basel-Mulhouse-Freiburg Airport. It may seem like an ordinary regional airport, not so big in size, but it is certainly not wrong in its role. The airport is located near the border of France, Switzerland and Germany. The airport itself is in French territory.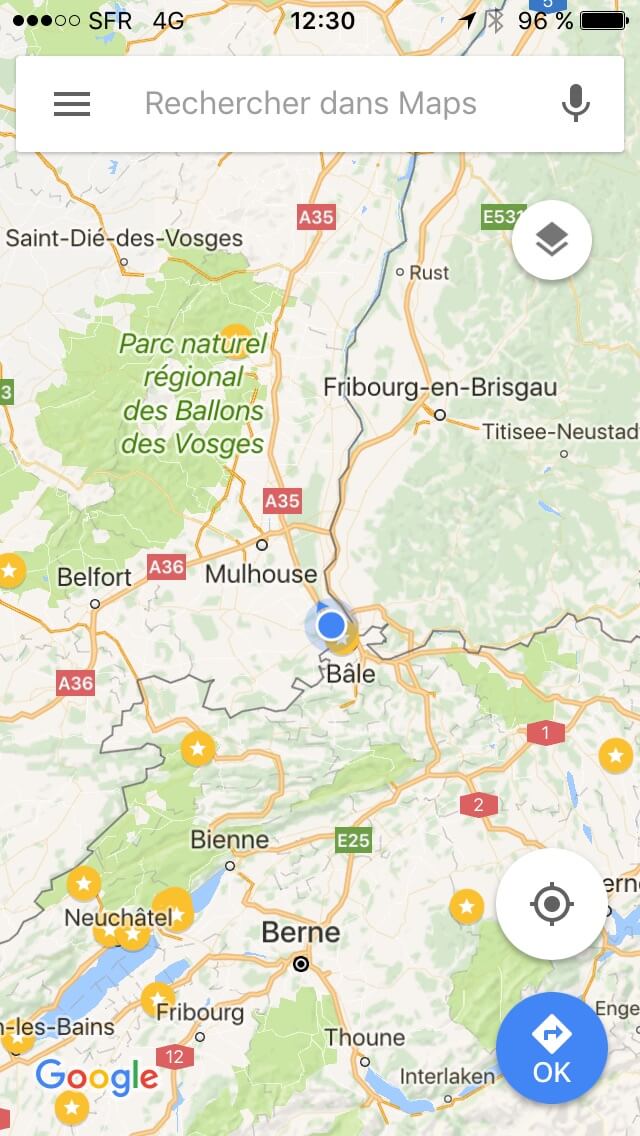 So, it is available from Basel in Switzerland and Mulhouse in France. But the country is different. Switzerland is a member of the Schengen Agreement, so you don't have to go through immigration when you travel overland (in fact, people from non-euro countries have to go through a thorough inspection because of terrorism and immigration), but the country is not in the EU, so the system is different. But there is only one airport, or rather one runway facility (there are multiple runways). So, the airport is divided into two buildings. The north side is under the jurisdiction of France, and the south side is under the jurisdiction of Switzerland.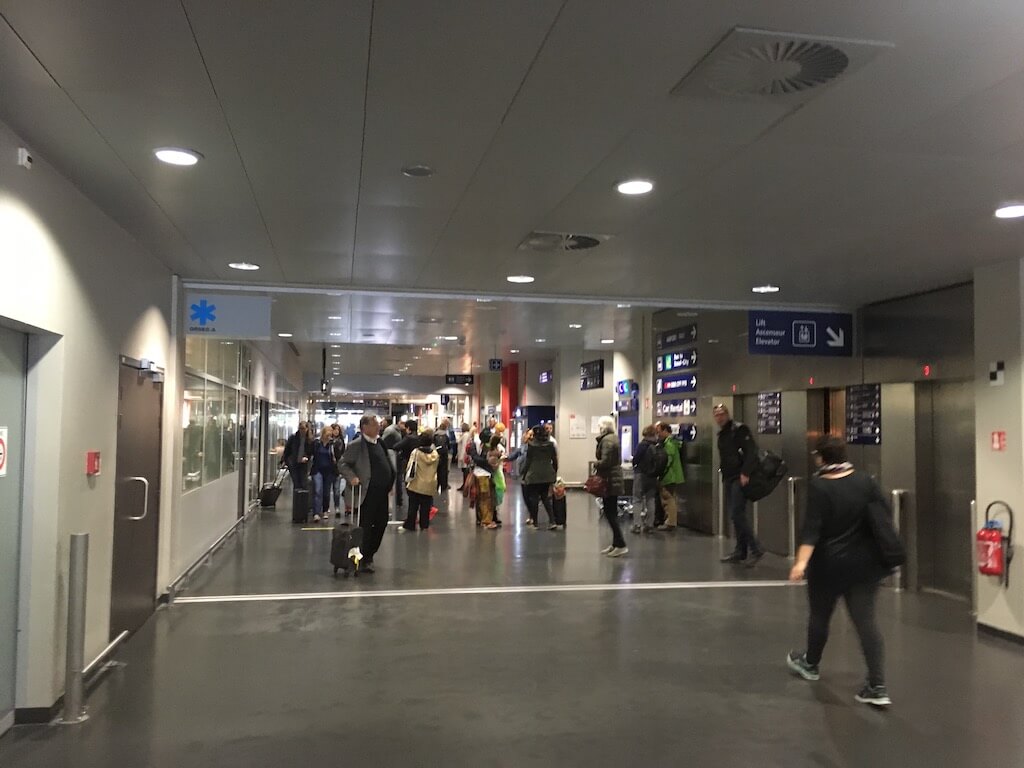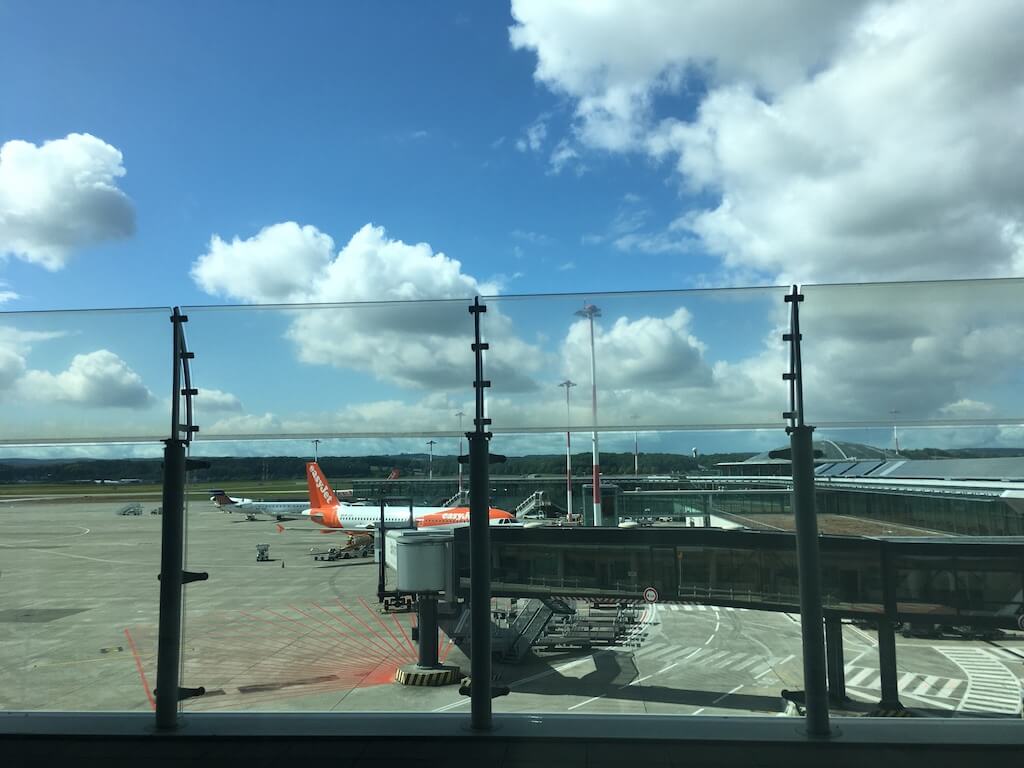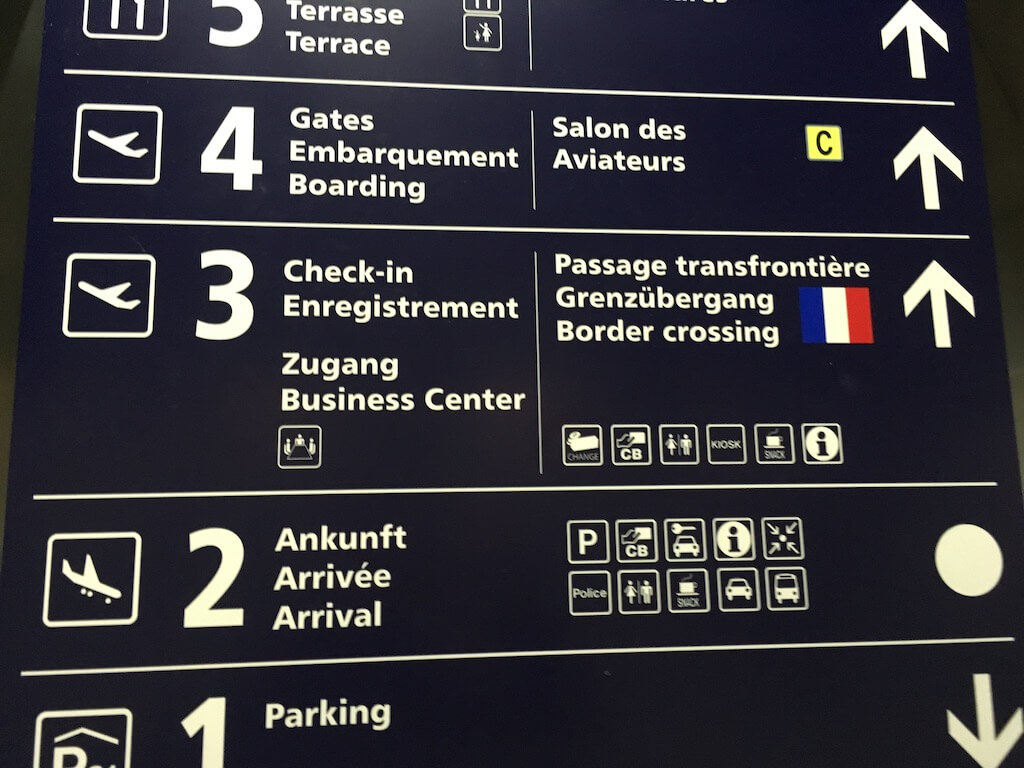 In my case, I came to this airport by car, but since I came from the French side, I parked my car in the French side. The parking lots are completely separated, and if you park on the French side, you can't drive to the Swiss side. This is something I noticed when I first came here by car, so I thought I should always take my passport with me when I walk around the airport grounds. When I travel in the countryside of Europe by car, I always keep my passport in my bag no matter how small the town is. I'm more afraid of being left behind in the car. (I don't think such a thing is likely to happen because of the safety…)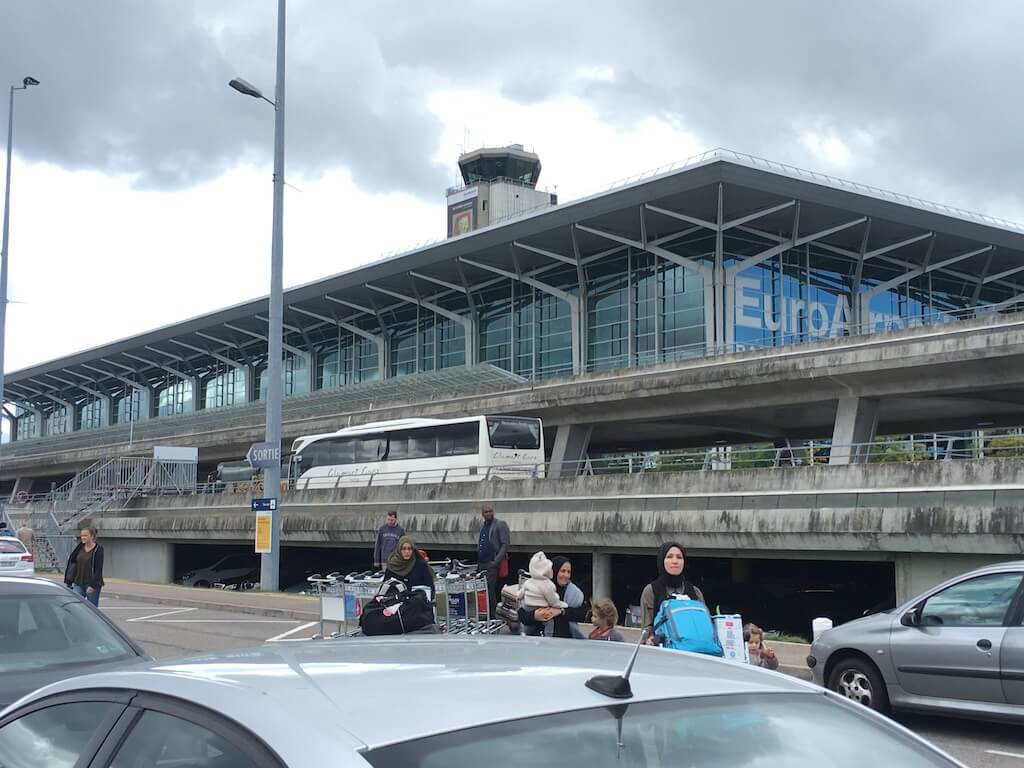 We couldn't go to and from the parking lot, but it was fine inside the building. However, the departure lobby and arrival lobby were slightly different. First of all, in the arrival lobby on the 1st floor, you can freely go from the French jurisdiction side to the Swiss jurisdiction side, but not the other way around. I was in a hurry because I parked my car on the French side, but on the other hand, I could go back and forth freely without any check in the departure lobby on the 3rd floor, although there is a "border" as shown in the picture below.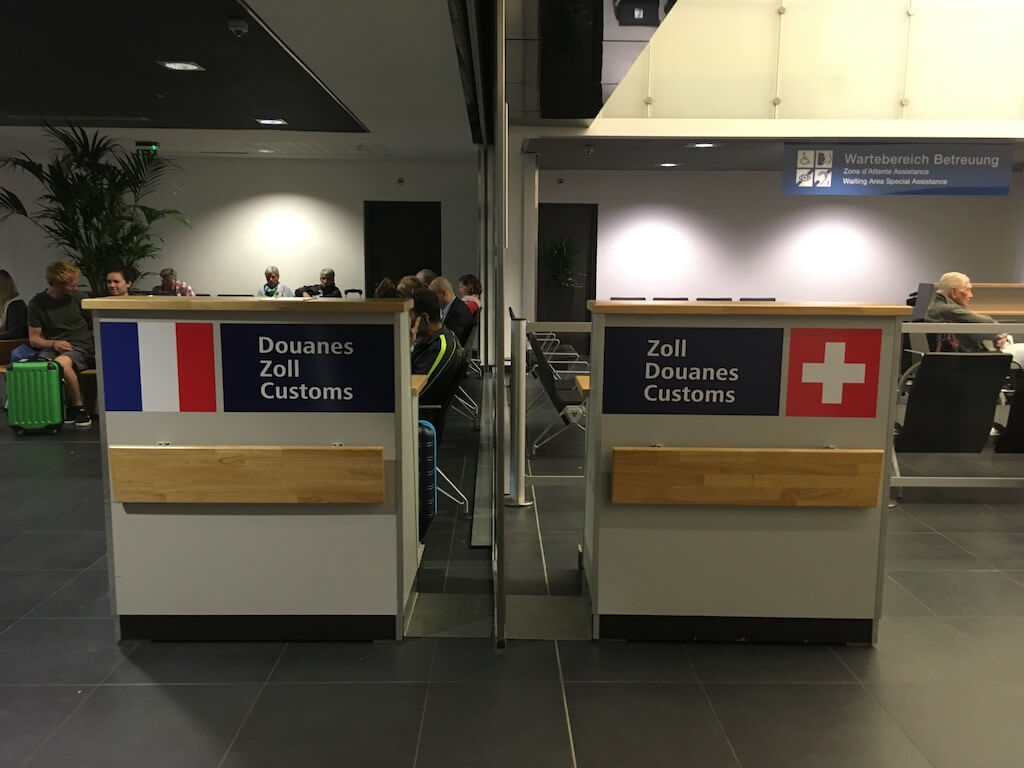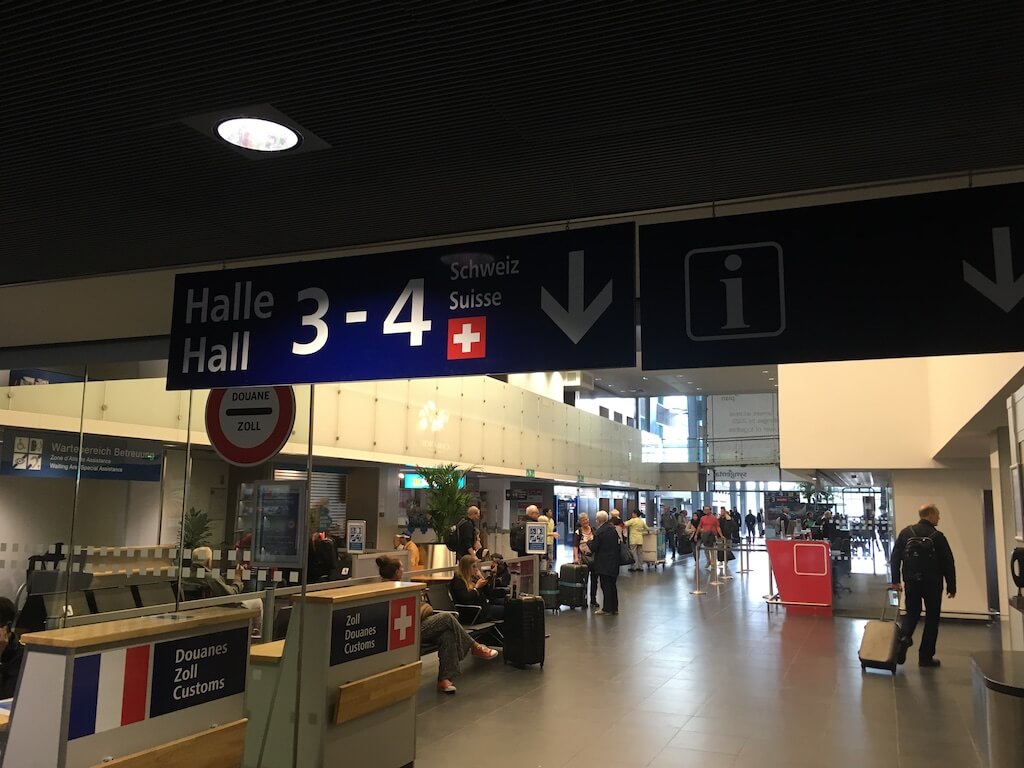 By the way, the language, French side is French, of course! On the other hand, Switzerland was German. Basel is a German-speaking city. I guess people in this area can speak both languages.
The shops in the airport, both in France and Switzerland, seemed to be well-stocked. We had a meal here because we arrived just around noon. Both jurisdictions had a basic food court-like restaurant. Somehow I think the Swiss side was better. (Surprisingly) I ordered pasta because it looked good for some reason. Carbonara with lots of cheese. It's neither French nor Swiss food. But it was delicious.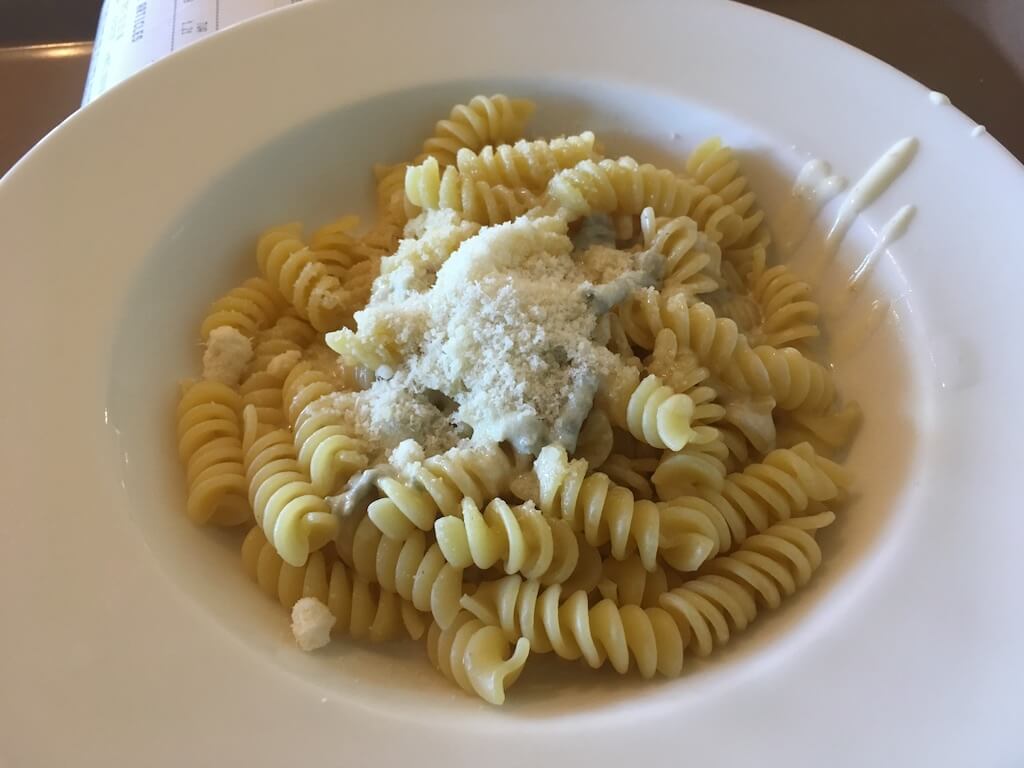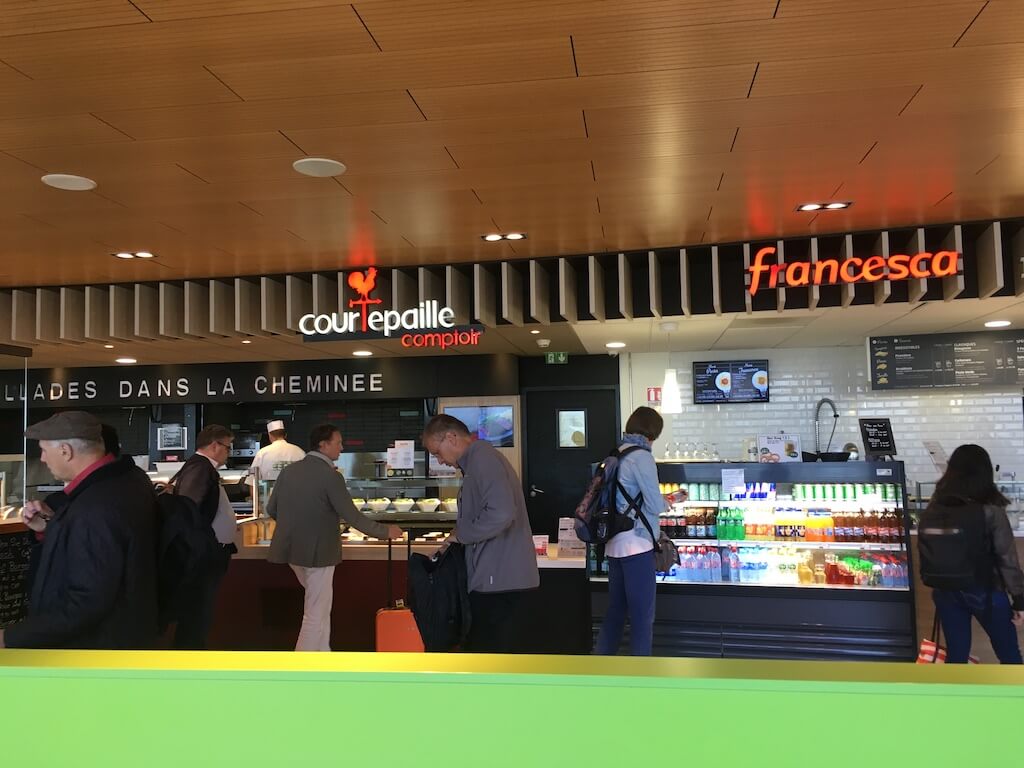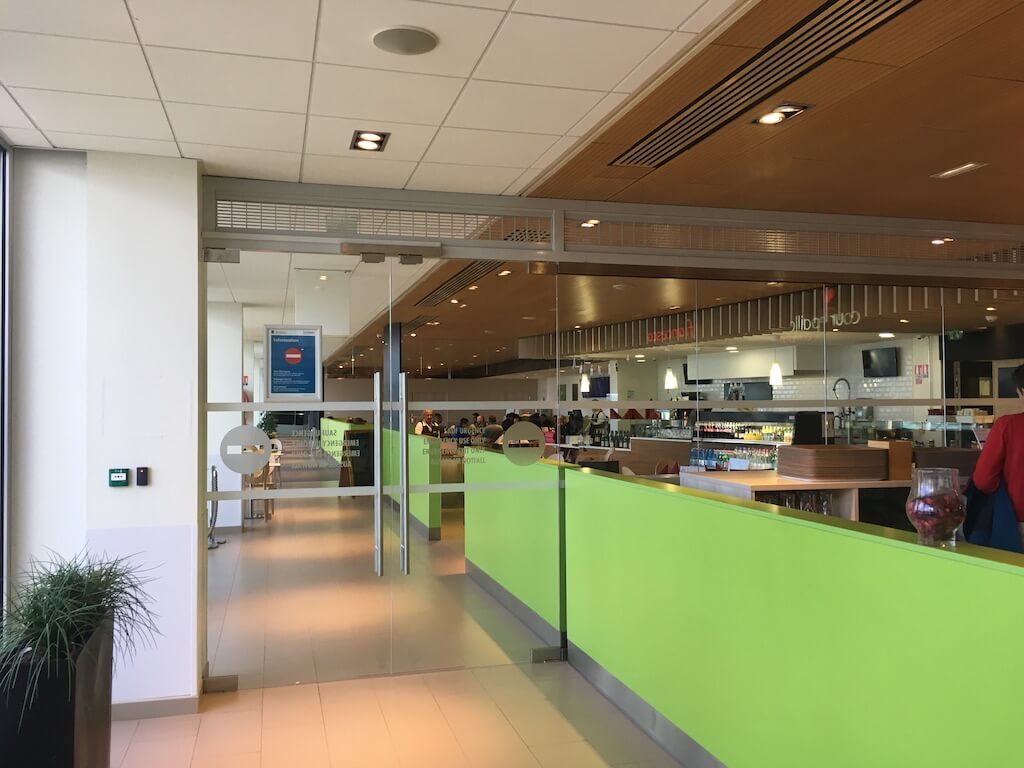 Now, another purpose of coming to this airport is to change money into Swiss Francs. I had cashed out Euros at the airport in France right after I arrived here, but I didn't have any Swiss Francs. Actually, if you don't have some Swiss Francs in cash, you will be cheated. It is a viniette fee.
The photo is old, but here is the real one. If you drive on the highway in Switzerland, you have to put this sticker called "Viniette" on the windshield. It costs 40 Swiss Francs. You can buy a vignette at gas stations and supermarkets near the border, but sometimes they don't sell them. If you are entering Switzerland via the motorway, you can buy it from the police, who will always be there. This is the easiest way, but unfortunately, you can only use cash. If you don't have Swiss Francs, you will be charged 40 Euros. The euro is about 10% more expensive than the Swiss franc in relation to the Japanese yen, so paying in euros is more expensive and you will get ripped off.
So I needed to get some cash in Swiss Francs, which was another reason for stopping at this airport. I thought it should be possible to get a credit card cash advance at this airport because it is probably used in Switzerland. As it turned out, it was possible, but there was still one pitfall. I could only withdraw Euro at the ATM in France. To get Swiss Francs, we had to go to Swiss side.
However, the movement of the jurisdiction side (is it the movement of the country?) was possible as mentioned above, so I was able to carry out the purpose without a problem, and I was able to buy a vignette from the border police for 40 Swiss francs safely.
I don't think I'll get a chance to visit, but I'd like to take a flight next time.