Visit Date: May 1, 2019, approximately noon.
I visited this World Heritage Site for the first time in the first year of 2049, but I was disappointed in conclusion. Although it was all day on May Day and a big crowd affected it, the influence that San Leo which I visited just before was calm and beautiful may be large.
So this will be a low tension post.
The history of San Marino was mentioned in my last post, but also here.
Mario and Eleo were devout Christians who, in the late 3rd and 4th centuries, came to Italy from Dalmatia (in present-day Croatia), just across the river, to work on the walled city of Rimini in Italy.

However, it was still a time when Christianity was not recognized and persecuted in the Roman Empire. In order to escape from the persecution of the Emperor Diocletian, Mario went to Mount Titano and Eleo went to Mount Ferretrio.

Later, the two were canonized and Mount Titano was called "San Marino" and Mount Ferretrio "San Leo".

Nowadays, we could clearly see the city of San Marino from San Leo on Mount Feretrio. I also visited there later and could see the city of San Leo on Mount Ferretrio, although it was a little difficult to find from San Marino on Mount Titano.
Italy to San Marino
The Republic of San Marino is surrounded by Italy, so the roads are a bit limited, but you can basically enter the country from any direction. There are some border signs, but if you don't look carefully, you might miss them.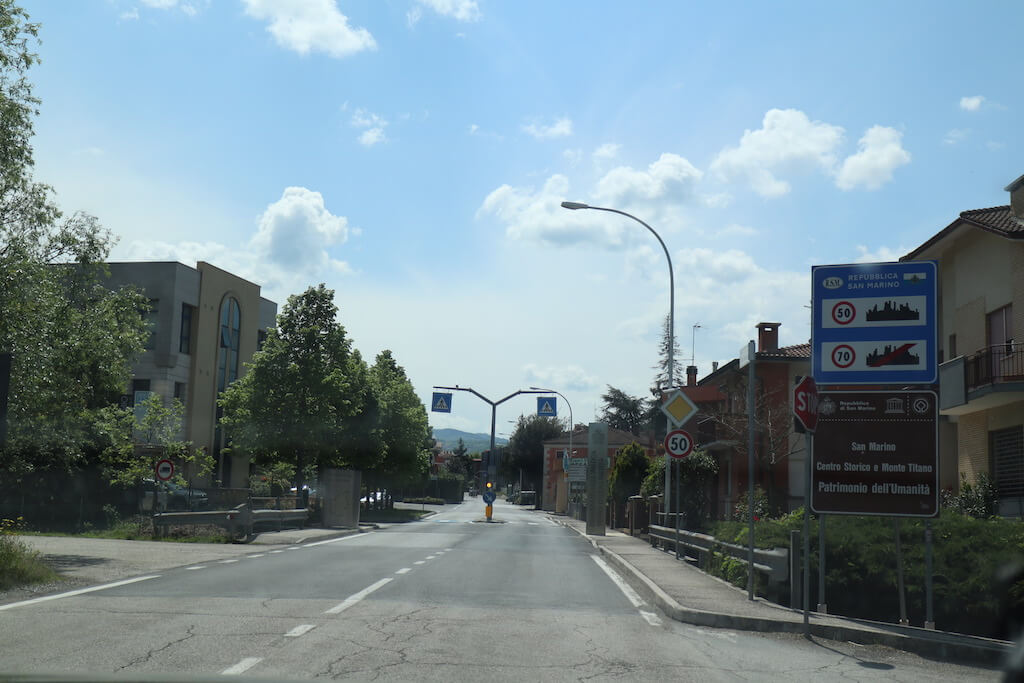 However, the country may be more prosperous than Italy, and the roads are very well paved. You can feel that you are in San Marino by the quality of the roads.
The so-called tourist attraction is the Mount Titano area. The area around Mount Titano is a residential area. I have an impression that there are many splendid houses. It's a good way to get to Mount Titano, but it's a bit of a climb. I thought I would reach the city center in about 5 minutes after entering the country, but the slope was so steep and the road so winding that it took me about 15 minutes to reach the parking lot from the entry after all. It took about 15 minutes to get to the parking lot.
All 10 parking lots are full.
Due to the fact that it is one of the most popular tourist destinations, parking in this city is very good. There are 10 parking lots operated by the city (or country?). There are 10 parking lots operated by the city (or country?), and separately, there was also a parking lot near the station of Funicular that can go up to the old town at once. Later, I realized that when it was very crowded, I parked my car at this Funicular and thought that it would be easier to go to the old town by Funicular to save time and to come and go.
However, since it was my first visit, I didn't realize this fact at the time and my only thought was to get as close to the old town as possible. It was May Day, a national holiday, and San Marino was very crowded and congested. We were directed to P9 or P10 by the security guard (police). From this parking lot, you can go up to the old town by stairs or elevator.
The elevator is very crowded and if you are lucky, you can get on. But it doesn't take much time even if you go up by stairs. I think the description is a little too much.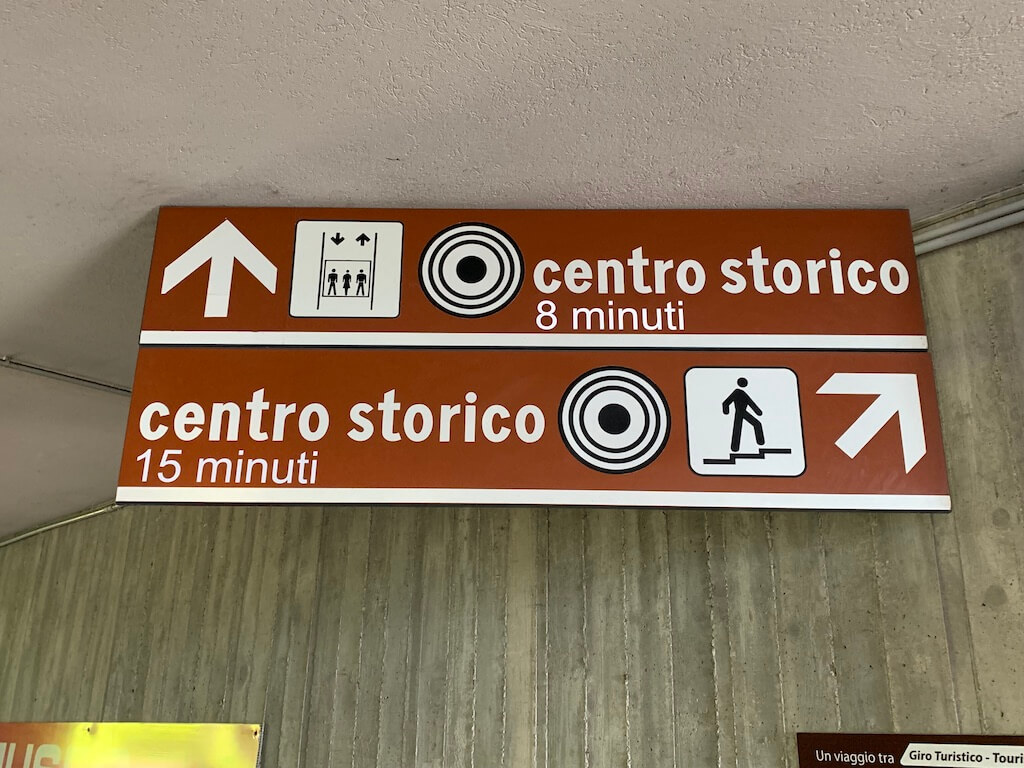 Beautiful, but too touristy and disillusioning.
Well, the old town is beautiful, but to be honest, it was not interesting. There are a lot of people and it is too touristy, so it was not a good atmosphere. I'm not good at places with many people.
It's a great view, though.
The main attractions are Piazza della Libertà and the fortress.
There are various detailed sightseeing spots and you can do shopping, but I didn't buy anything and didn't enter anywhere. My stay was very short. What can I say, I wanted to escape quickly.
For the time being, it was only for the purpose of filling up the list of world heritage sites to visit.