Visit date: April 29, 2019, overnight.
From Tuscany, I came to Emilia Romagna, the neighbor to the north, and to Bologna, the city representing Emilia Romagna. This is the second time for me to visit, but to be honest, I only passed through most of the city in 2007, so I wanted to take my time to see the sights and decided to find accommodation in this city for the third day of my trip.
Unfortunately it was rainy and cold that day, so we did not do much sightseeing. I think it was around 3 o'clock in the afternoon when we arrived at the city of Bologna. For the accommodation in Bologna, we arranged an apartment relatively close to Piazza Maggiore, which we found on Booking.com as usual.
お世話になったアパルトマン:Marconi Apartment
Now, since we are traveling by car, parking is important. As you know, Bologna is a big city, so we were worried about where to park. There are many parking lots in the city, but they are either public or municipal, and even if they are public, the size varies. Of course, it would be better to park close to the apartment, and the owner of the apartment introduced the place to me, but it was a little small and difficult to enter, and the car I was renting was very big this time. We decided to go to a place in the north of the center of the city (see the map below) which takes less than 10 minutes on foot.
The city of Bologna is inside the main road SS64, which surrounds the city center. If you enter from Via Mille or Via Irnerio, you should be able to reach the parking lot easily. The view was also good.
It is an apartment, but it is in a very good location. I've been to many apartments in the area and I've written a lot about how to use them in this blog, but it's always fun to feel like you're solving an RPG puzzle until you get into your room. Even in Italy, you can use English. We communicated with them by email, and the response was very fast.
After leaving our luggage at the apartment, we went into town for a little bit of sightseeing. It was cold, but we went to the University of Bologna, which was still possible to visit in time and distance from the apartment. It is located behind the central Piazza Maggiore. After 5 minutes of walking, we arrived at Piazza Maggiore. Here you can see the City Hall, the King Enzo's Palace and the Basilica of San Petronio.
Well, we went to the University of Bologna first. The University of Bologna is one of the oldest universities in Europe with a long history. I heard that it is still active, and some of the lecture rooms are still used for lectures and conferences. In fact, university students come and go frequently, and some of them are open to tourists for a fee.
The most famous is probably the Anatomy Grand Staircase Classroom, where the world's first practical dissection took place.
There was an explanation plate of each language. There was Japanese, too.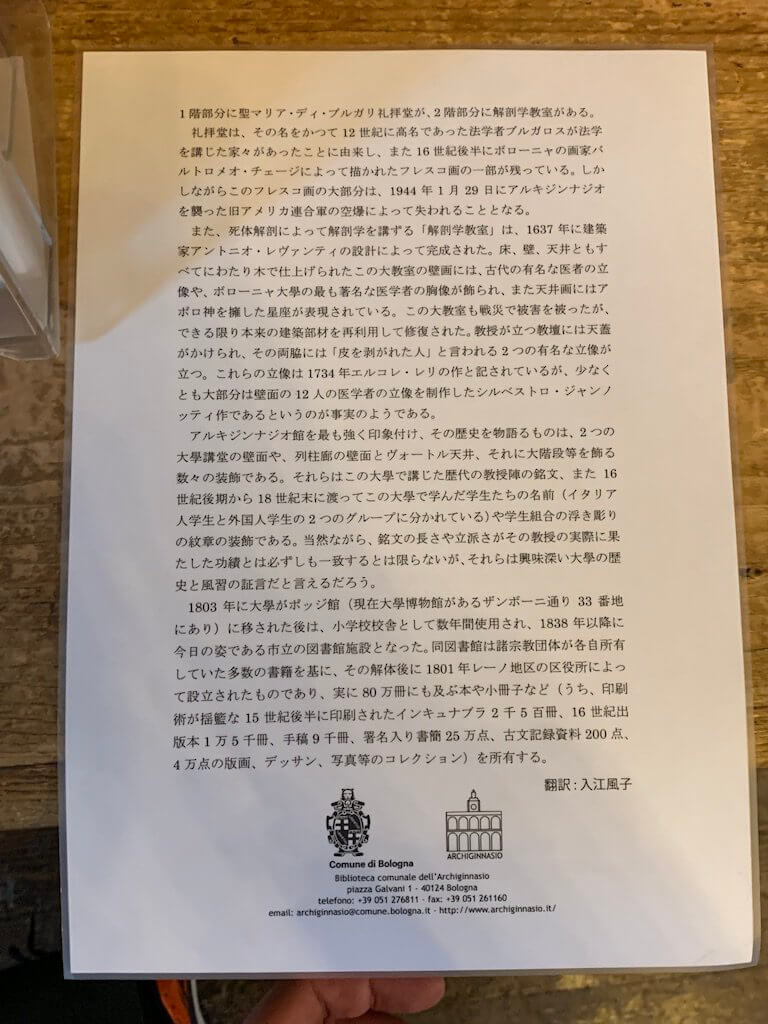 Bologna was under fire during the Second World War, and this university was no exception.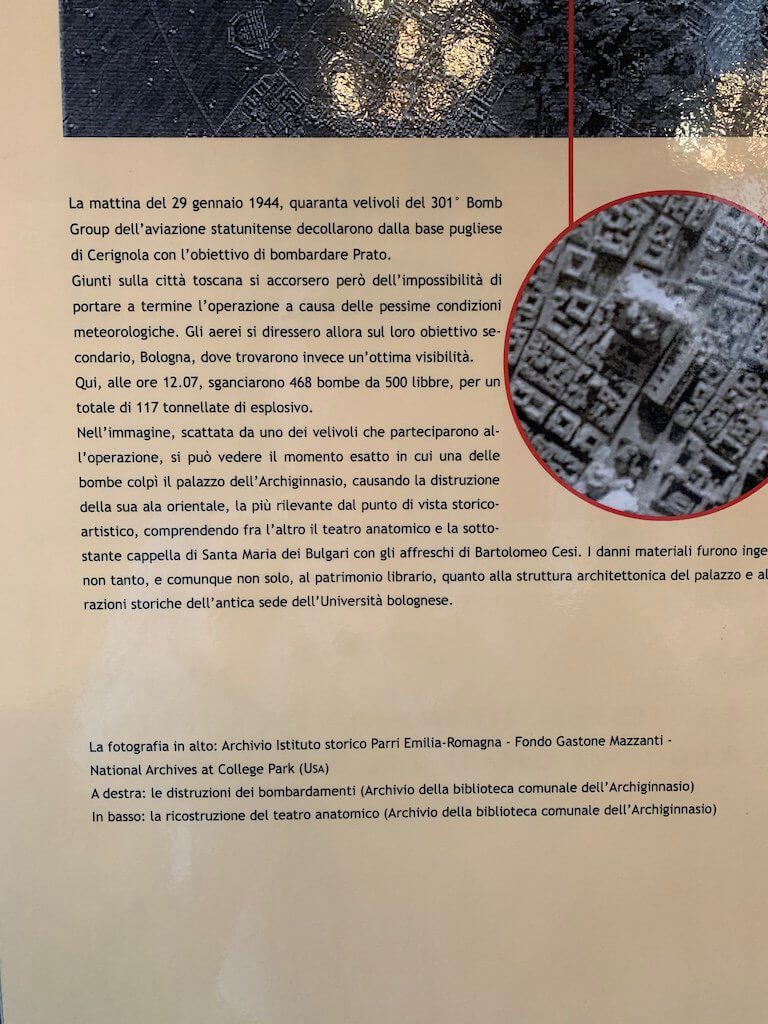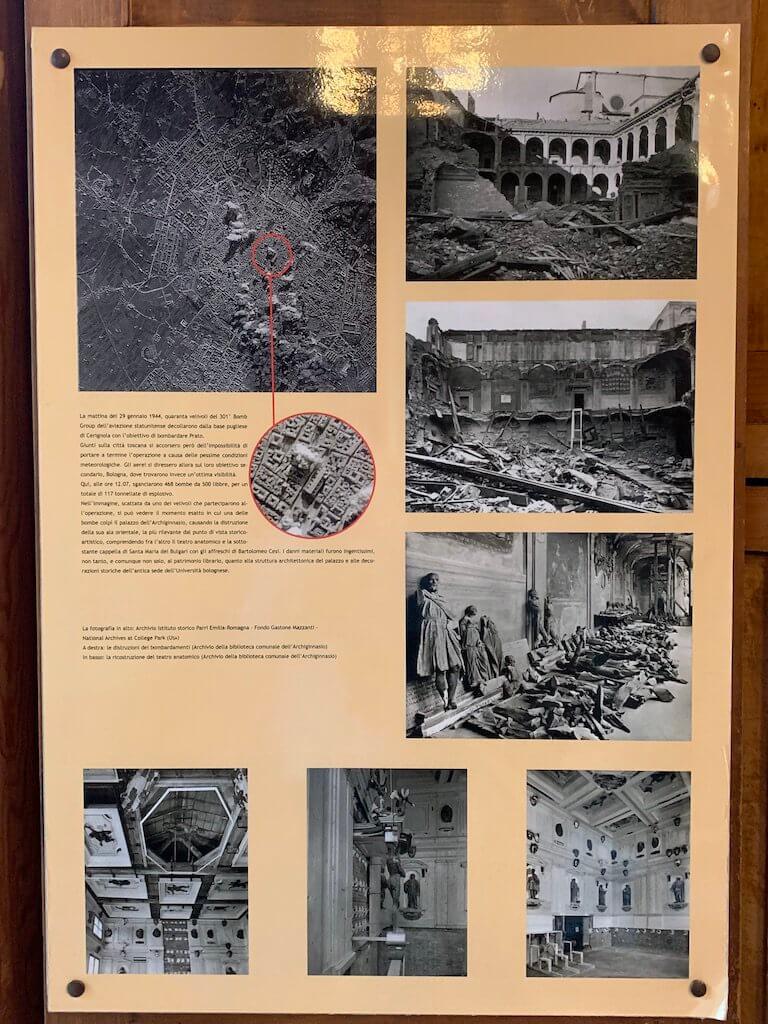 Another highlight is the library. It is probably still in use, but we were able to see some sections of it.
After the University of Bologna, we went to San Petronio Cathedral. The guidebook says that it was built between the 14th and 17th century, but it is still unfinished.
Because it was cold that day, and because we traveled a long distance by car even though it was only the third day, we decided to have an evening nap at the apartment after visiting the University of Bologna. I think I was not feeling well. So we didn't go out for dinner, but bought some pasta and salad at a nearby restaurant, Marcato, and had a light dinner at the apartment. The apartment is very convenient in this kind of situation.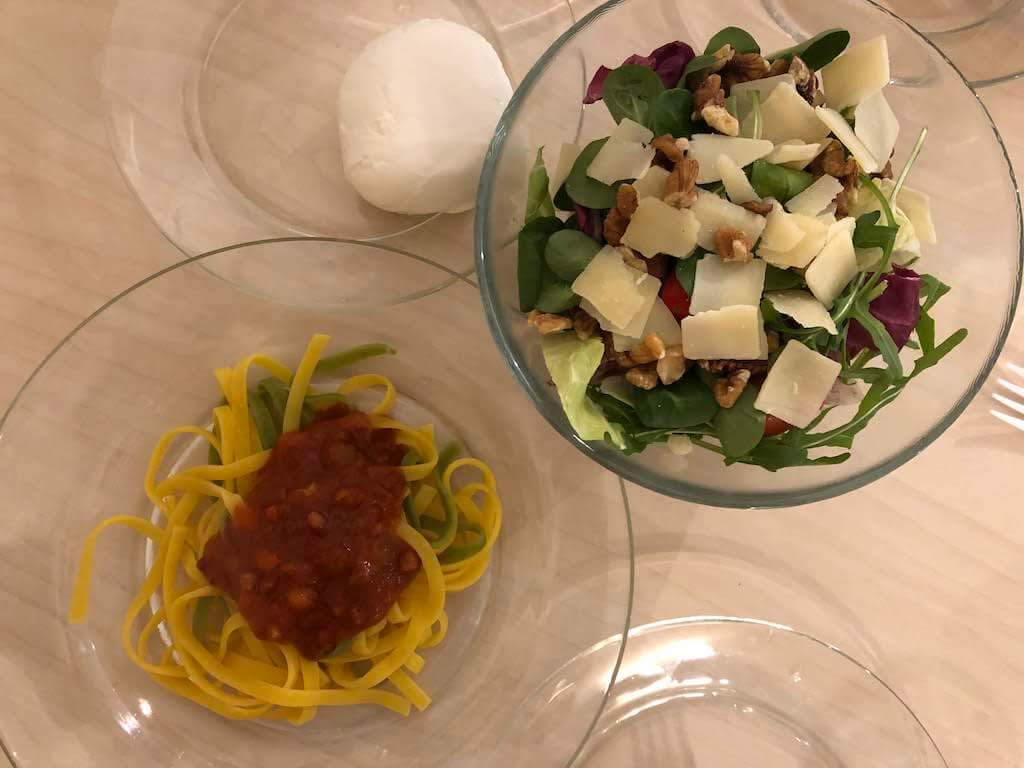 By the way, although I've traveled a lot in Italy, I've never had the experience of eating or shopping in Marcato. I wonder if it is a custom in Italy that there are many places to eat. In Modena, which I visited next day, I could have a debut of eating at Marcato, so I will report it in my next report.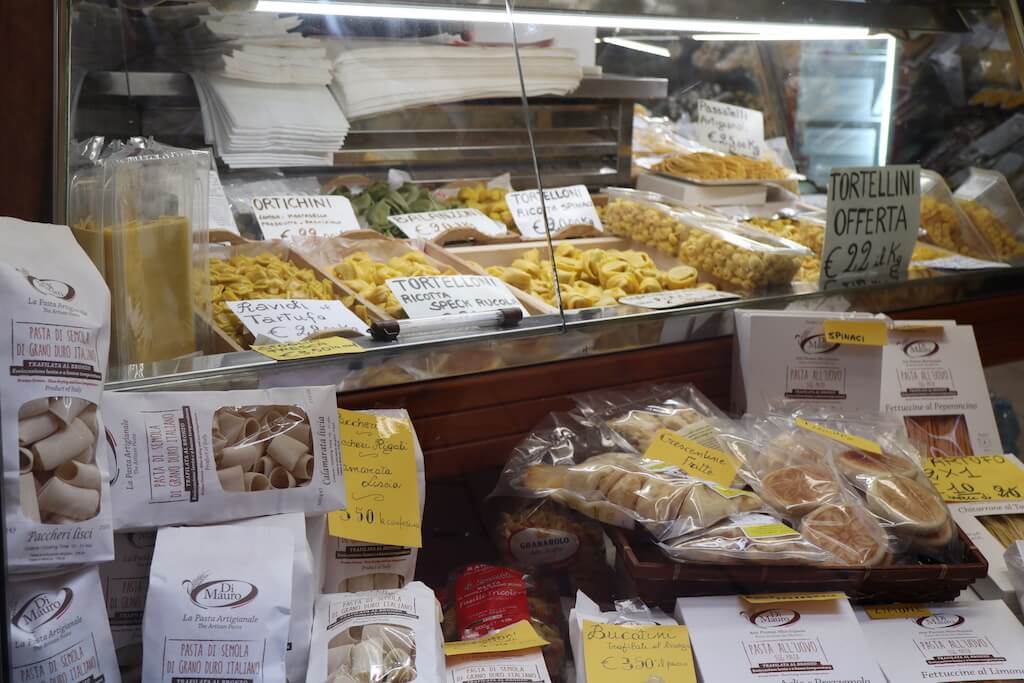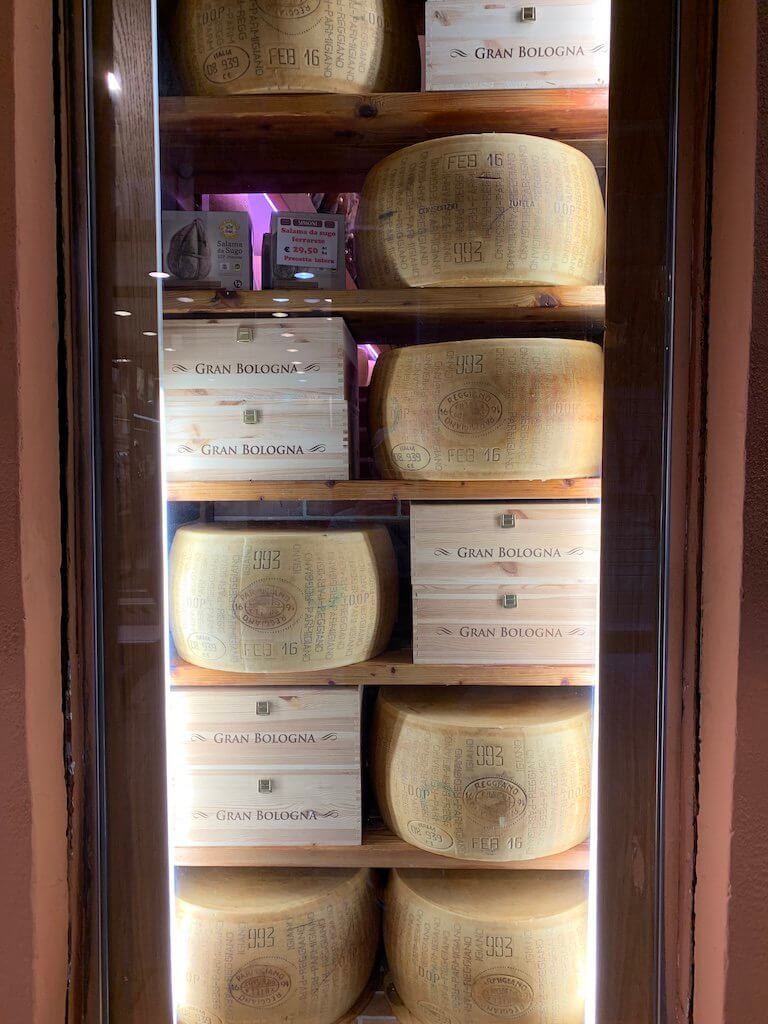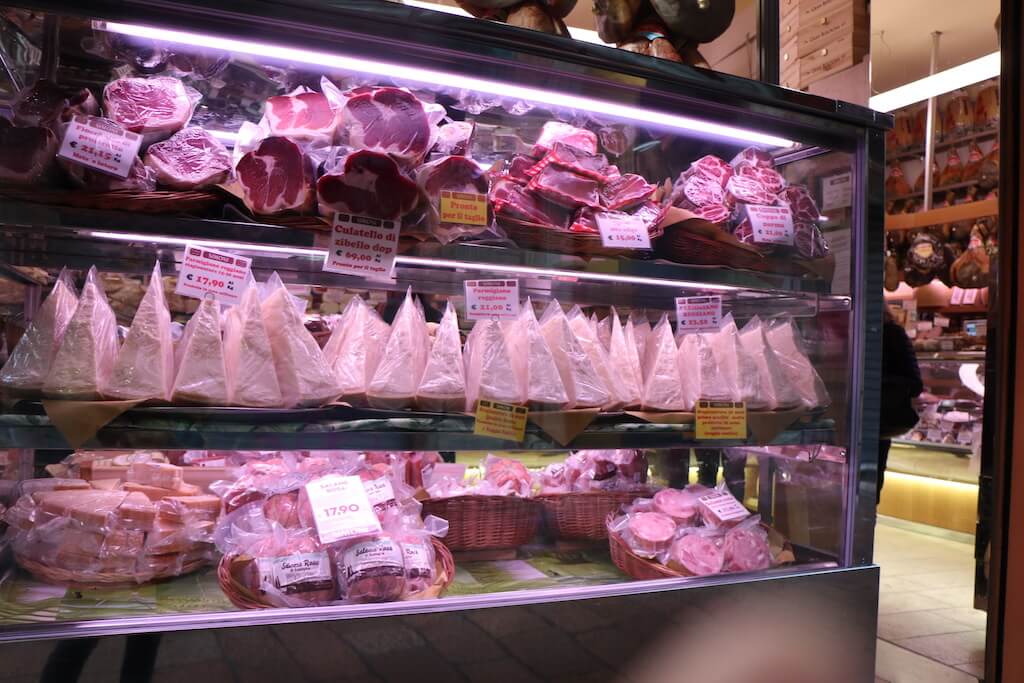 Next to Piazza Maggiore, there were many foodstuffs sold not only in Marcato but also in the food district. This Emilia Romagna is also a gourmet area. Italy is full of delicious food wherever you go.
When I think about it, I was so tired that I had to cut off sightseeing on the day I arrived, and because of my plans for the next day (Modena was on my original schedule, but I added Ferrara in a hurry because it was a World Heritage Site), I couldn't make time to visit the city's museums and other tourist attractions.
Nevertheless, the next morning we had to go to Piazza Maggiore again to find a place to have breakfast. However, it was becoming a disappointing atmosphere because they had started to prepare for some events.
Incidentally, this event was apparently a preparation for the Giro d'Italia, a cycling road race that starts the week after our visit. The city of Bologna was the starting point of the race, and I'm sure I would have watched the race if the schedule had been shifted by a week. It was kind of halfway big, so it was hard to do sightseeing. The weather was bad and I wasn't feeling well, which probably contributed to the fact that I didn't do much sightseeing. From the physical condition at that time, the scale was a little too large to walk and sightseeing was tough, and also because it was cold. (Although the weather recovered after this…)
Bologna. Will there be a return visit? However, there seemed to be a lot of good quality marcato and good restaurants, so we may visit again for food.