Visit Date: October 20, 2019, approximately 3:00 p.m.
Ivrea, Piedmont, roughly an hour north of Turin, this small town was chosen as a World Heritage Site in July 2018. It is located as you can see. It looks cold in winter.
When we think of World Heritage sites, we often think of ancient ruins or beautiful townscapes that have been around since the Middle Ages, but this place was chosen as a World Heritage site because a certain industry flourished here in the 20th century.
City of Typewriters
The town of Ivrea is the birthplace of a company called Olivetti, which may sound familiar to you if you're old enough. Olivetti is a company that became world-famous for its typewriters.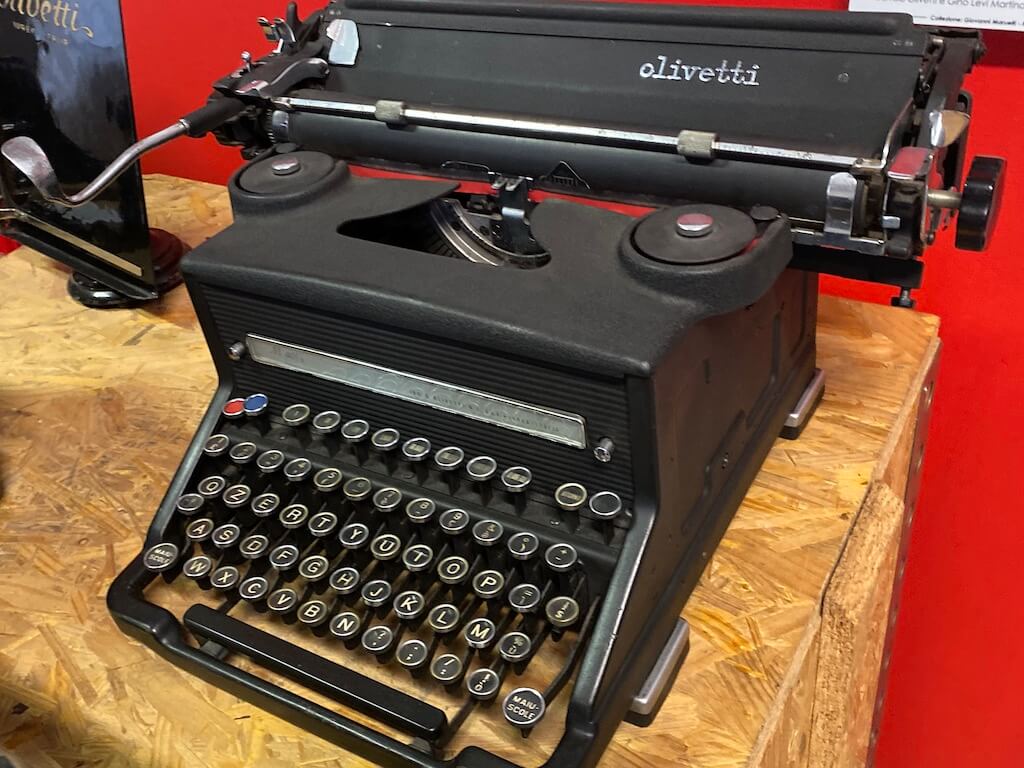 Olivetti was a company that took the world by storm by creating the standard form of typewriter, as shown in the photo above. The Olivetti Company was founded by Camillo Olivetti in 1908 in this city. As mentioned above, it is a representative company of the 20th century that created the standard form of typewriter. It was also Olivetti who created the original keyboard layout that we now take for granted in our computers.
Ivrea is a lovely medieval town, but in the twentieth century it has developed greatly with Olivetti. The old town is located on the north side of the river that runs through the city, while the new town is located on the south side of the river and is home to many modern buildings, including Olivetti's headquarters. We first went to the New Town area.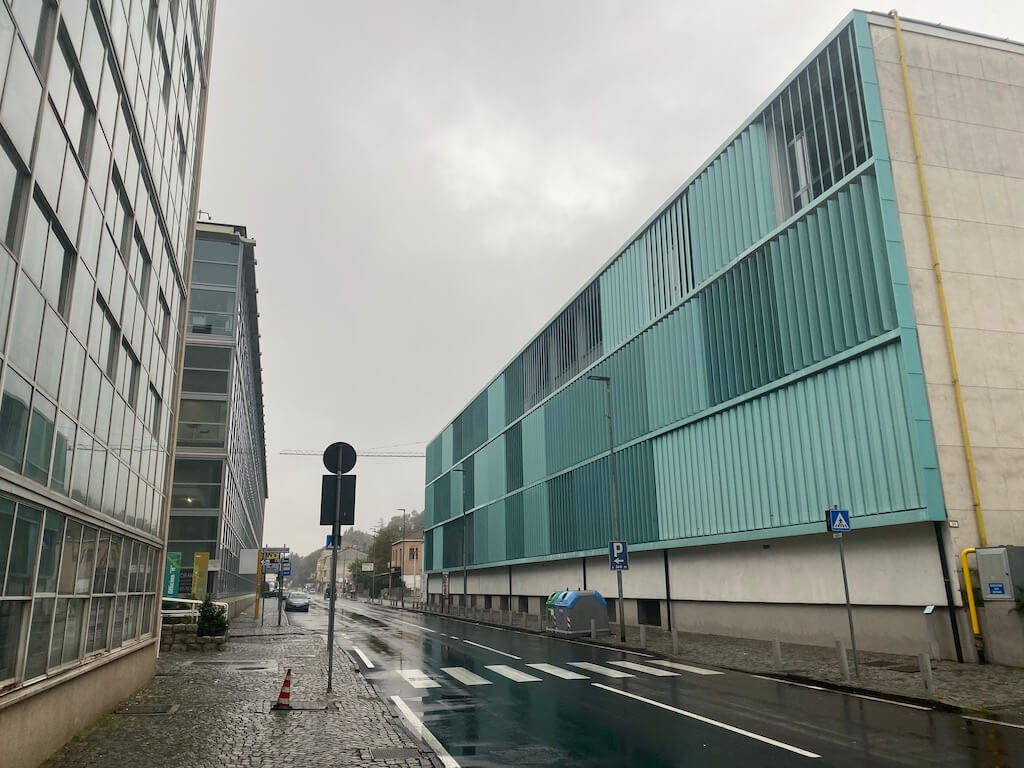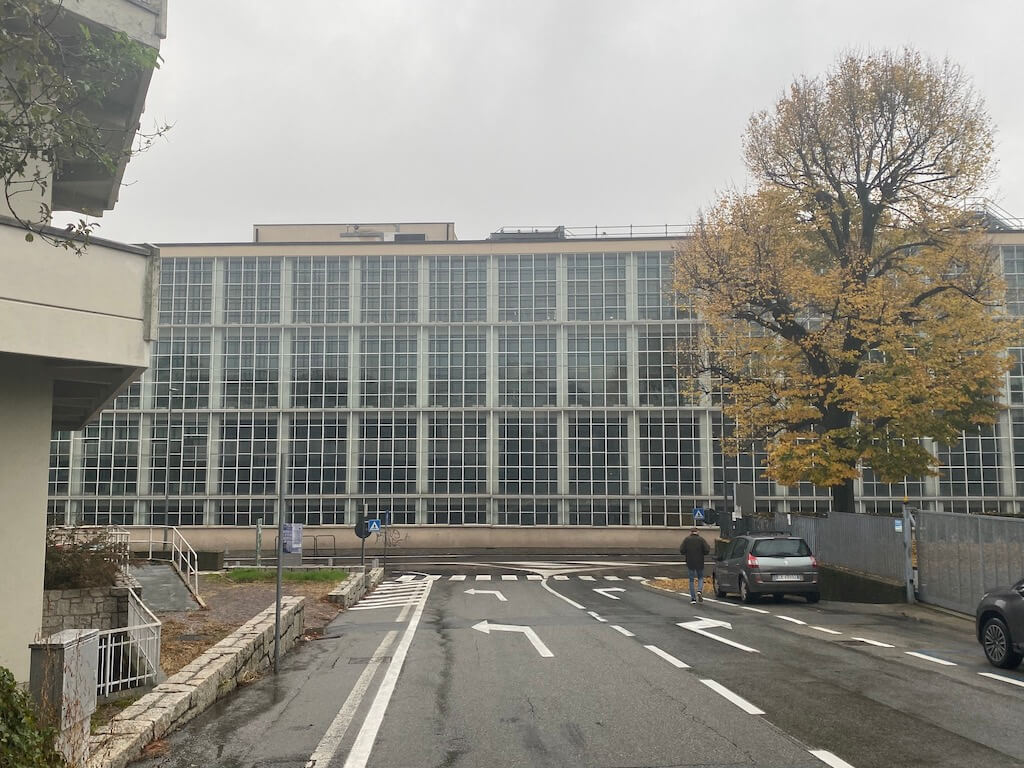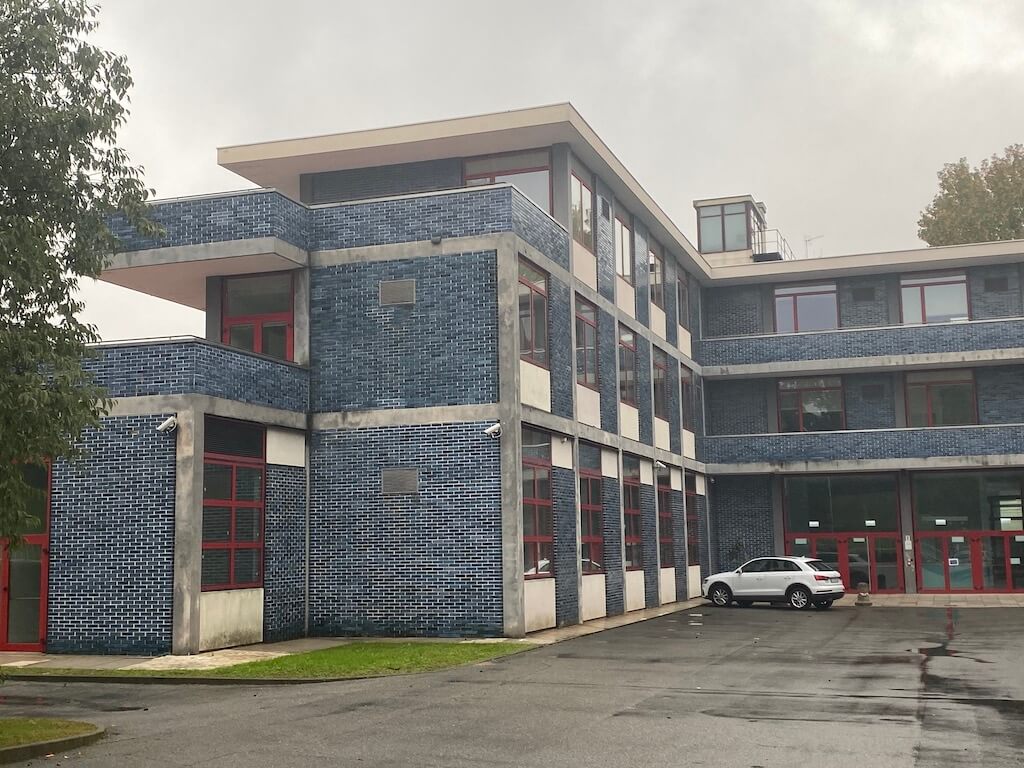 These buildings were mainly designed between 1930 and 1960 under the direction of Adriano Olivetti. They were not only headquarters functions, but also public services and housing. Many of them are still inhabited today.
It may have been the modern architectural style of the early 20th century, so it may have some architectural value, but to be honest, we were a little disappointed because they were very different from the atmosphere of the old European towns.
Furthermore, since it was a Sunday, we were not allowed to enter the building. We could see the building from the outside, and we could see the boards explaining the company that were placed here and there, but these alone were not fun at all.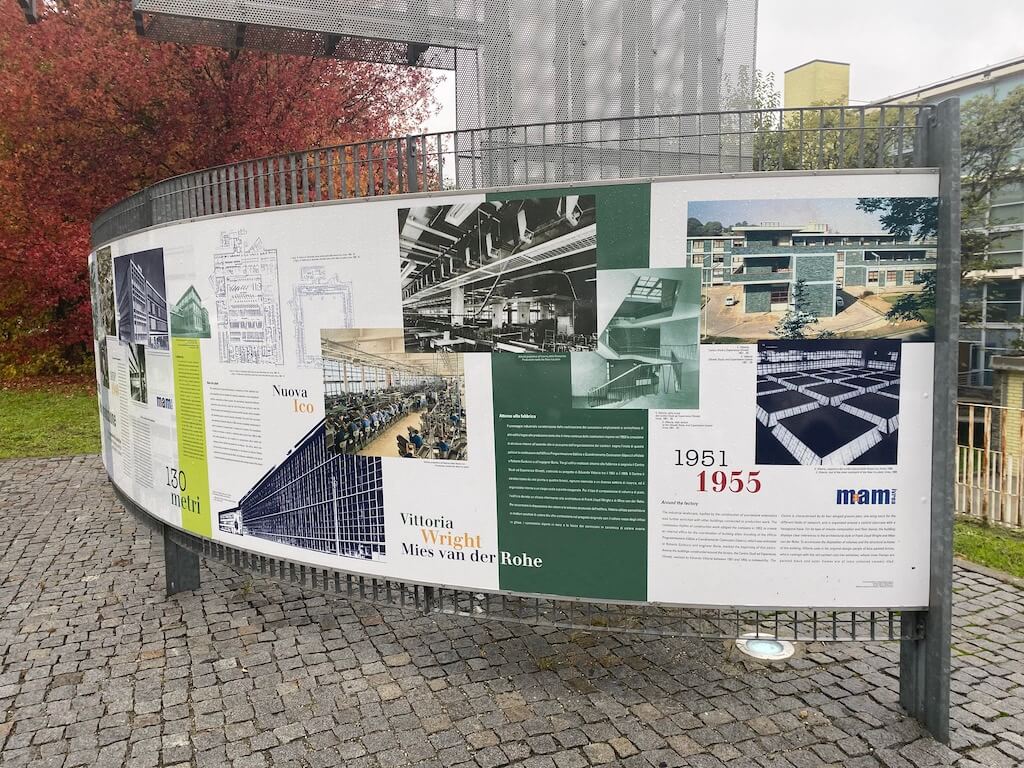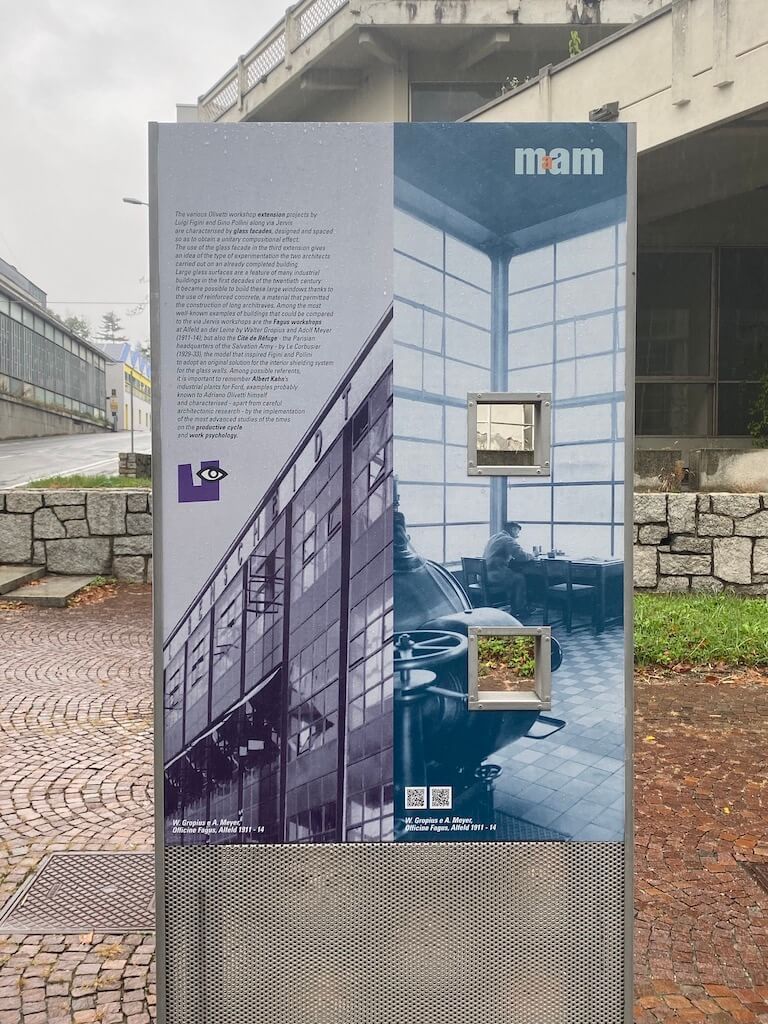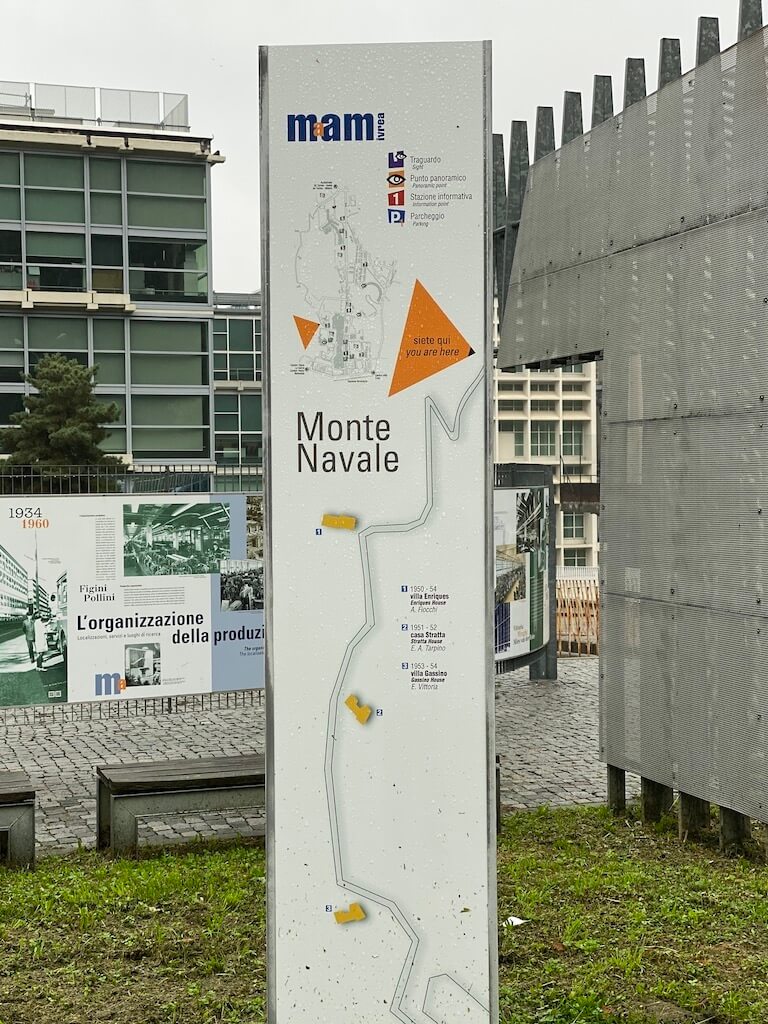 Could it be a disappointing World Heritage Site? I thought so until We visited the museum in the city.
Visit the museum to learn the history of typewriters
Anyway, I was wondering if there were any other interesting places where we could go. So we returned to the car once and headed to the old town. The old town was a beautiful cityscape as reputed, but this day was very few people on Sunday and most of the shops were not open and deserted.
However, according to Google Map information, there was a museum in the old town called Laboratorio-Museo about Ivrea's industry, and it seemed to be open even on Sundays, and our arrival was just before 15:00, but it was opening from this time just after lunch break, so we decided to go there. We decided to go there.
博物館のウェブサイト:Laboratorio-Museo Tecnologicamente
We immediately went to the point where Google map shows:
Laboratorio-Museo Tecnologic@mente Piazza S. Francesco D'Assisi, 4, 10015 Ivrea TO
However, when I arrived there, we found that it was indeed a museum, but there was no magnificent entrance or signboard indicating that it was a museum. I was just an ordinary building with a back entrance. We were worried if we were really in the right place, but we went inside and headed for the first floor (the second floor in Japanese style). When we arrived at the first floor, there was a display of typewriters and other things, so there was no doubt that this was a museum of some kind.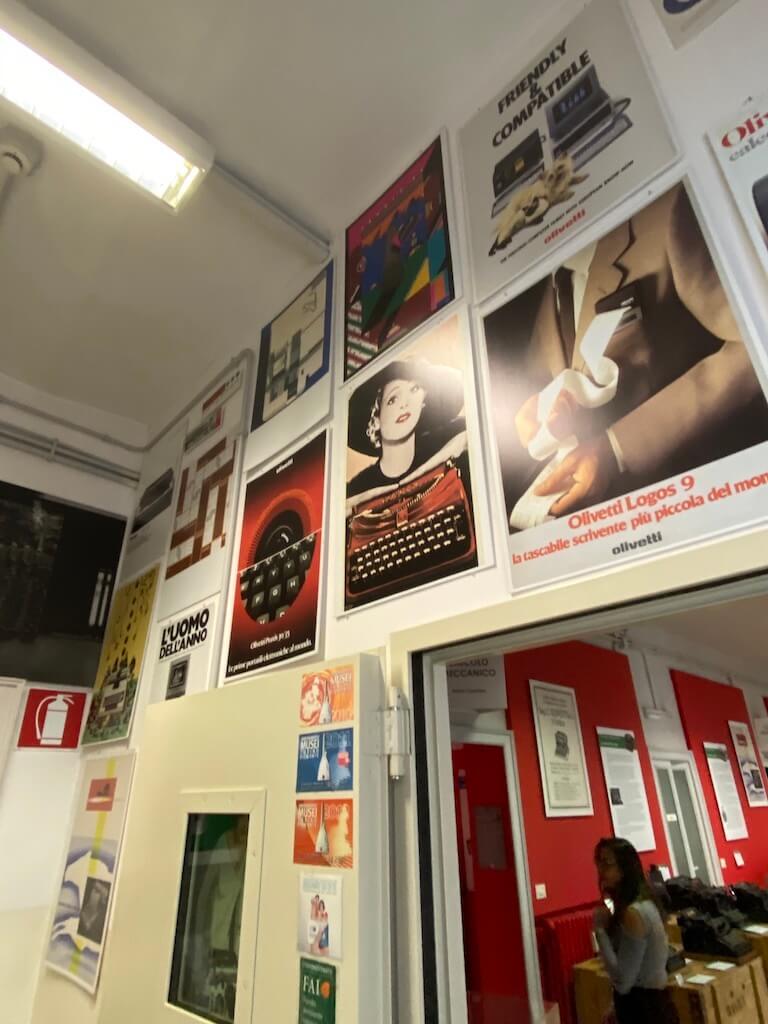 When we were wandering around at the entrance, a young woman and a young man approached to us from inside. She could speak English, so she took care of us. She told us that the admission fee was 7 euros and that she could guide us if we wanted. Of course we wanted for her to guide the museum.
First, she gave us a brief history of the Olivetti company, showing us some of the old posters she had put up at the entrance. Then we went inside, and she explained how the early typewriters were made while looking directly at the typewriter display.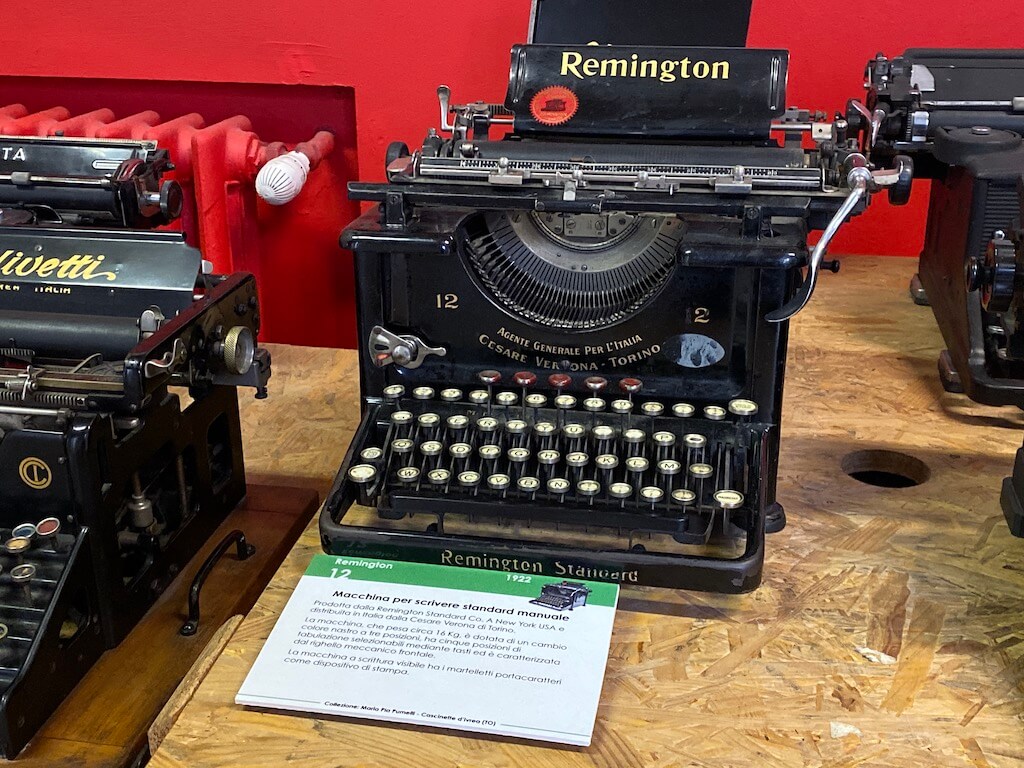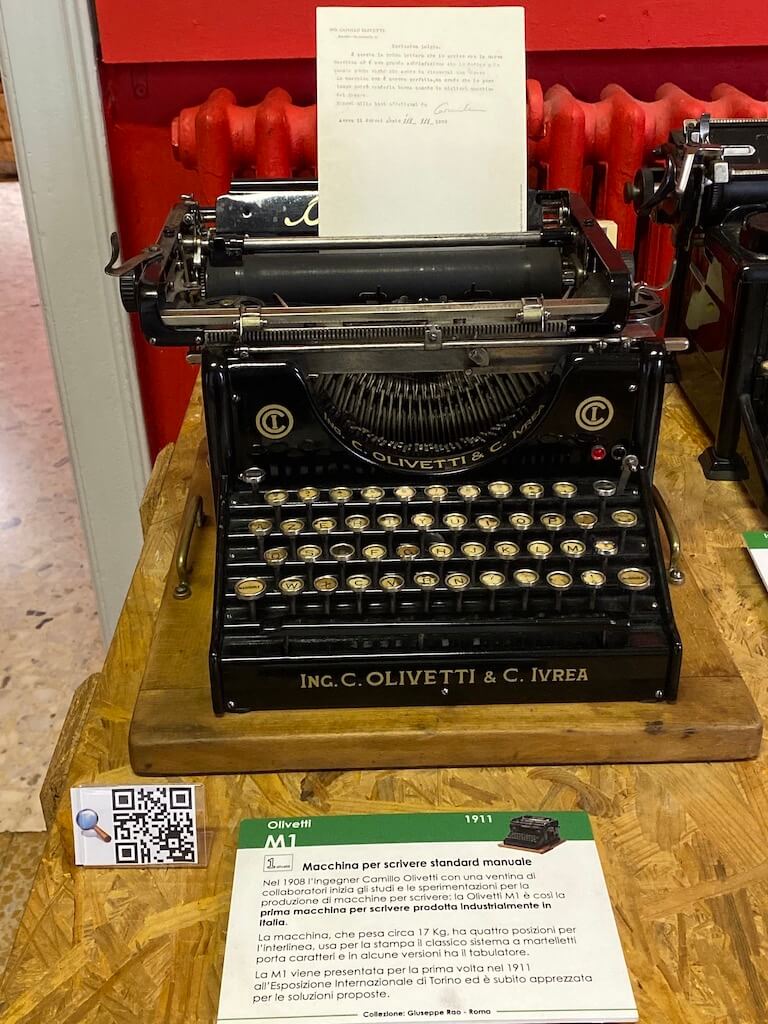 The typewriter itself existed before Olivetti was founded. They were already being made in Germany and other countries.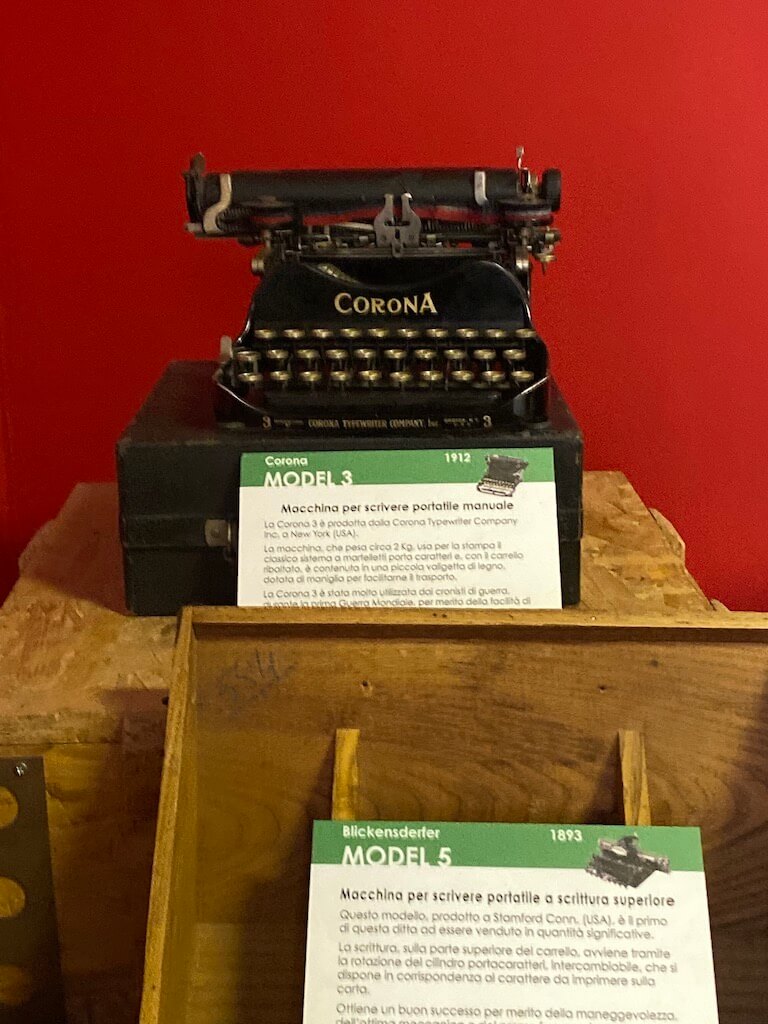 However, it was still an inefficient machine as it did not have the keyboard type that we have today. But Olivetti evolved the keyboard into the type of input that is the standard today. Olivetti decided on the keyboard layout based on which alphabets would be used the most when developing them.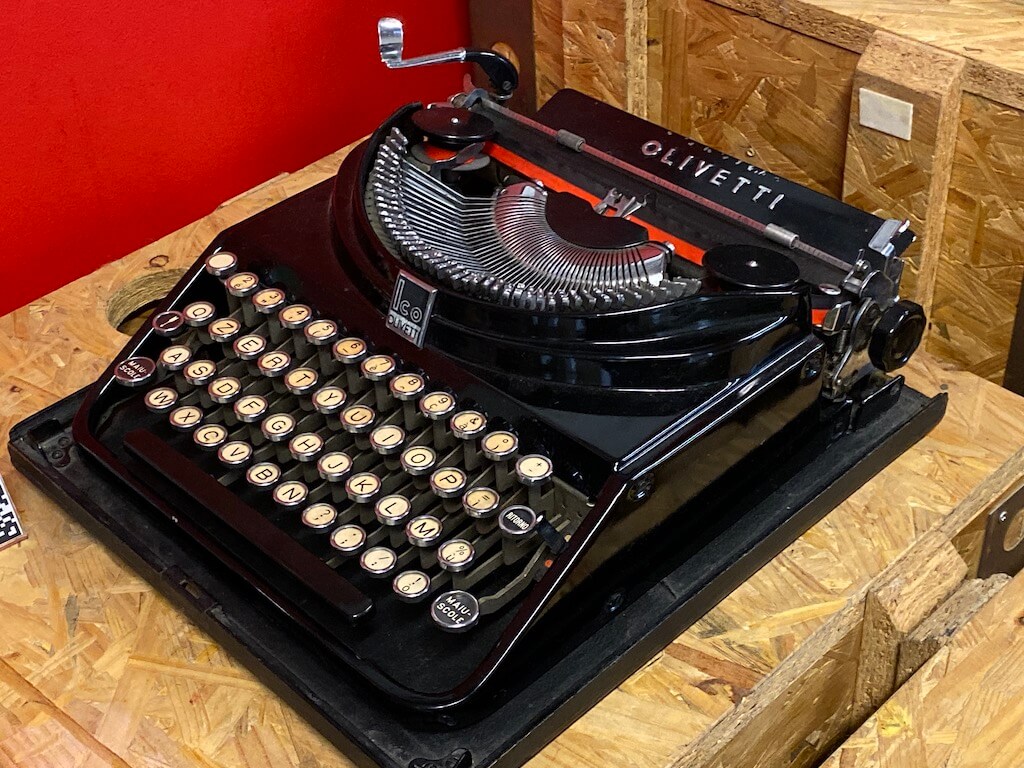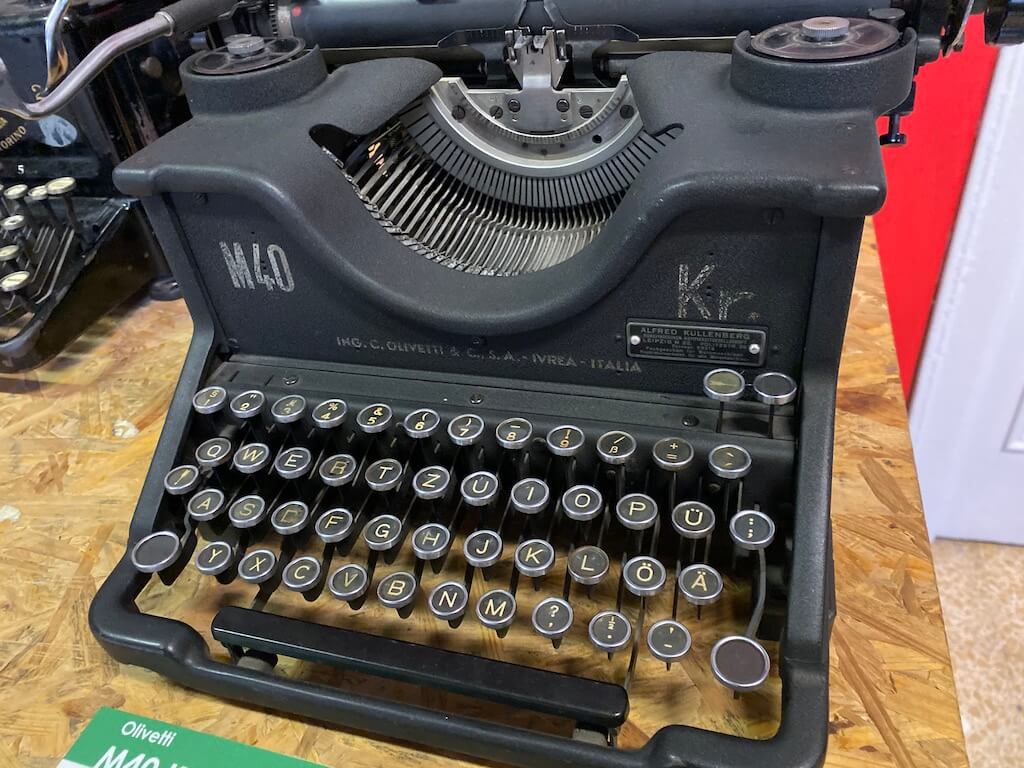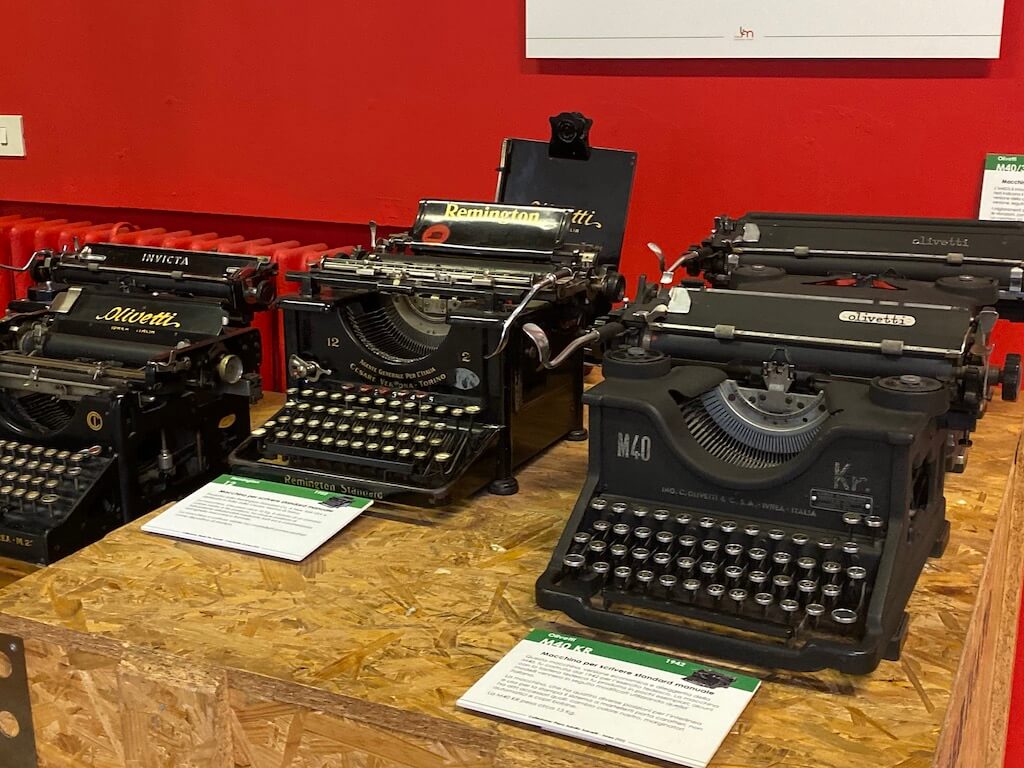 In fact, it was Olivetti who developed the typewriter into this form. (I think that's what the guide lady said, but I'm not sure if it was true.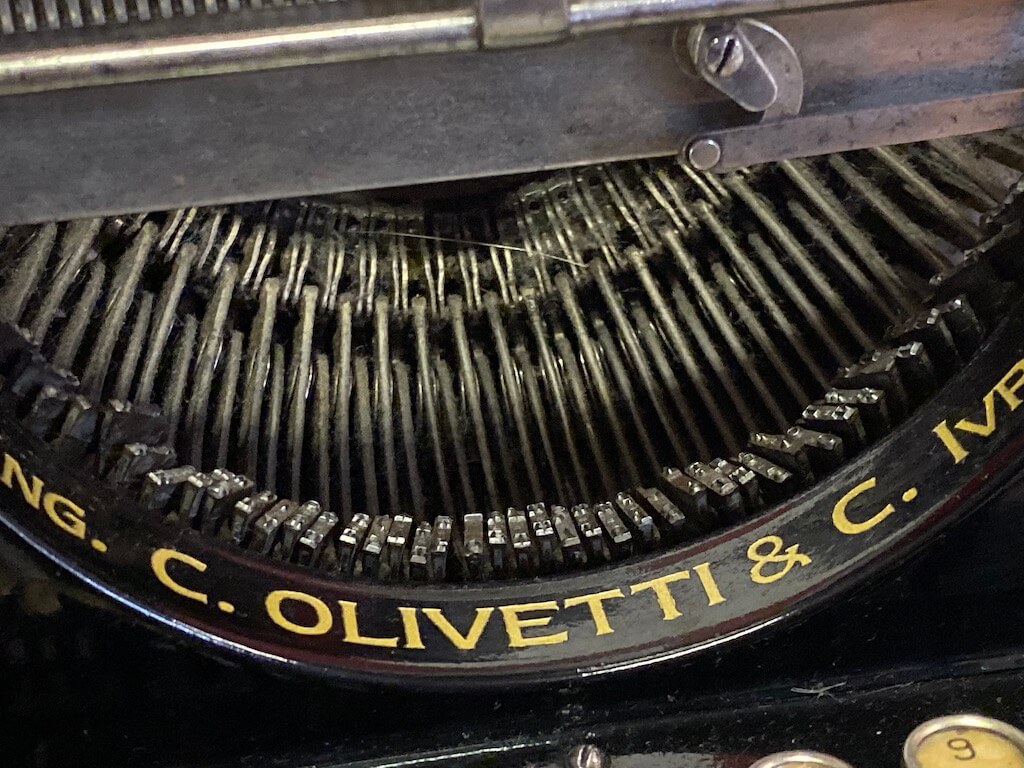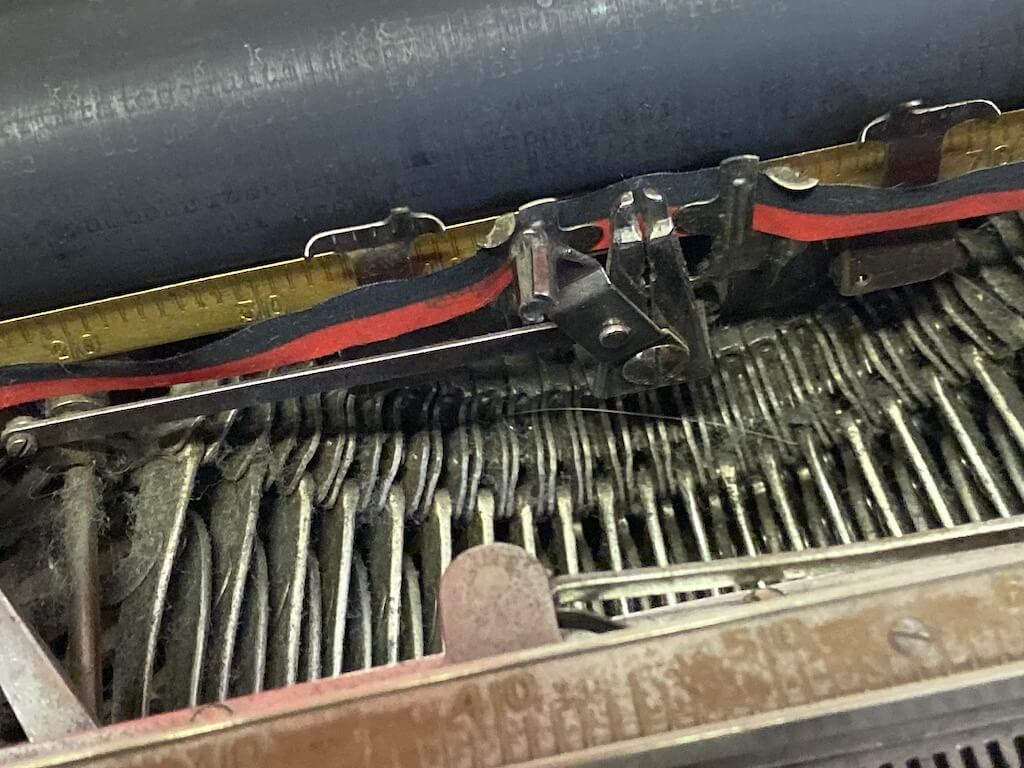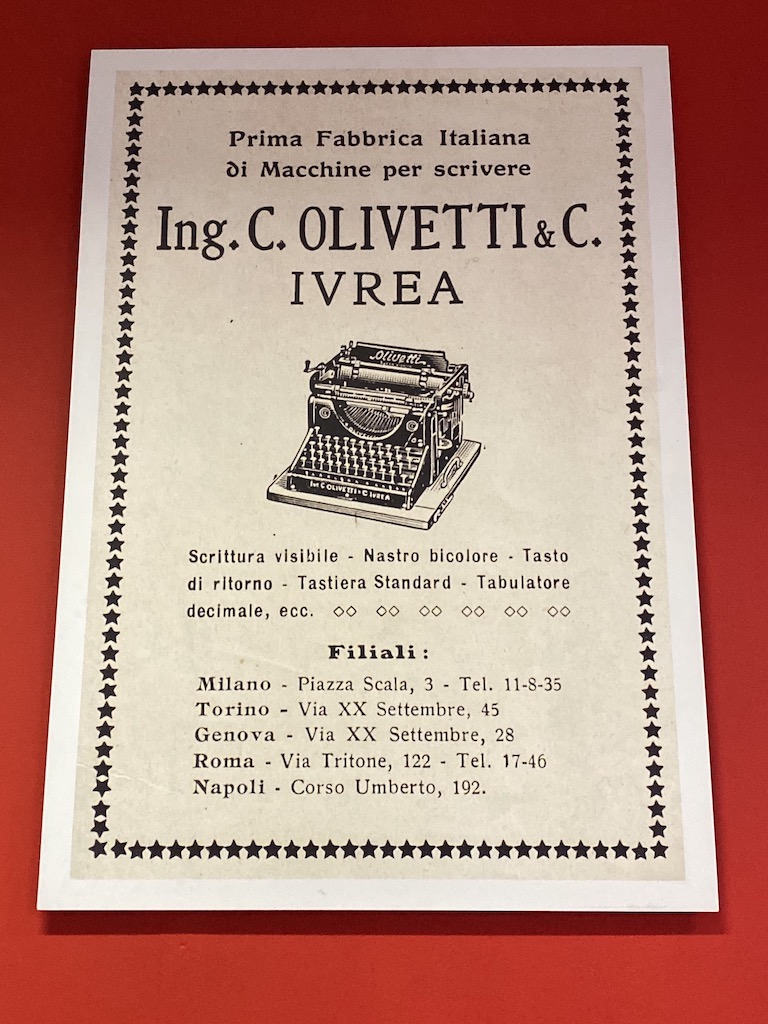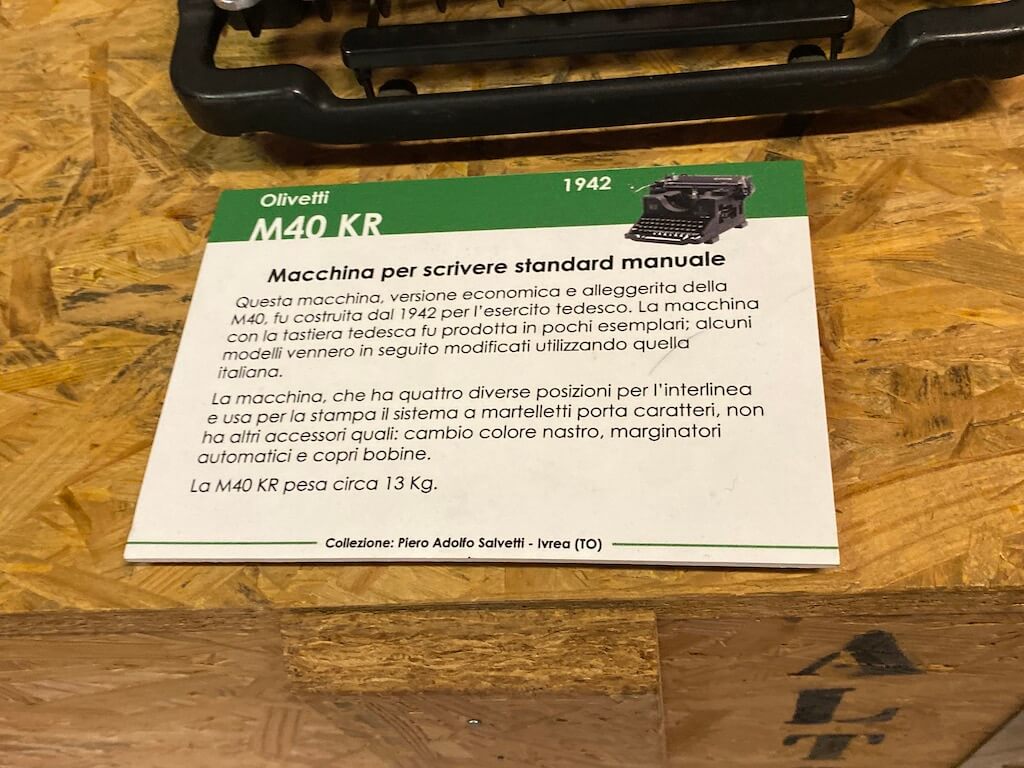 This is how the Olivetti typewriter was born and quickly spread around the world. The first typewriters were made of metal and weighed nearly 10 kg. I actually held one of the early typewriters on display, and it was indeed very heavy.
However, as time has passed since then, lighter and more portable typewriters have been created. Among them, the one that took the world by storm was the "Valentine," a portable typewriter in a red plastic case that was born in 1969.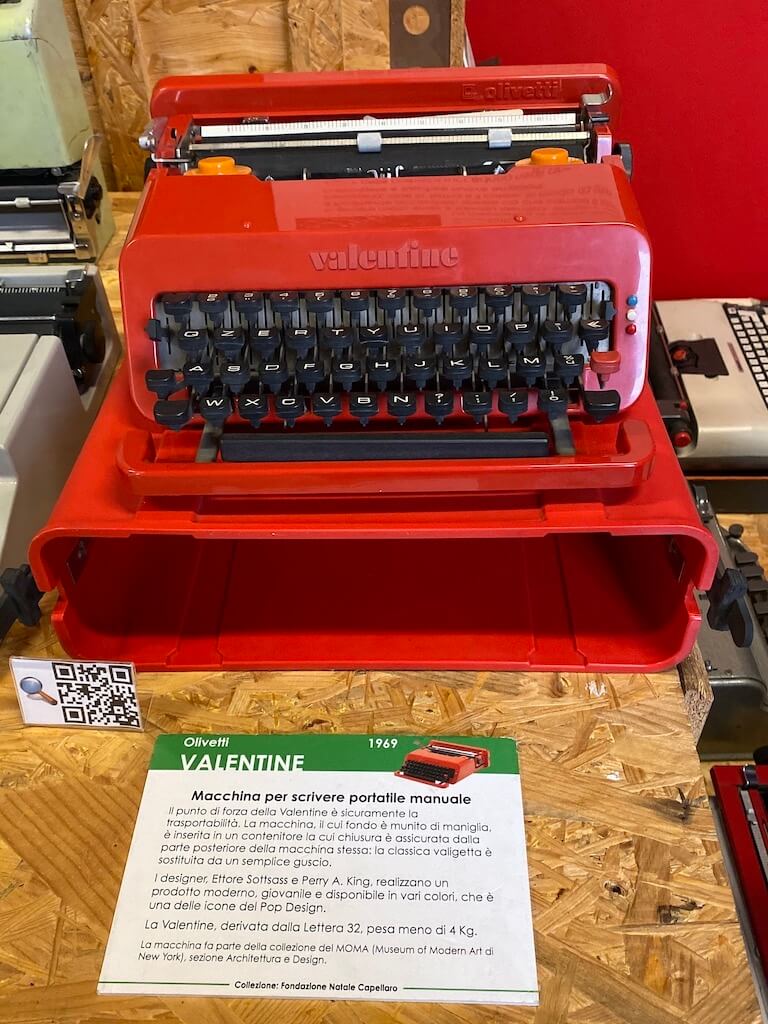 This very pop-like appearance was a revolutionary design at the time. Of course, this one was also on display, and we were able to actually hold it. This weight was light enough for me to carry.
From then on, Olivetti continued to create lighter and more sophisticated products one after another.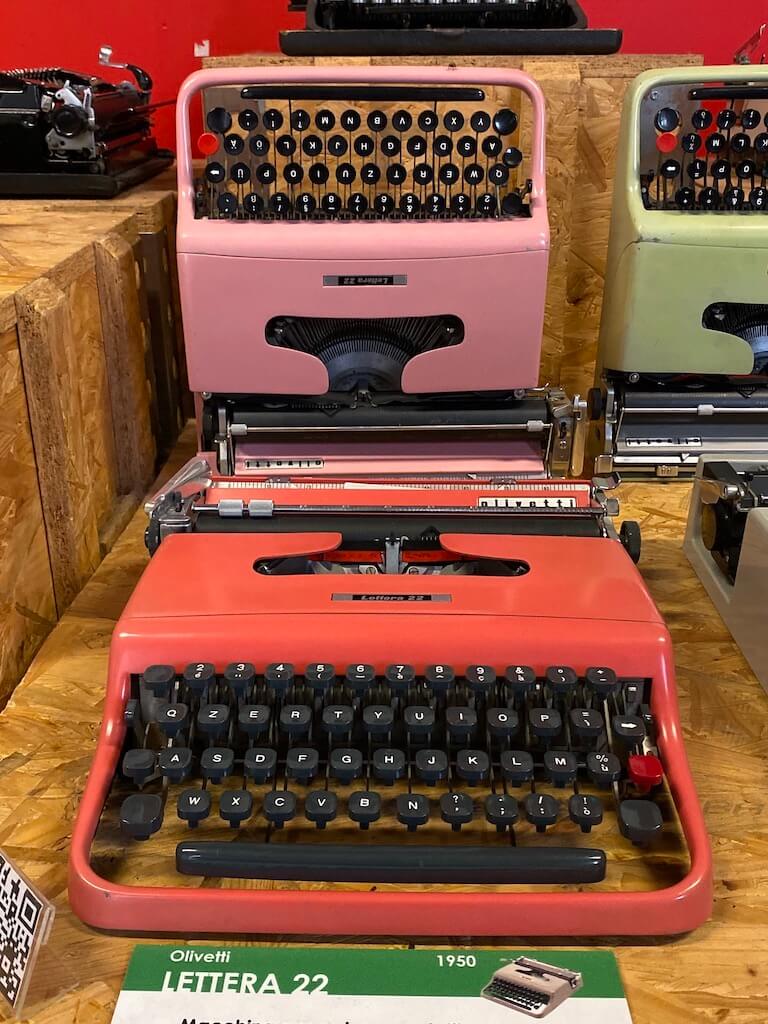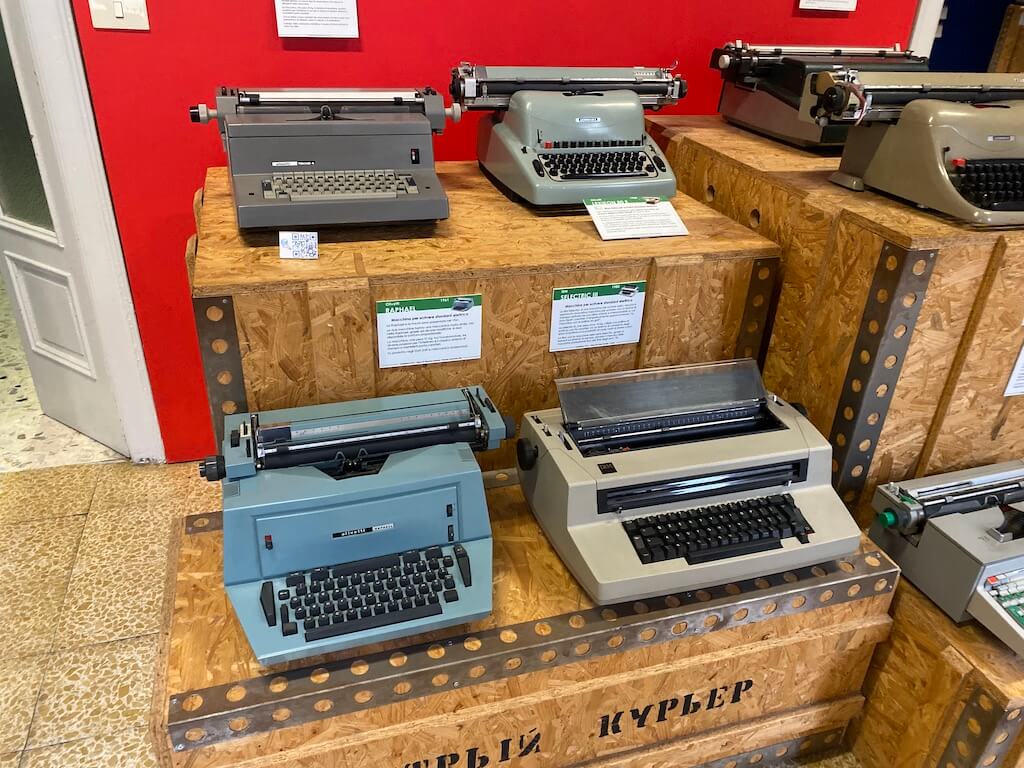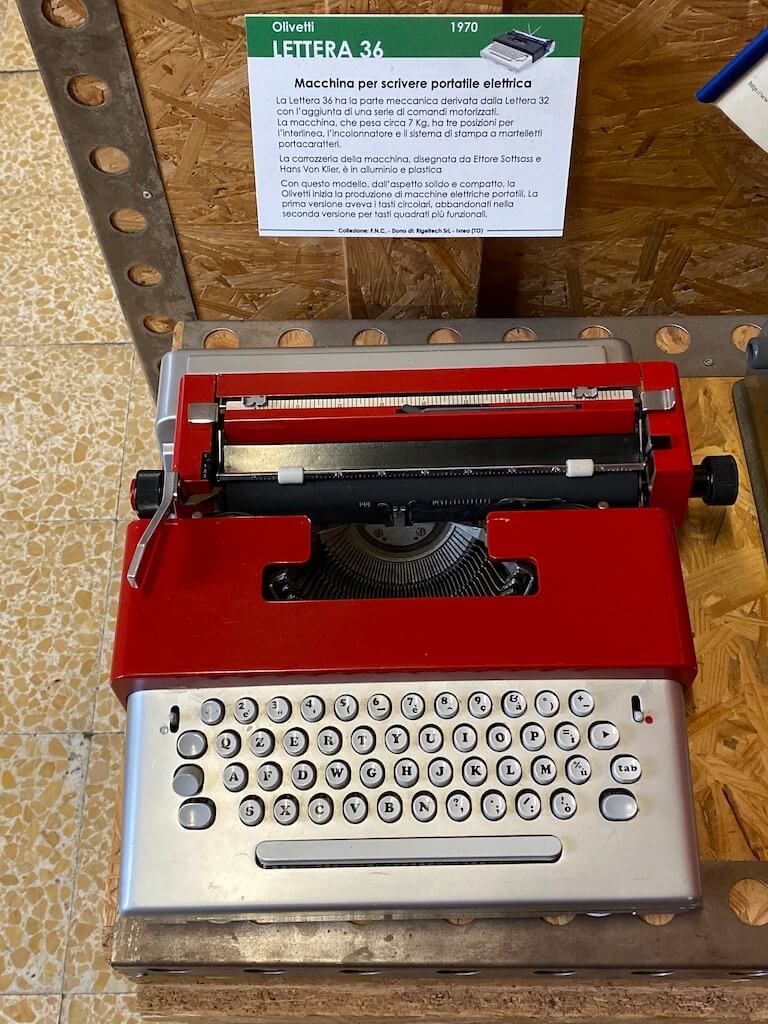 The calculators and computers were born here.
Before I visited Iblea, we knew from guidebooks that this city was the birthplace of the typewriter, we didn't know that it was also a pioneer in the field of calculators and computers.
This company is so famous for producing typewriters, but we were also the first in the world to produce calculators and desktop computers. In other words, it is not an exaggeration to say that we are a great company that created the common sense of our life in the 21st century.
The Divisumma, the world's first motorized recording desk calculator developed by Olivetti, was launched in 1948. The main person who developed it was a man named Natale Cappellaro.
Of course, we were able to see the actual machine of that time here. It was easy to understand at a glance that the structure is much more complicated than a typewriter.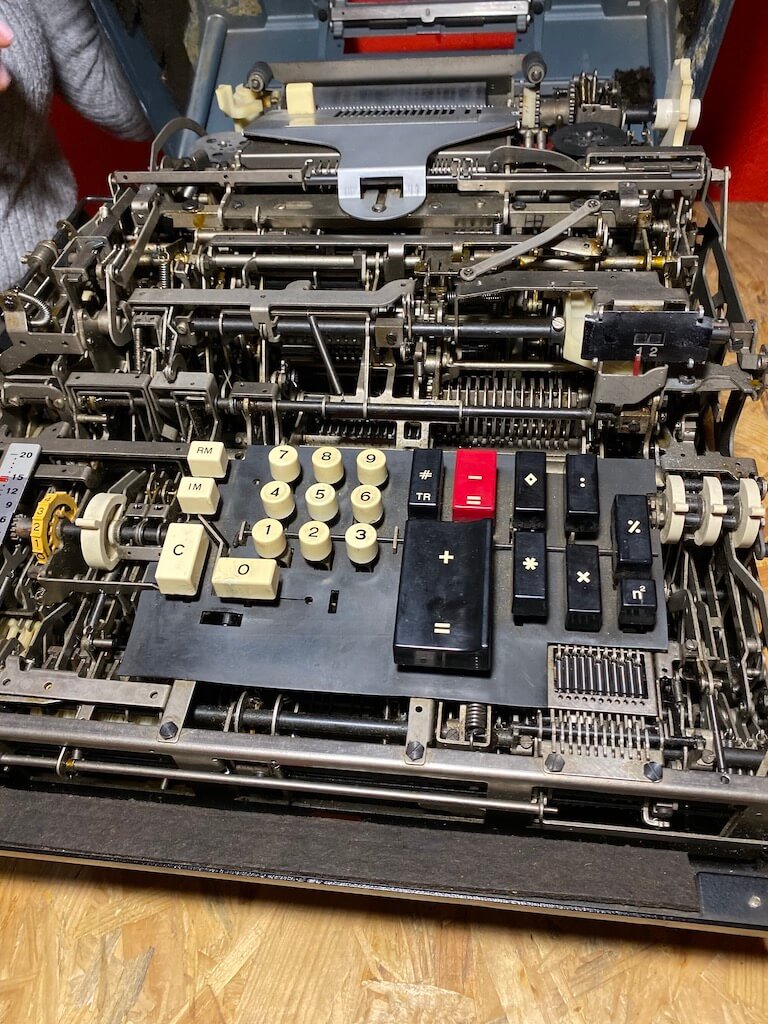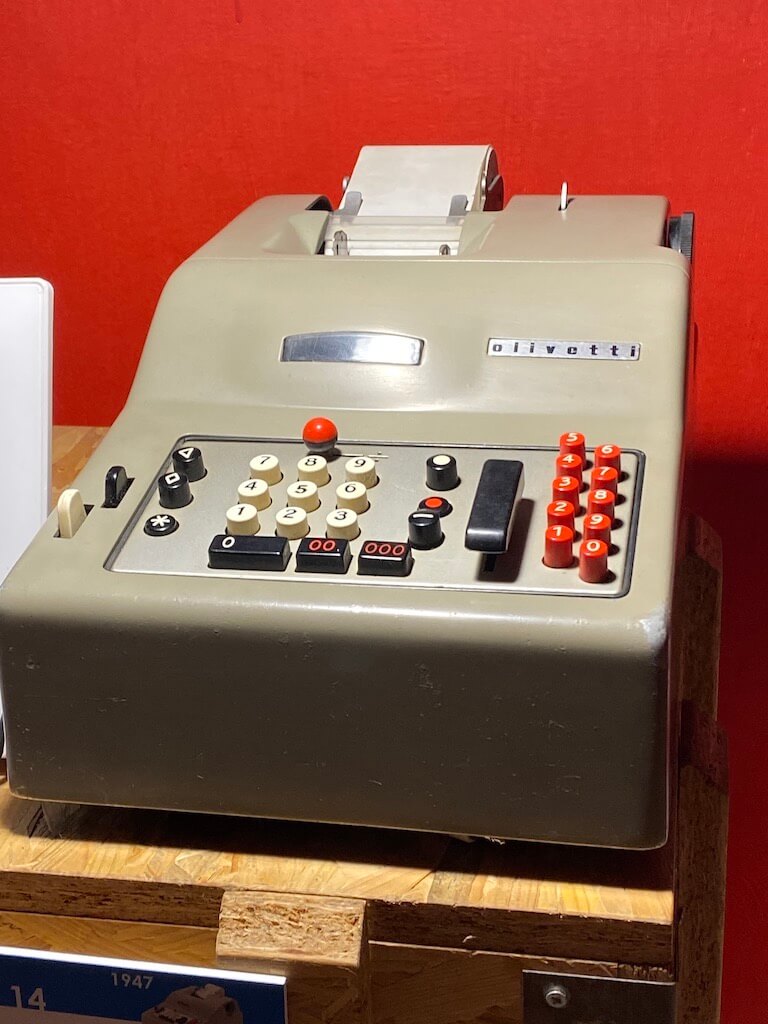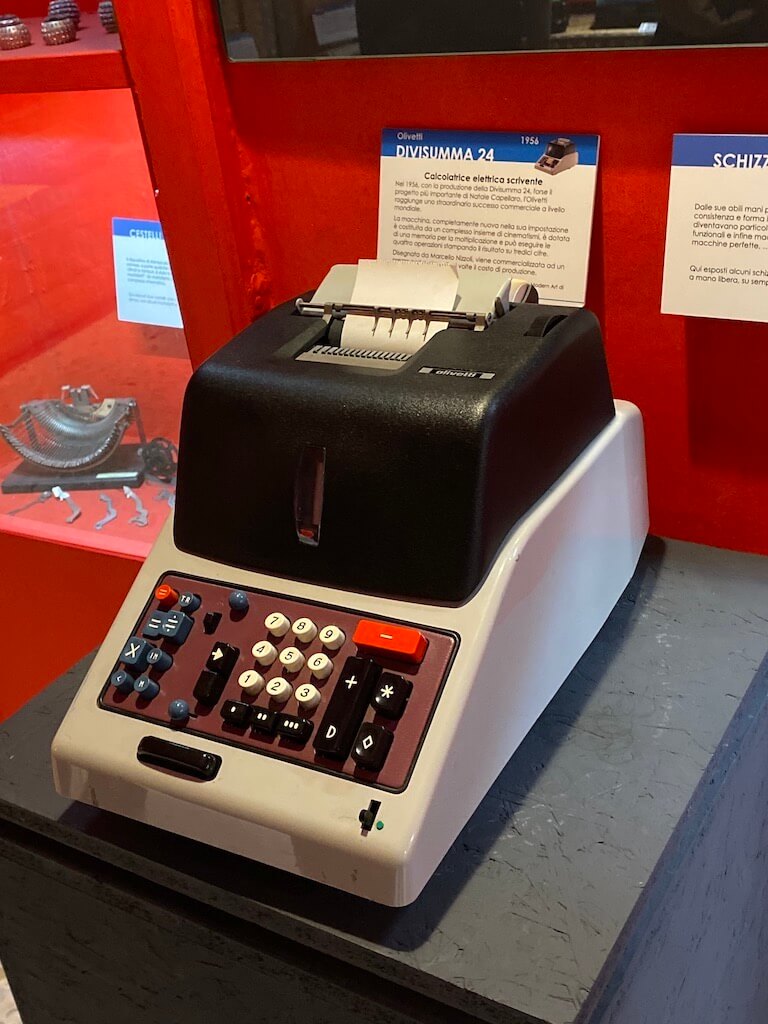 By the way, there is a story that Enrico Fermi, a very famous Italian theoretical physicist, strongly advised to develop this calculator.
In the late 1950s, the world's first commercial transistor calculator, the Elea 9003, was developed.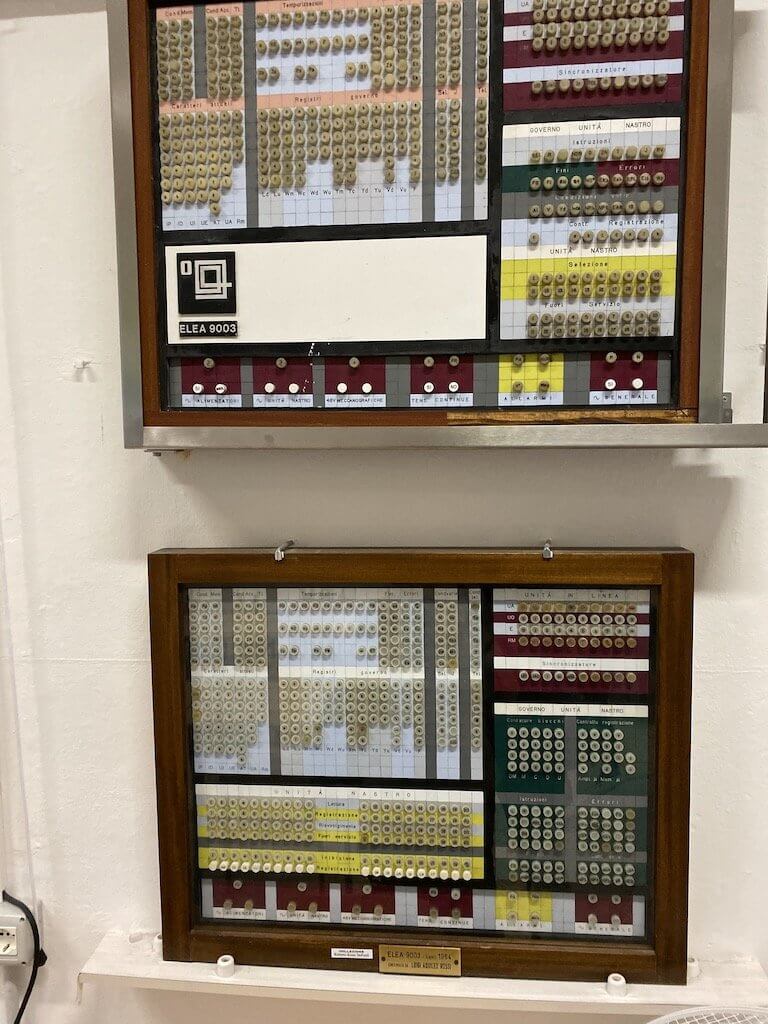 As for its calculation specs, it was capable of processing 8 to 10,000 times per second. It's hard to imagine exactly how much this is. But at least for a few years after its development, it seemed to outperform its competitors.
The second generation ELEA9003 is said to still work, and the actual machine is still in existence at the Italian engineering school "I.S.I.S "Enrico Fermi" di Bibbiena".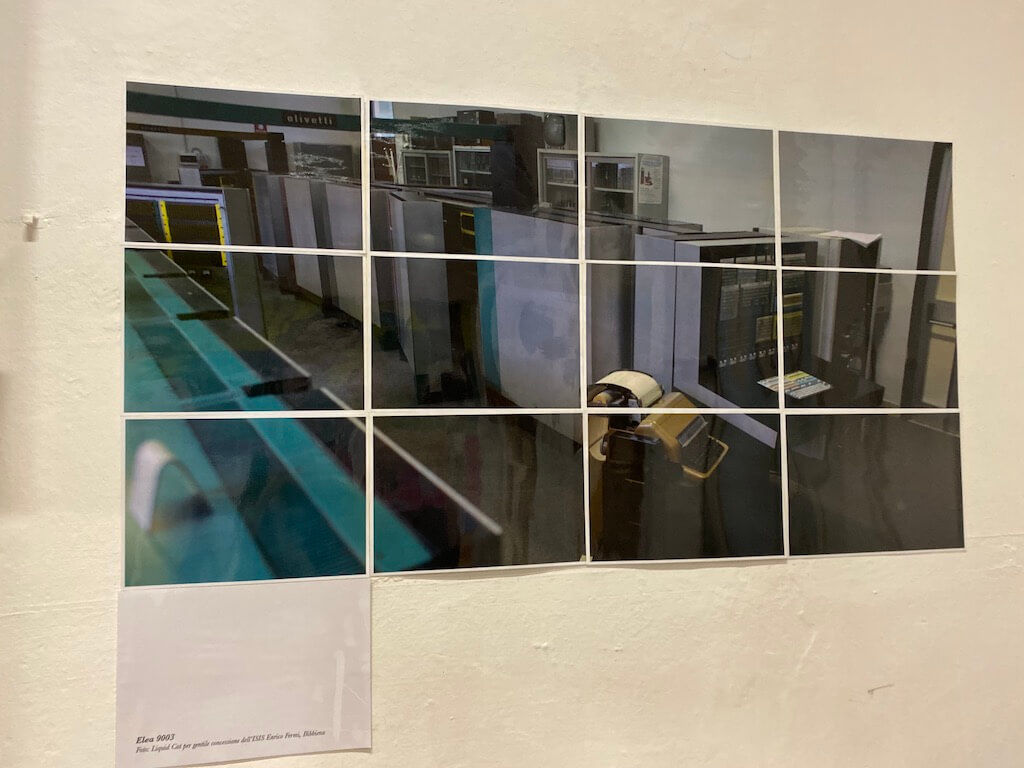 Development of the world's first desktop computer
Then, in 1967, Olivetti released one of the most notable products in the company's history. It was the world's first desktop computer, the Programma 101. It was the originator of the personal computer (PC). The price at the time was 1.59 million yen, and of course we were able to see the actual machine, which was a huge computer.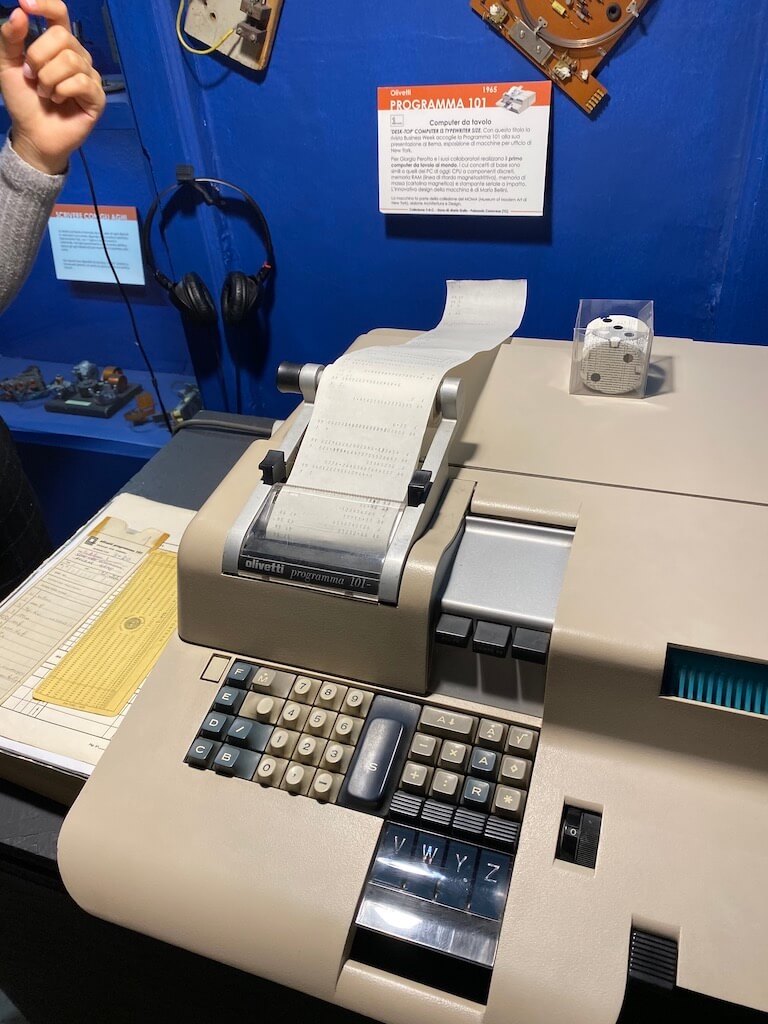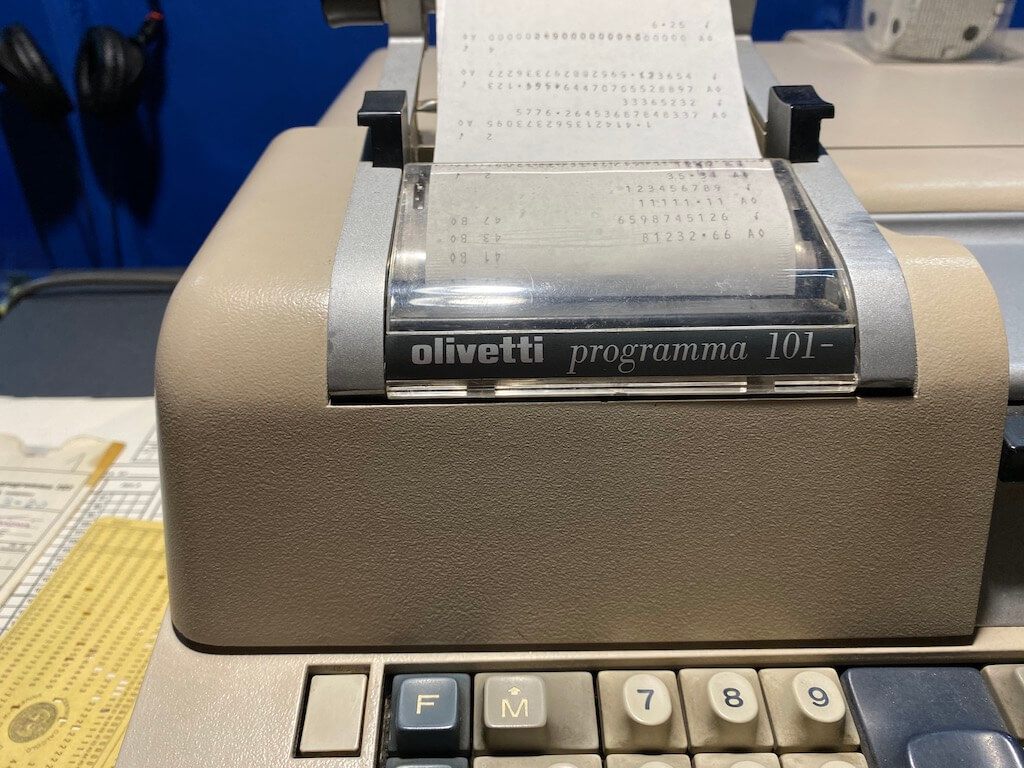 Beside it, there are also the specifications and codes of Programma101. Regarding to Codes displayed here, that was also a punch card of FORTRAN.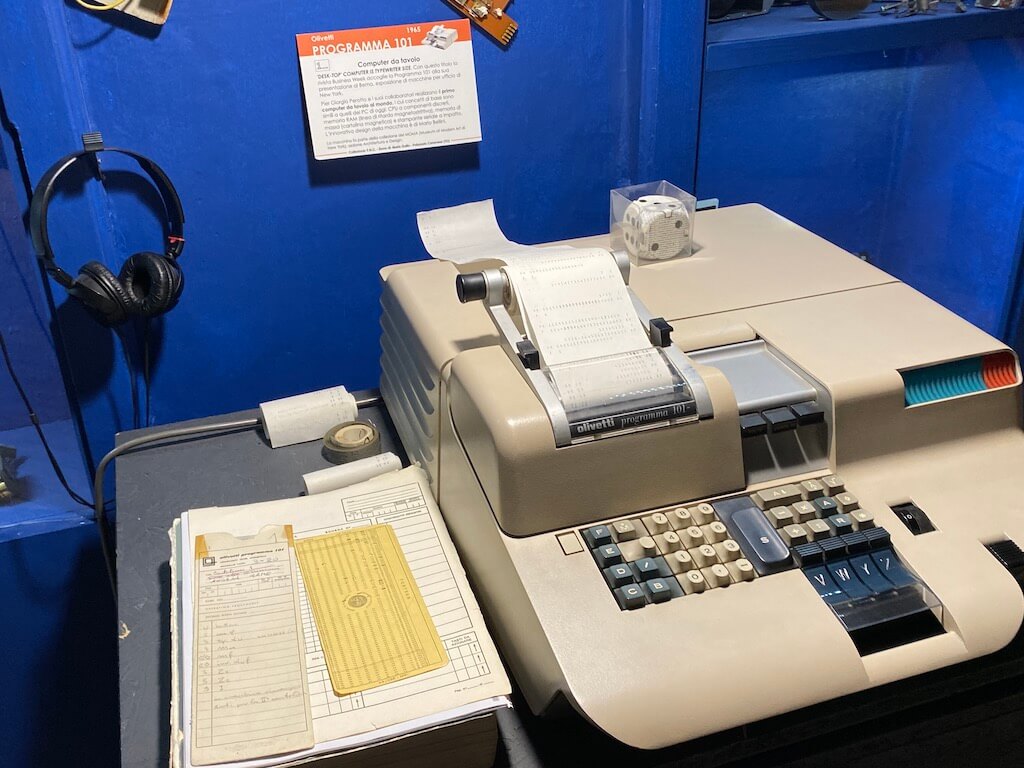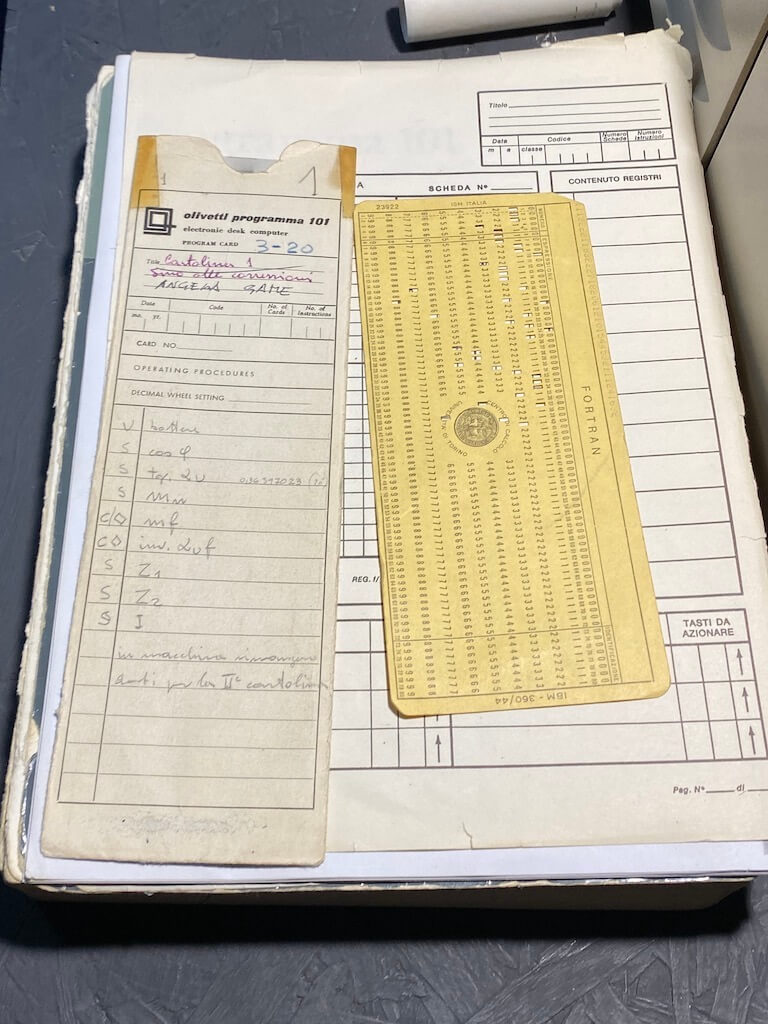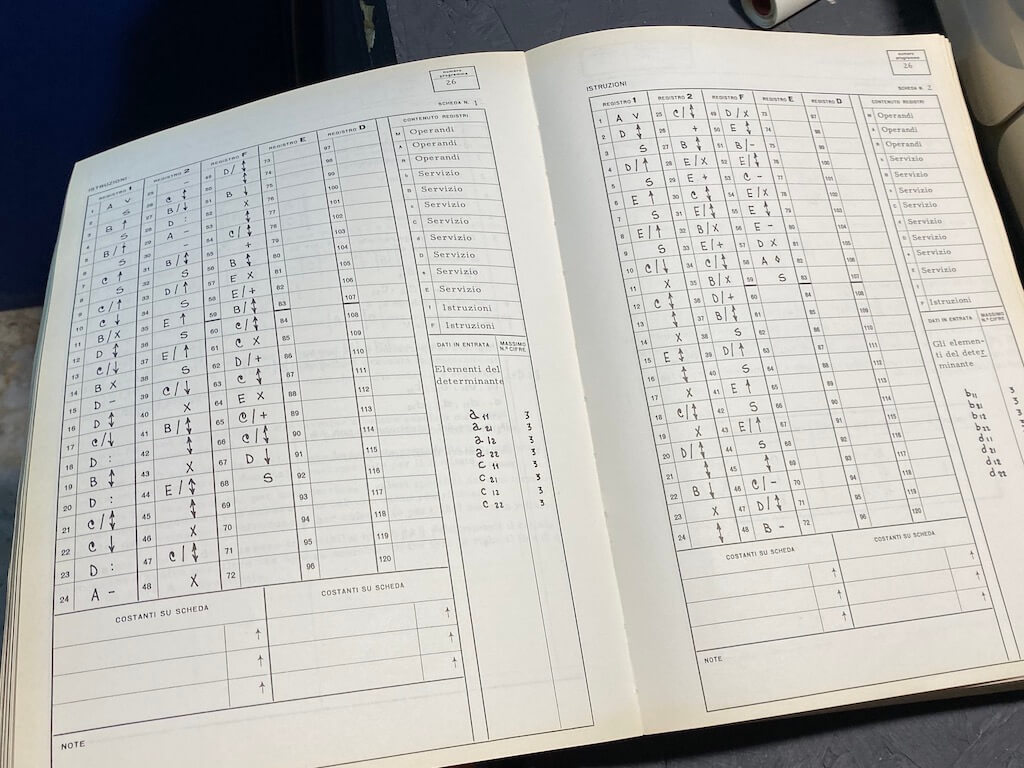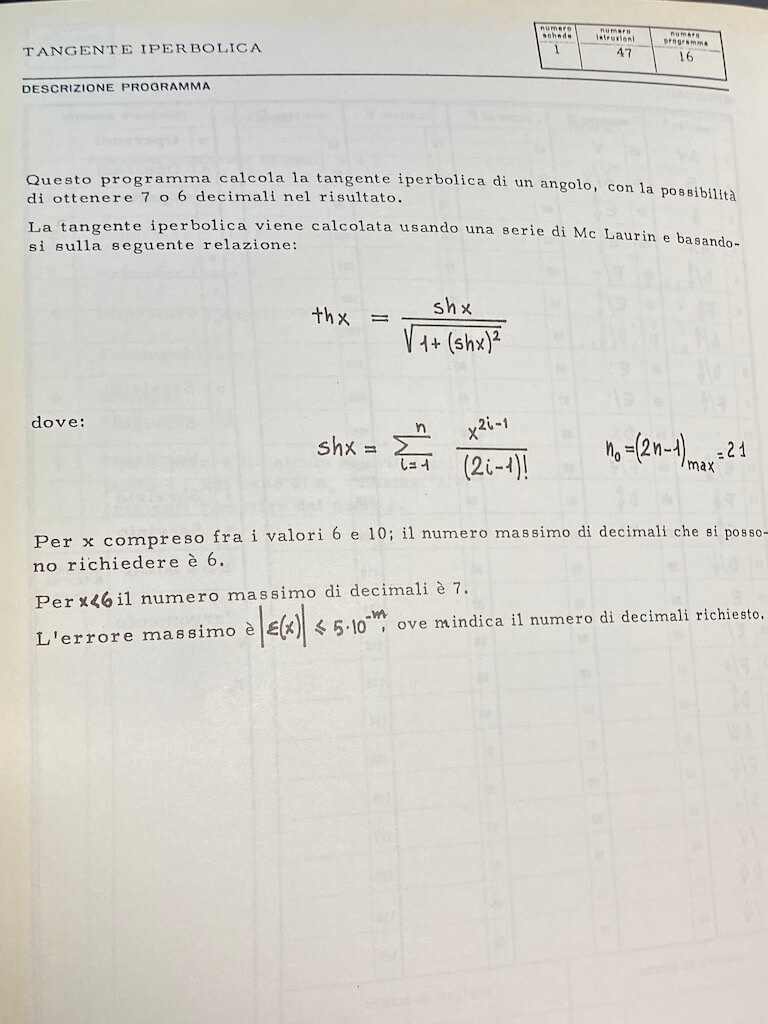 In the following years, Olivetti continued to work on miniaturization of desktop computers and electronic calculators, creating a new era.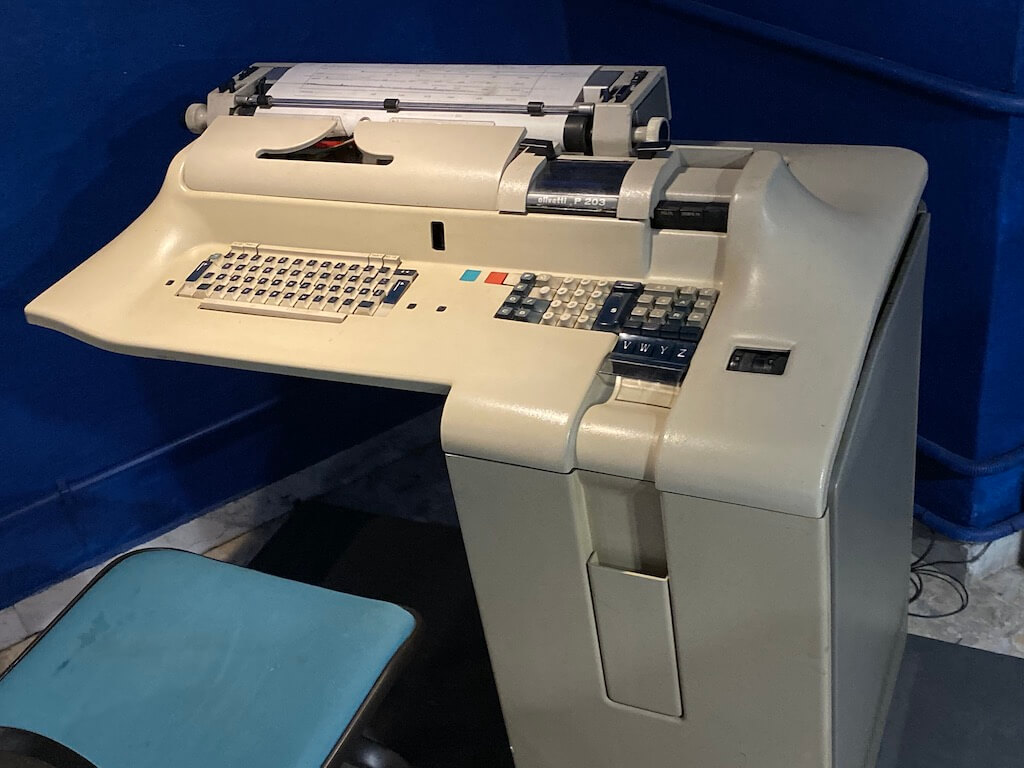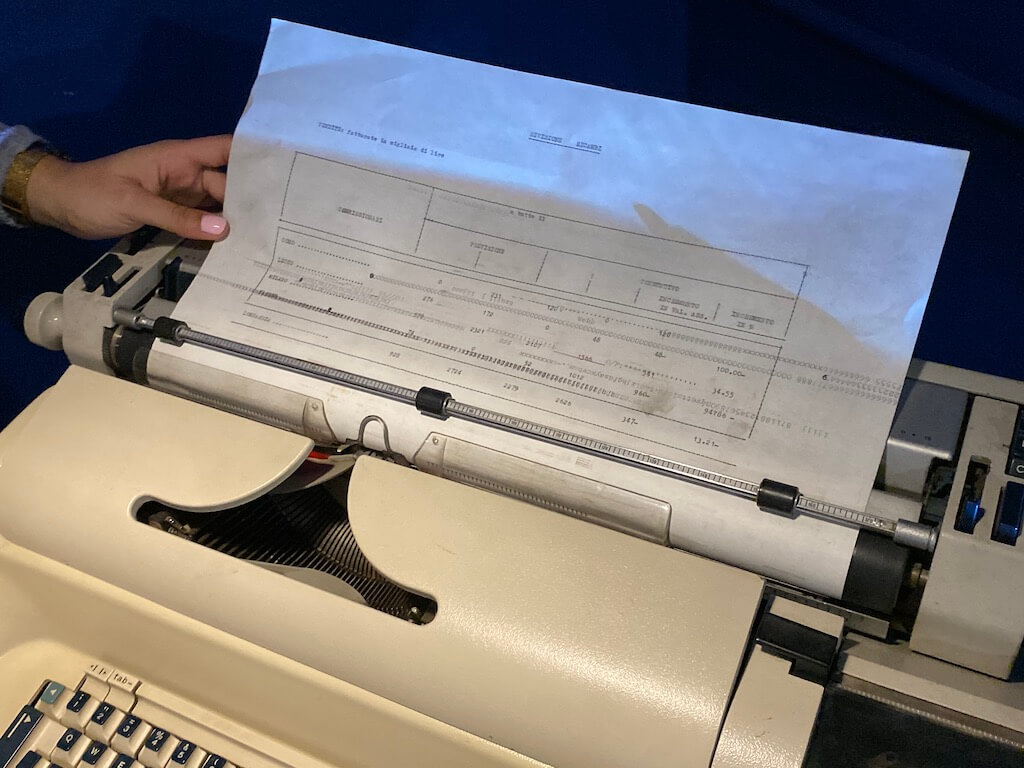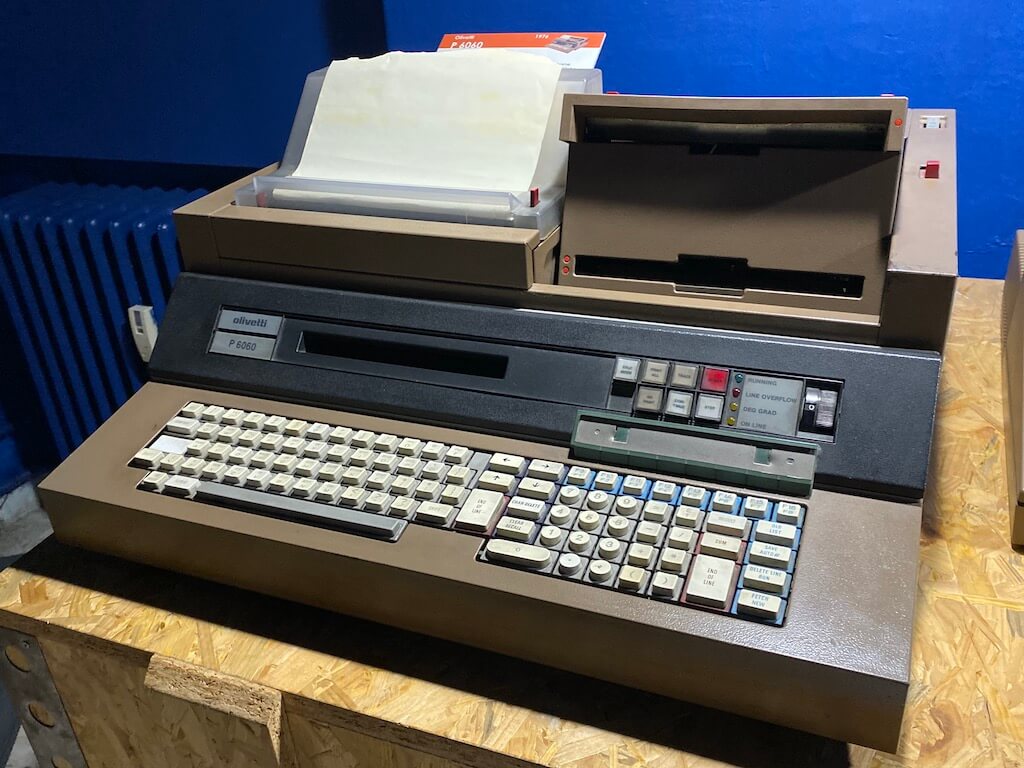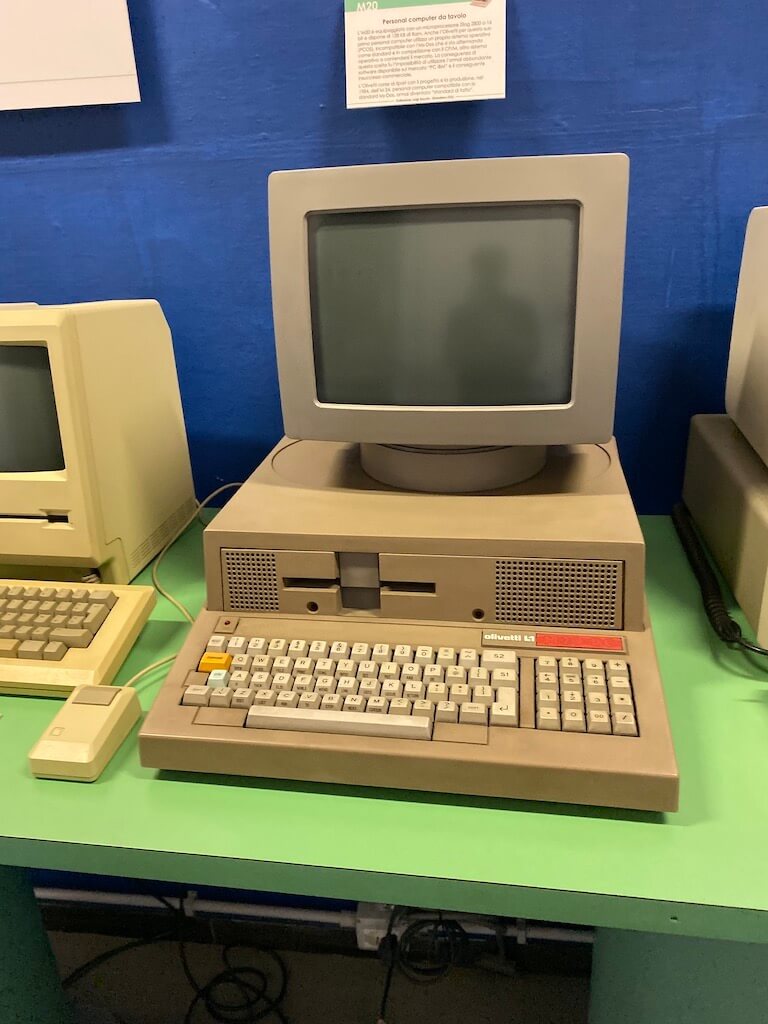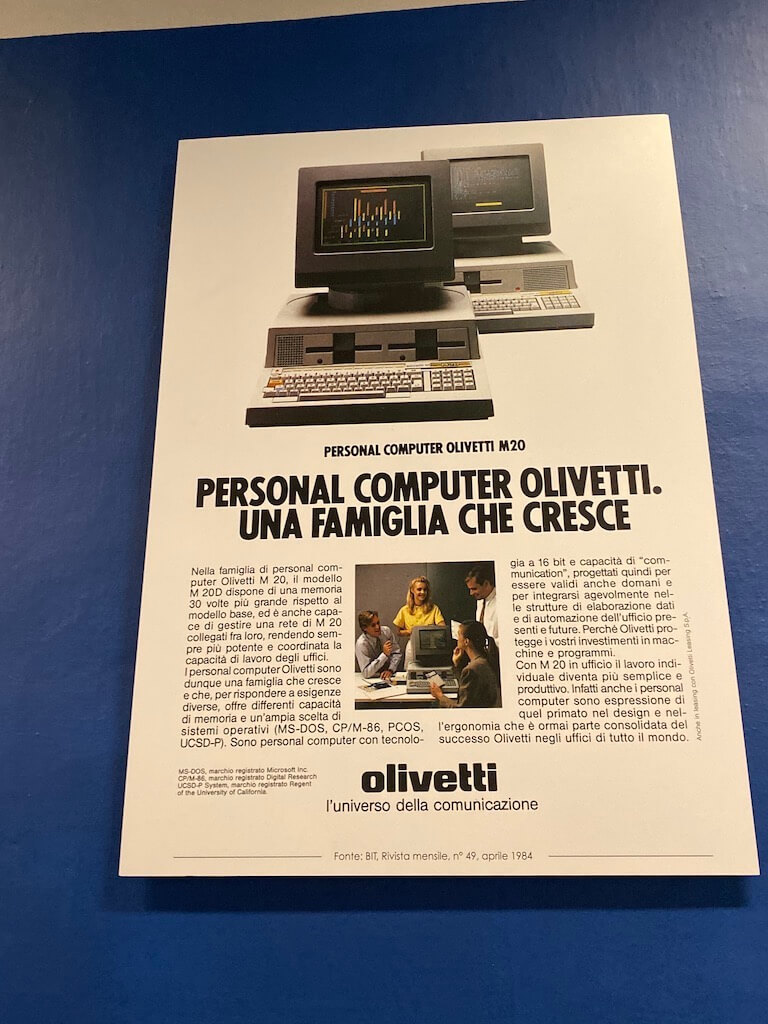 The shape of this area will be very close to what we see even today.
However, from around 1980, with the rise of other companies such as IBM and Apple, Olivetti's momentum gradually declined.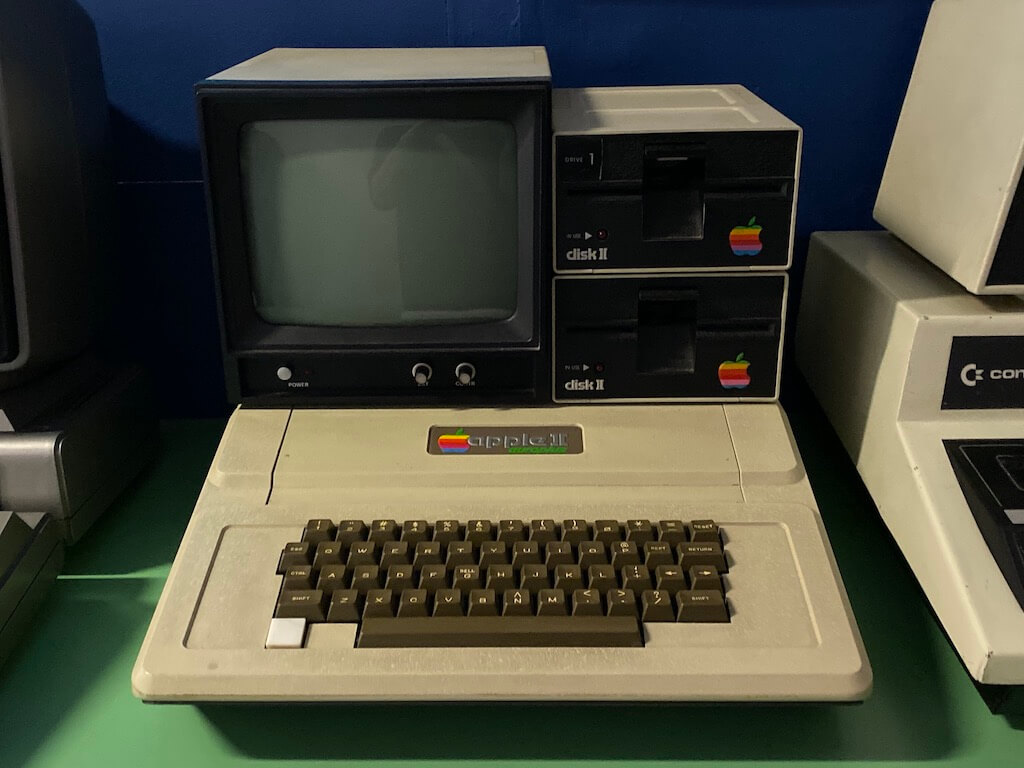 Then, Olivetti exited the PC business in 1997, and in 2003 this company was absorbed into the Italia Telecom Group. However, the Olivetti company still exists today as a system solutions company.
Education for local children
This museum has a school-like atmosphere, but it is actually still used as a place for computer education. We heard that the museum regularly holds educational programs for children today.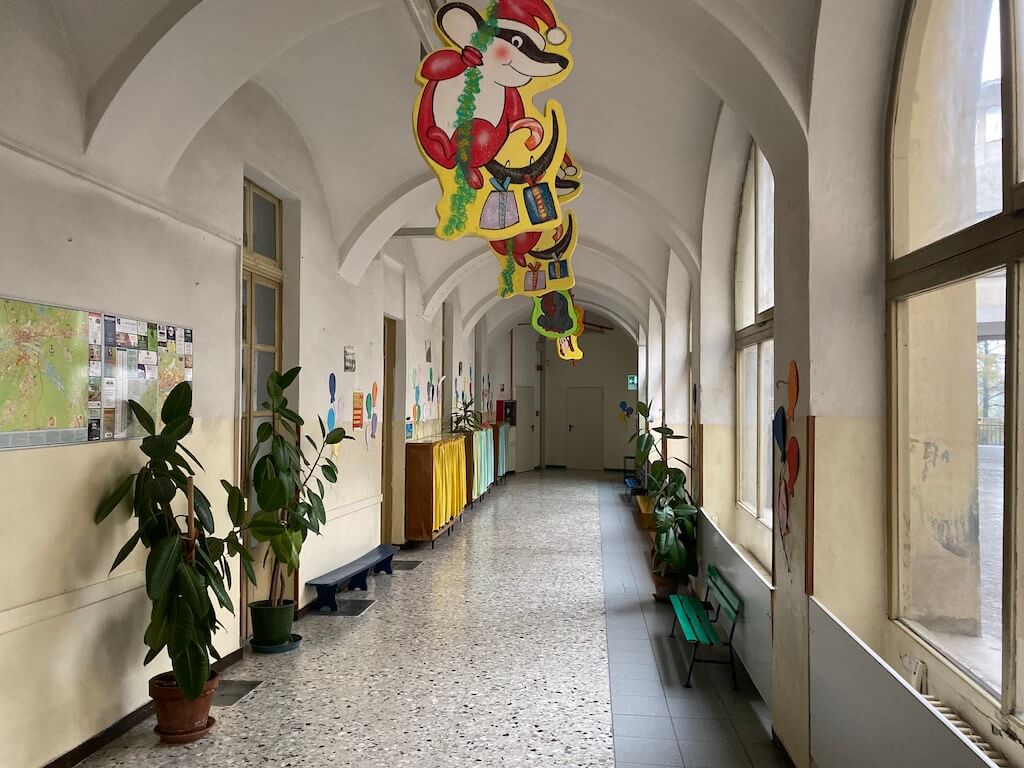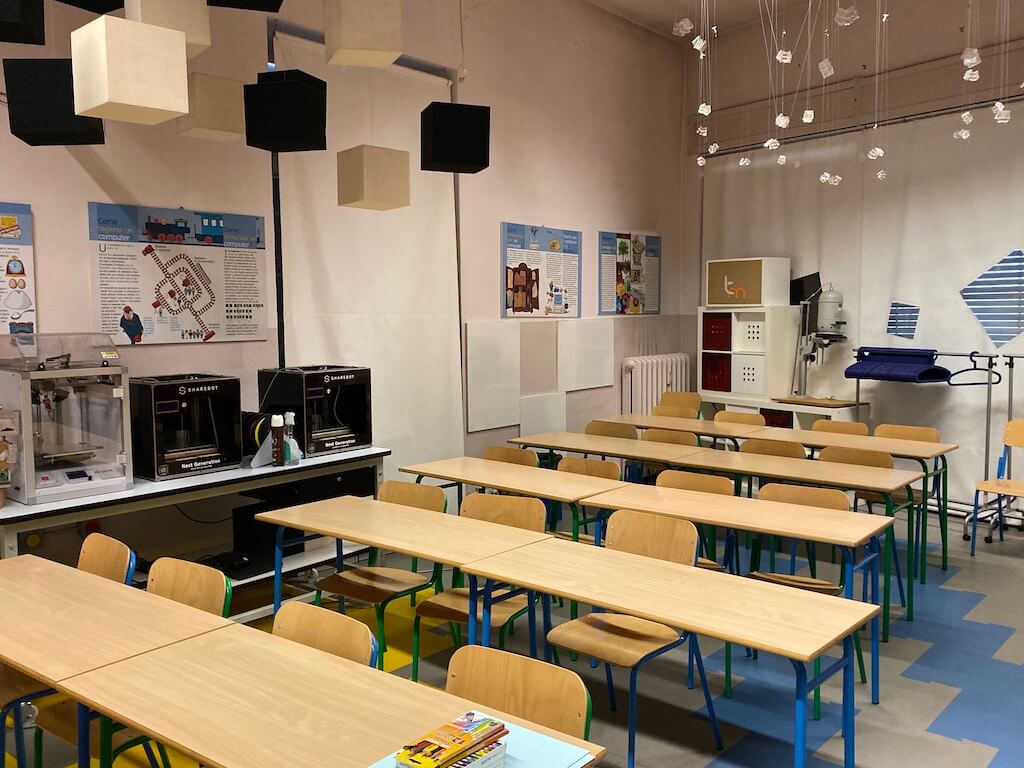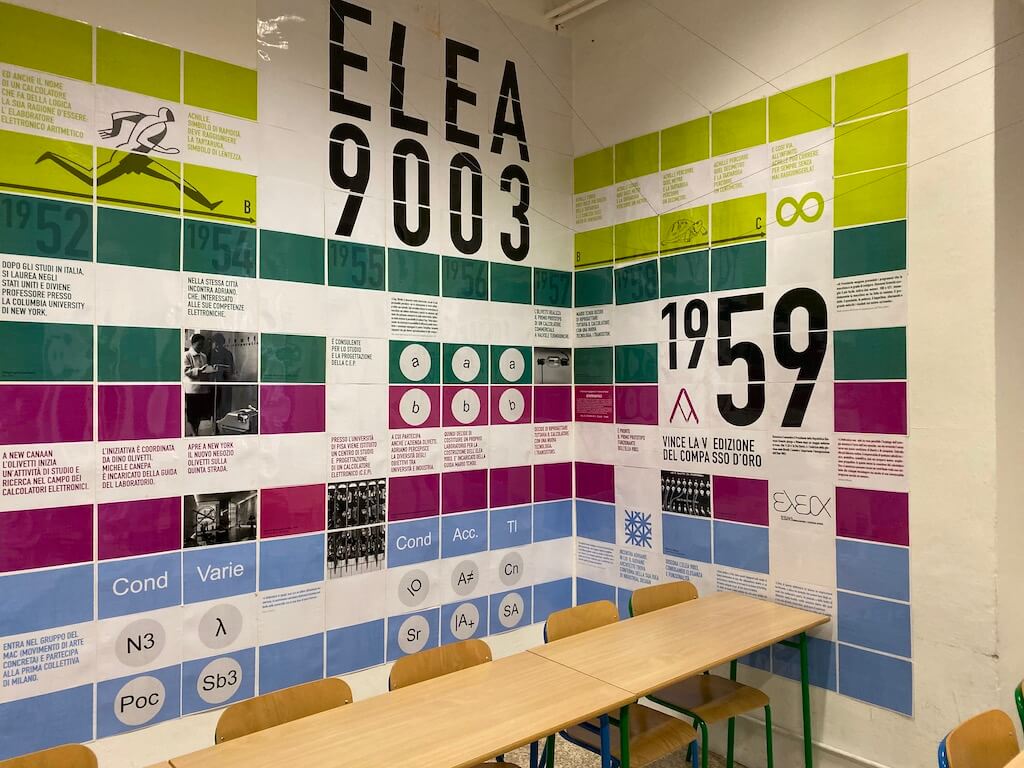 They have a classroom like this, where they teach programs and so on. As we looked carefully in the room, we found 3D printers in the back and also noticed that they were made by Olivetti.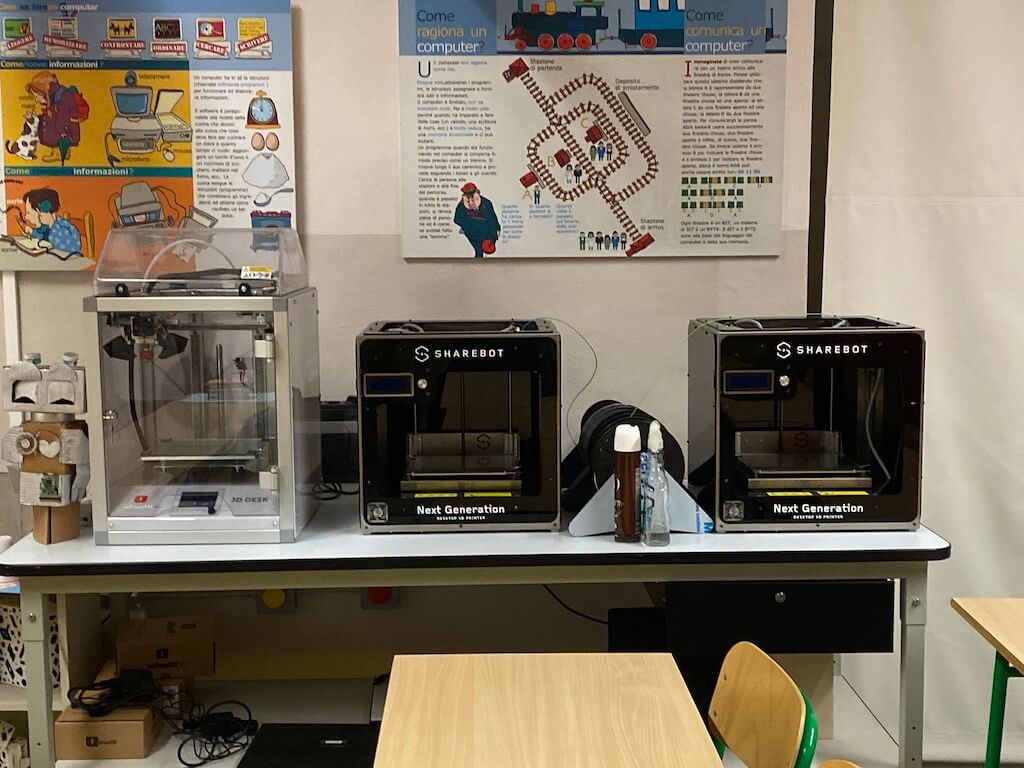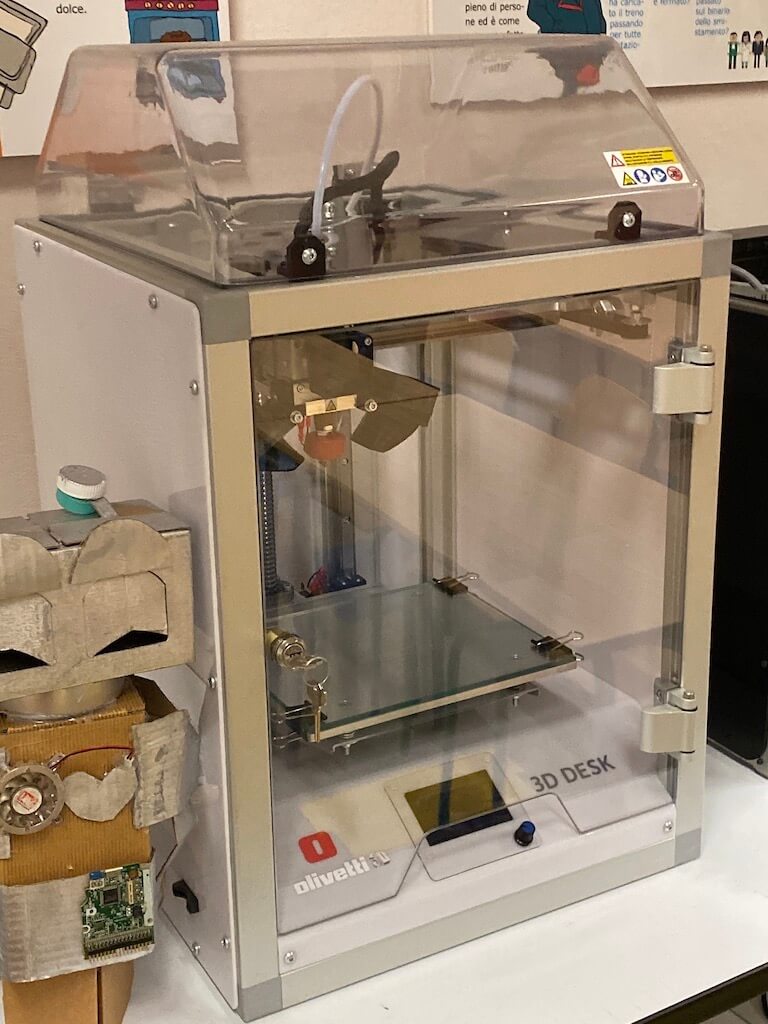 According to the guide, a new museum is going to be built in the area where the head office of Ivrea is located (south side of the city across the river), and in the future (next year, 2020, I think she said), the function of this museum will be transferred and this place will be closed. But I couldn't find such information on the web at the moment.
To summarize, we were able to say that it was a precious experience to study the stories about Olivetti in this small place like a classroom of an elementary school. We would like to revisit again even if not, especially if the new museum is built. The old town of Ivrea is also beautiful and I would love to stay in the city in the near future.
I have visited nearly 250 World Heritage Sites in my life, and I believe this was one of the top ten most enjoyable and memorable of them all!