Date and Time of Visit: July 20, 2017, approximately 11:00 a.m.
La Foret is a beautiful village in the Ardennes forest. As the name suggests, it was a pleasant village surrounded by forest. This was the second village we visited this day. Even so, we could visit it while it was still in the morning because it was a short distance from the first Grosse Phe, about 15 minutes by car.
I had a very difficult time parking my car. It seemed to be able to park even at first glance, but it was not so. Somehow we found a space around the entrance to the forest a little outside the village. It is a small place as usual, even if it is outside the village, it is a short walk to the village. If I say outside the village, it might be misunderstood. (You need to be familiar with this area to understand the feeling.
Well, the village of Laforet is certainly a pleasant village, but to be honest, it has very little to offer. I've already said that I'm tired of the village of Walloon, but as usual, the asphalt road is too wide for the size of the village, and it ruins the atmosphere.
Still, we were able to enter the church, which was rare. This is a high point!
In reading the description on the church, it says that the church was "rebuilt" in 1457 and 1779. Since there is only information about the rebuilding, in other words, the church must have existed a long time ago. If so, it may have more history than the other Walloon villages than I thought.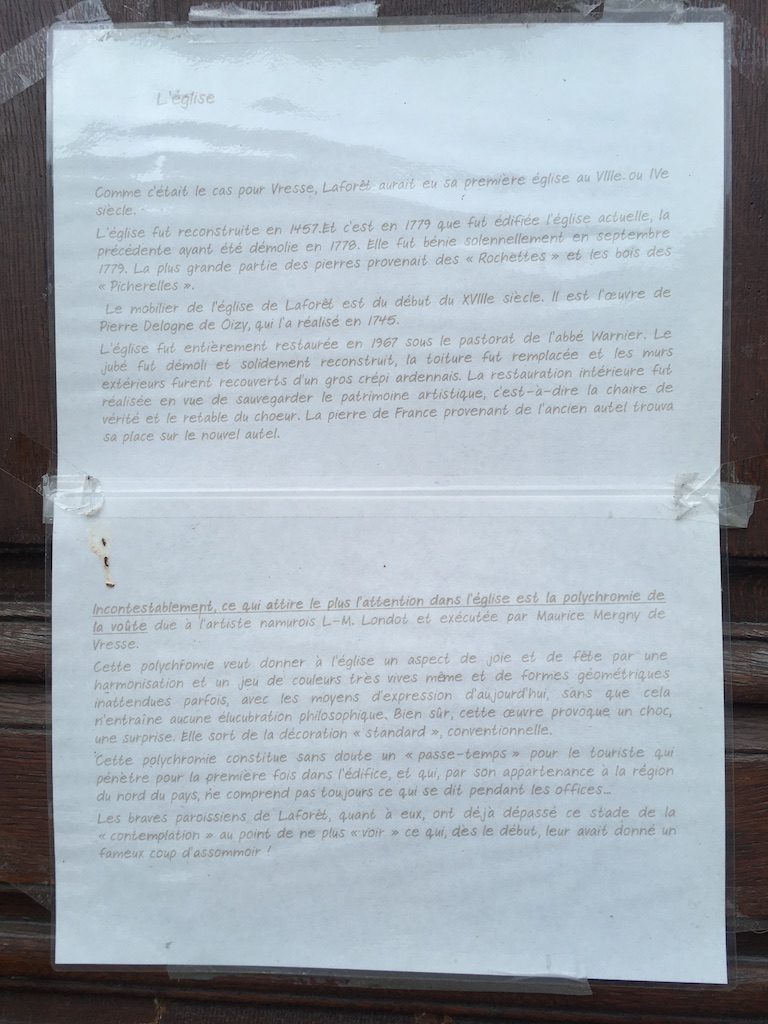 By the way, the present appearance of the church is the one when it was rebuilt in 1779.
Honestly speaking, there was almost nothing to see, but when you've been to 27 places in total, you get used to it. I thought it would be like this. There were only three villages left.