Date and Time of Visit: September 13, 2017, approximately 11:00 a.m.
This was the second day of our tour of Switzerland's most beautiful villages. The first day we arrived in the afternoon, rented a car immediately at the airport as usual, and only drove for about three hours, so it was practically the second day of sightseeing.
Lichtensteig is a village located in the middle of Zurich and St. Gallen. The name is similar to Liechtenstein, which is a bit confusing, but come to think of it, Liechtenstein is also close lol.
We arrived at the village around 11 o'clock before noon. We parked at a public parking lot we found just after we arrived and started sightseeing.
In addition, there is a parking meter like this one, where you pay with coins after entering the number of hours you want to park. At first glance, it looks like a common system in Europe, but no ticket is issued. I've never seen this type outside Switzerland.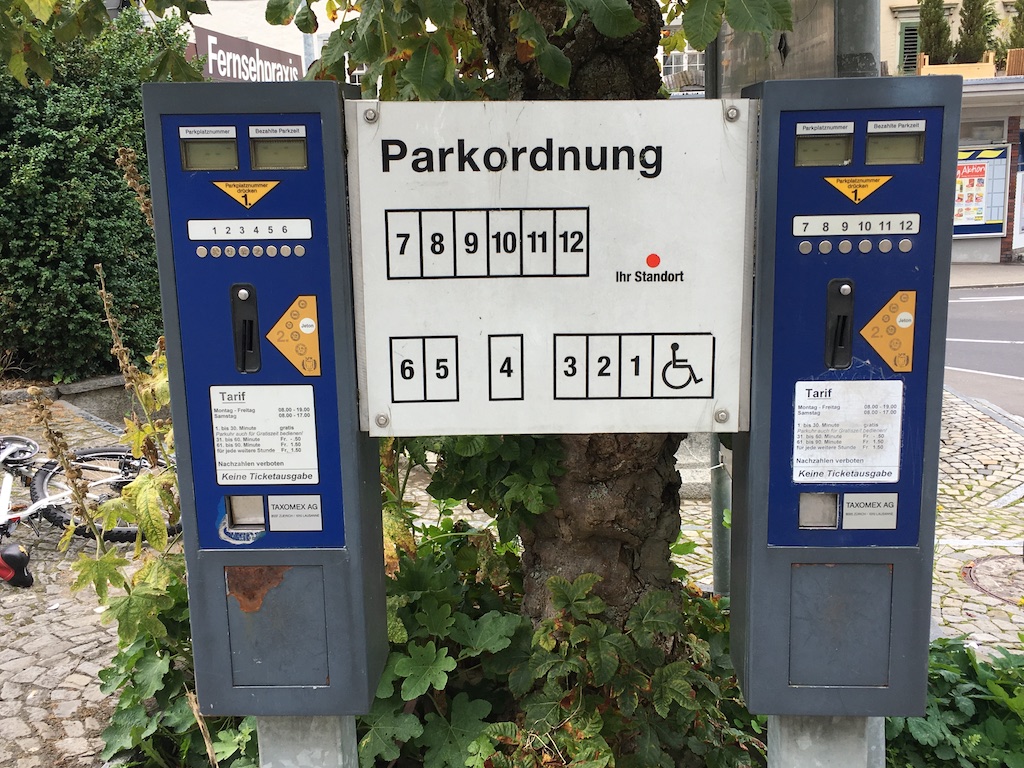 The village of Lichtensteig was founded in the 12th century as a fortress on a rocky outcrop, and has a history of nearly 800 years. The roots of the church and monastery date back to the 15th century. Although there are many picturesque buildings in the village today, there are many very modern shops, and the village is large and crowded, which is very different from the image I had of a beautiful village in the countryside.
By the way, I didn't notice it at all at the time of my visit, but I found out from the photos on the official website that there is a river behind the city center where I was mainly strolling, and if you look at the village from there, you can clearly see that the village rises up on the rock wall. However, it was cloudy when I visited and it looked like it would rain any minute, so to be honest, I was just ready to take a quick stroll and go home.
By the way, the church in this village is very impressive. "It was designed by the architect Walter M. Förderer between 1969 and 1970 in a modern architectural style.
At the time of our visit, we were not allowed inside, but we were free to enter the grounds.
I like to see such characteristic buildings, but I still want to see the old streets like Europe. I feel that German-speaking villages are not so good in this area.