Visit Date: March 23, 2019, Morning.
This is the last day of our stay in New Caledonia for about a week, and we will return to Japan this evening. In the morning of the last day, we went to "Canal Island", the closest island from the main island of New Caledonia, which can be seen clearly with the naked eye from the Ansebata coast where we are staying.
It depends on how crowded it is, but no special reservation is required. You can apply on the day under the building at this place on the Ansebata beach.
If you're staying in Ansebata, it's walking distance enough. But we had a car, so we drove from the hotel and parked in a free parking space right in front of the hotel. they say you can park for up to 3 hours for free. (Do you have photo evidence?).
You'll be back anyway, so keep your belongings to a minimum. You might want to bring your own towel. I don't think there was any rental. I think you can rent a towel at many hotels, so it is best to use it. You should also wear shoes that can get wet, such as sandals.
They will ask you "What time?" or "Quelle heures?", which is the time when you return from the island. You can say any time you like. But I felt it was better to declare roughly in 30 minutes. Personally, I think 2 or 3 hours is enough time to stay on the island. We told them 12:00. le midi didn't come out right away….
After the reception, you will receive a ticket (receipt). You will need it for the return trip as well, so don't lose it. If you wait around for a while, a taxi boat will come to take you to the island. From here, you can go to Canal Island and another nearby island, Mettle Island. So make sure you know where each taxi is going. Before that, they will ask you.
We took a taxi and left. It takes about 5 minutes to get to Canal Island. The taxi is a bit bumpy but the distance is short so it won't be a problem.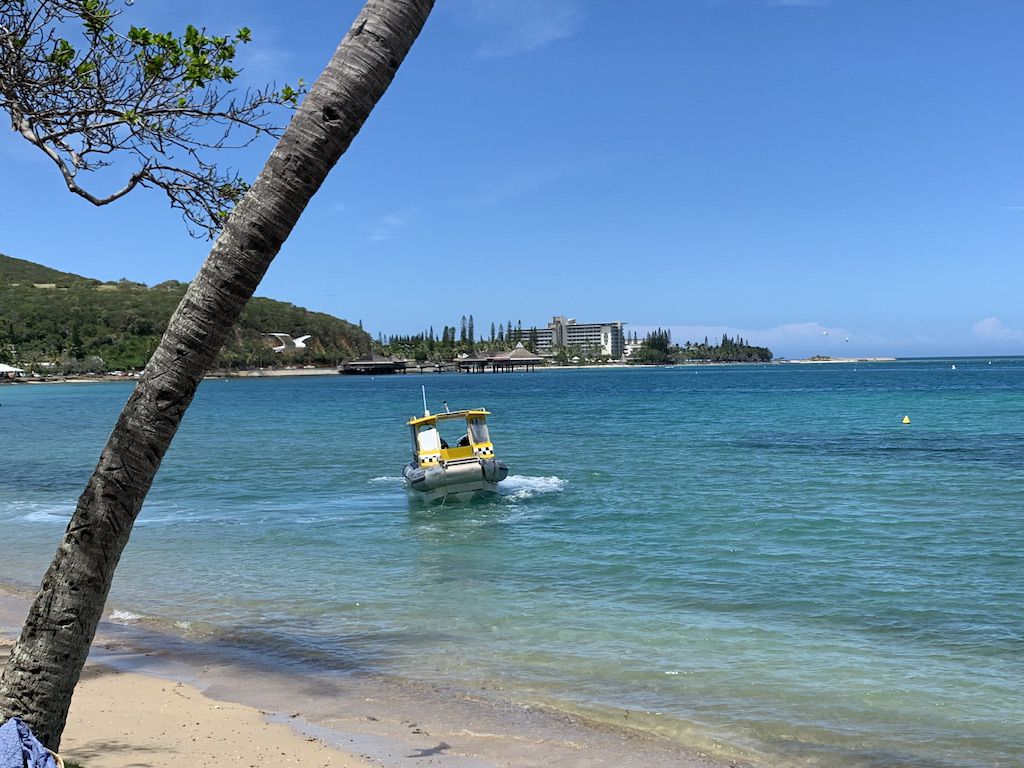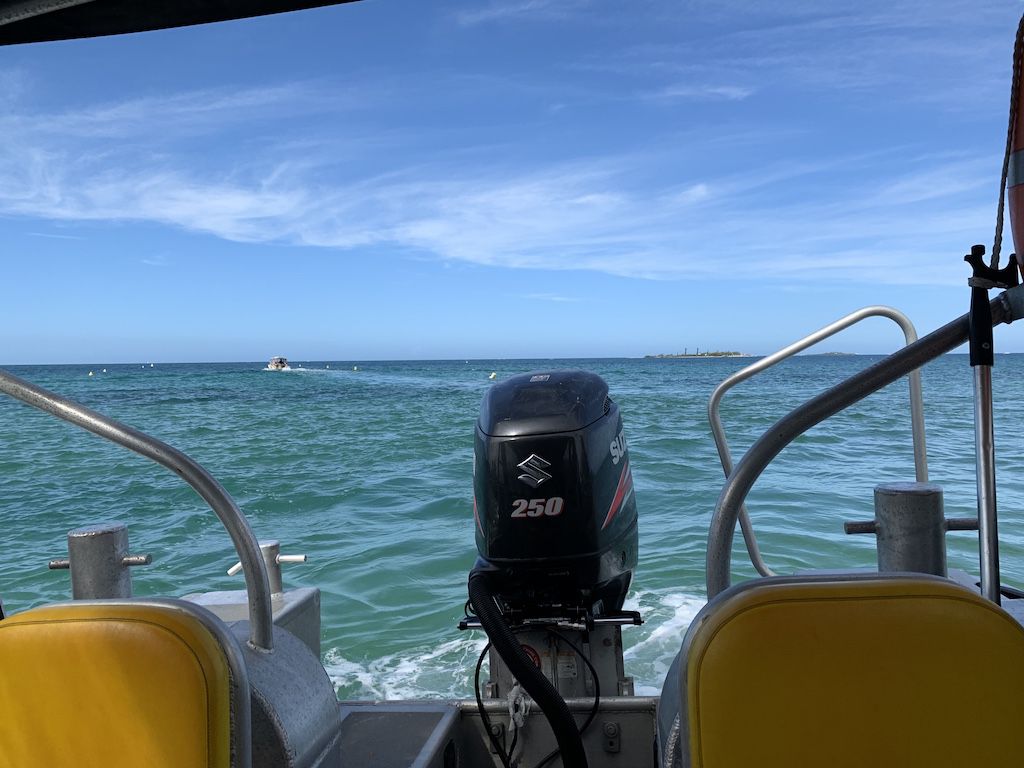 You can rent parasols and chairs at the bar in the center of the island after you arrive. There are several kinds of parasols and chairs on the island, but I think the standard two-seater ones cost about 4,000 Japanese yen. Credit cards were accepted. After you get the receipt, show it to the person in charge at the entrance of the island, right next to the water taxi stand, and choose a parasol of your choice. Make sure you keep the receipt until the end of your stay. You will be checked even after you choose a parasol.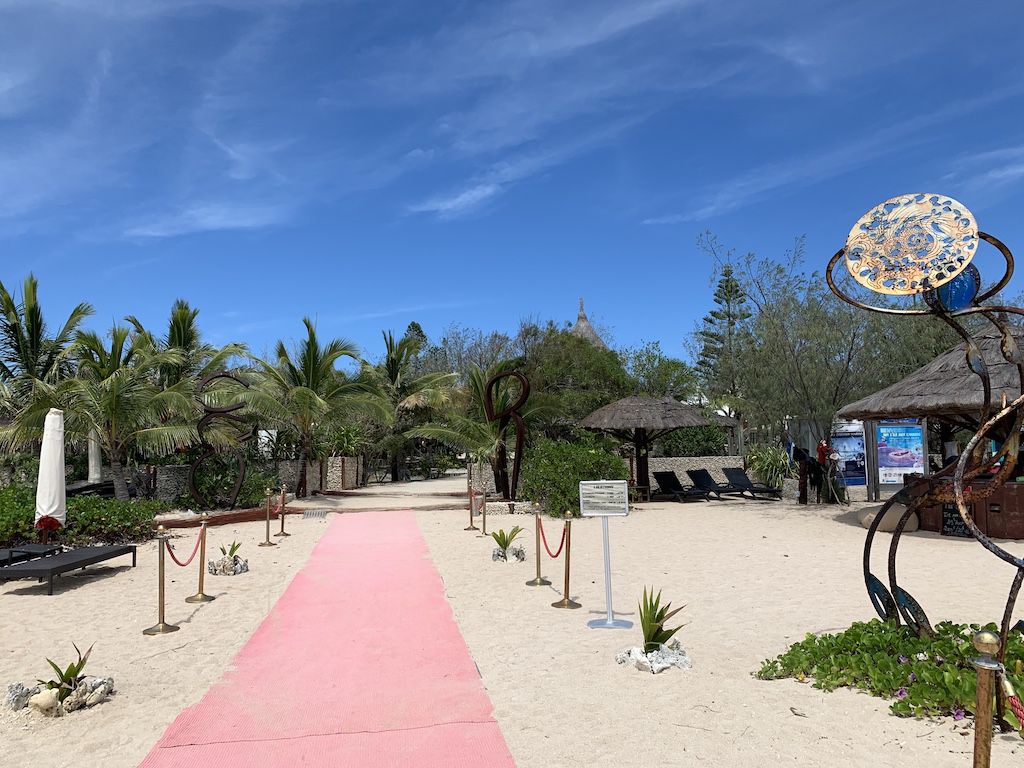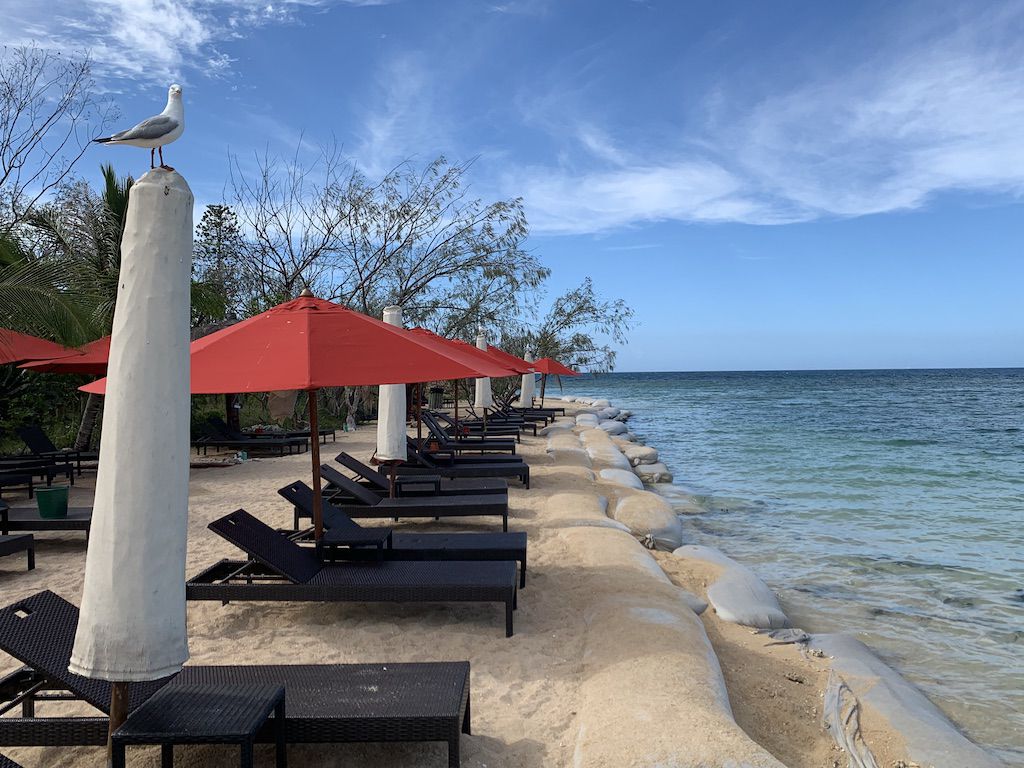 Well, Canal Island is popular as an easy spot to enjoy snorkeling very much. I experienced snorkeling at Rif Island for a while, and I rented snorkeling equipment from the hotel for free, but this time I bought it in Noumea town beforehand.
There was a very nice marine sports shop in Noumea city. However, we chose the cheapest snorkeling equipment, so it was not useful to say the least. Even so, my wife is very handy, so she used it very much…. I guess you have to buy the best one.
Nevertheless, we fully enjoyed the beautiful beach and emerald sea.
And at the appointed time of 12:00, we went back to Ansebata, the main island.