Visit Date: April 27, 2019, at approximately 10:00 a.m.
We are traveling again this year for two weeks over Golden Week. This will be our first time in Italy since September 2015. This time we traveled through the central part of Italy from the Tyrrhenian Sea to the Adriatic Sea. By province, I mean Lazio, Tuscany, Umbria, Marche, and Emilia Romagna.
I had visited Tuscany and Umbria once before, 12 years ago in 2007, but at that time I was still new to driving in Europe and I had only visited a few major cities because I had also visited some of the southern part of the country.
Before You Go: Your First eSIM
Before that, I'll write a brief preparation section. Normally I would write about the rental car, but I've already written a lot about it, so this time it's about the SIM.
This trip to Italy was the first time for me to use eSIM in Europe. eSIM was first introduced with the iPhone XS, and I'm not sure how many carriers have already started offering it in Japan, but I heard before I left that it's already available overseas. I heard before my departure that it is already available overseas. So I decided to use Ubigi, which has a strong reputation for being relatively cheap in Europe.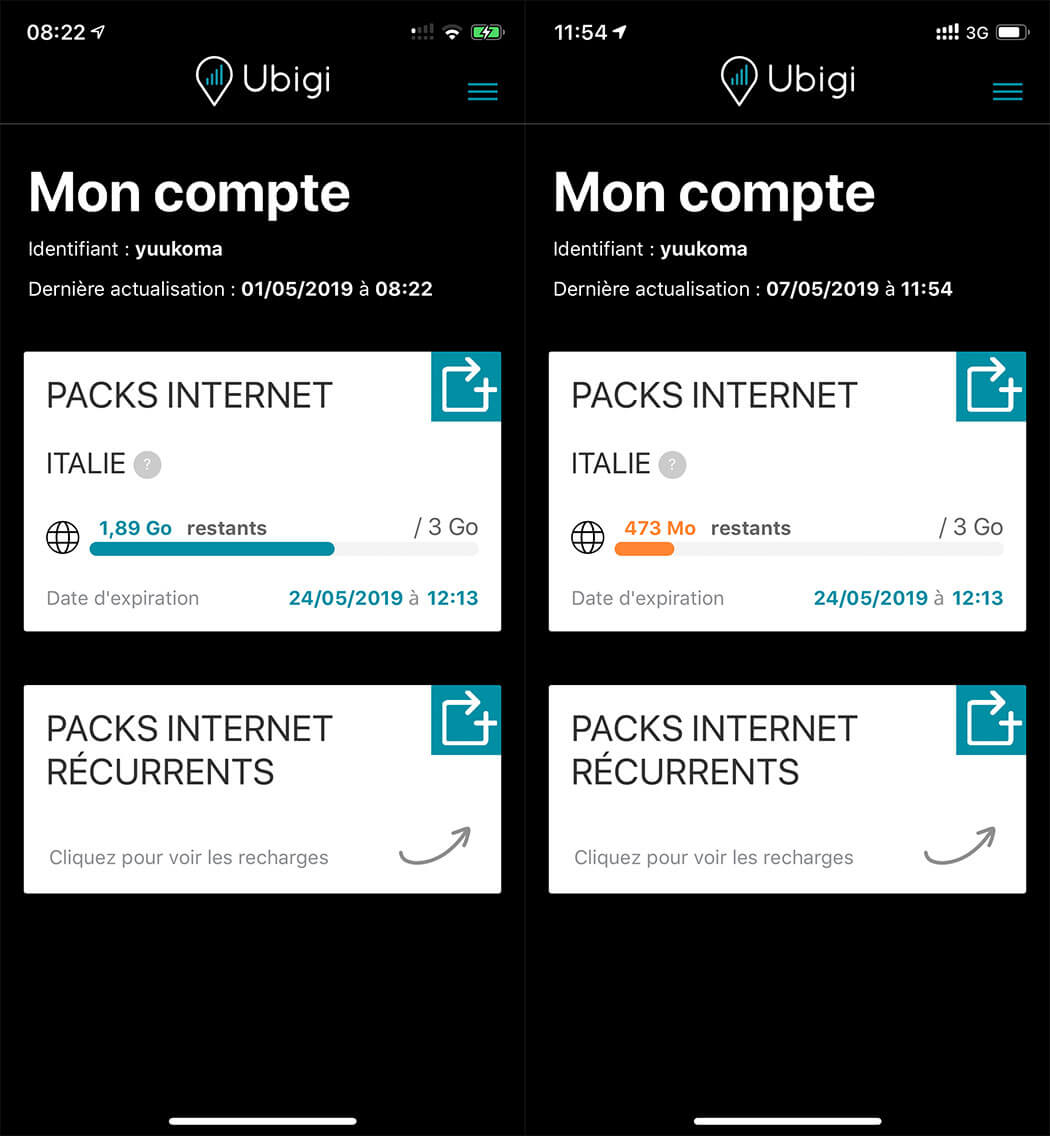 Ubigiのサイト:https://ubigi.me
Certainly Italy is a very good value at $15 for 3GB per month.
As for the setting, the creation of ID is of course, but various settings are also necessary on the iPhone side.
設定方法の参考サイト(Apple):https://support.apple.com/ja-jp/HT209044
It's easy to use, but in the city, LTE is almost always available and comfortable. In the countryside, it is mainly 3G, but I can use it almost without a problem although I felt a little slowness. However, it often goes out of range. You can buy a prepaid SIM locally, which is definitely superior, but you can do everything online before you leave, so it's very easy.
I was worried about the various procedures under the local airport and hotel Wi-Fi, so I bought and set up in advance in Japan, taking into account that 3GB is valid for one month.
World Heritage Site, Etruscan Cemetery Sites of Cerveteri and Tarquinia
Now let's get down to business.
This trip starts from a city called Tarquinha, which is about an hour north of Rome. I arrived in Italy on the 26th, the day before. I met my wife, who had arrived in Rome earlier, at the airport, rented a car, and drove a little north along the Tyrrhenian Sea. I stayed one night in Civitavecchia, a town where ferries to Sardinia and Corsica arrive and depart, and then came to Tarquinia, a town less than an hour away from Civitavecchia. The weather was fine.
The city is surrounded by a wall. First of all, there was a parking area outside of it, so we parked our car there and started sightseeing.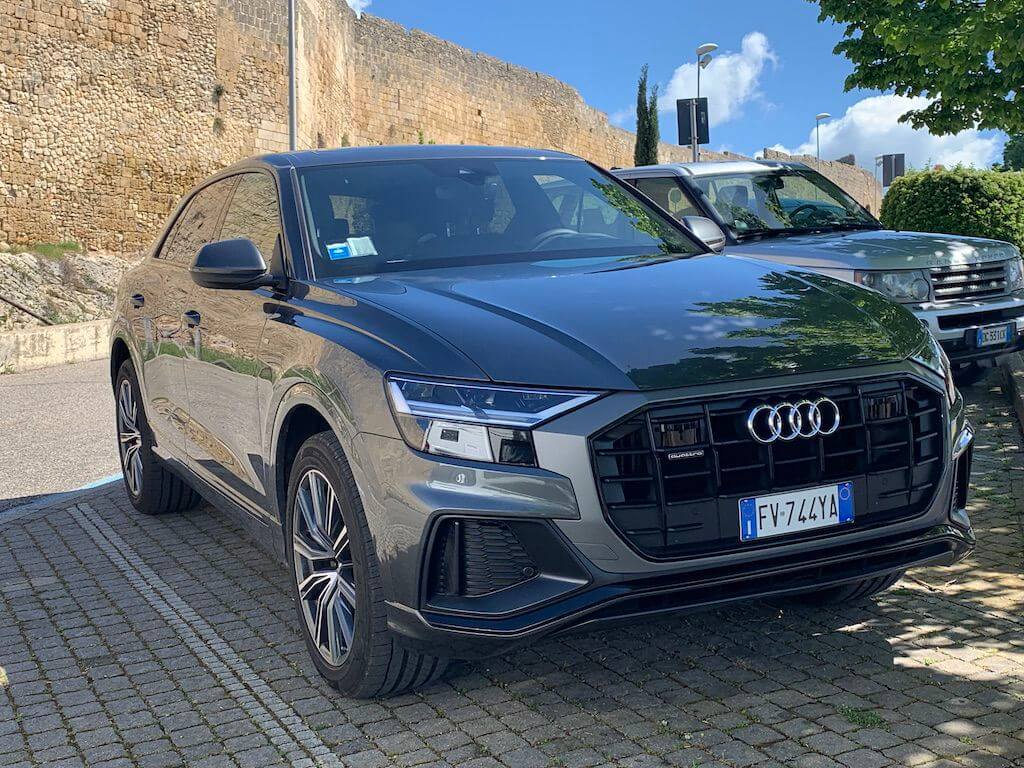 By the way, we rented a very gorgeous car for a reason.
I wanted to visit Cerveteri, another registered World Heritage Site, when I arrived in Italy on the previous day, but my connecting flight from Dubai was delayed for almost an hour and I ran out of time, so I could not visit there. I could have gone there on the next day, but I gave it up in view of my future schedule and decided to visit Tarquinia only.
In this city, there are remains of tombs left by the Etruscans who lived in the Italian peninsula before the Roman Republic, and this is a World Heritage Site. The ruins are located outside of the city, surrounded by the wall. It is about 10 to 15 minutes walk from the center of the city.
It is the remains of a huge cemetery of the Etruscans who lived in this area before the Roman Empire, about one hour north of Rome. It was discovered in the 19th century. The Etruscans were known for their high artistry, and they had a great influence on the Romans who ruled this peninsula later. This is the entrance. You can buy a ticket here and go inside.
Because it was Saturday, there were more tourists than I expected. It seems that many people come on a tour by bus. The language was Italian, so I wonder if they were Italian tourists. Anyway, I always think that Europeans love ruins.
The huge cemetery ruins are like a city, scattered in a well-planned arrangement in a large plot.
There are many entrances to the site, as shown in the photos below, each with a staircase leading to a space (room) with an underground (possibly buried) tomb.
Many of the paintings in this space date from the 5th to 3rd centuries BC and are very valuable for understanding the artistic abilities of the Etruscans of this period. A detailed description is written on a plaque at the entrance of each tomb. It is also written in English, so it is very useful.
My impression of the paintings on the tombs is that they have an atmosphere that is somewhat different from that of Greece and Rome, and that they are somewhat deformed or illustrative.
There are always lights on the stairs, but the cemetery room can be lit by pressing these switches to see inside.
There are so many cemeteries and so much to see that it would take a lot of time to see them all. I think we visited less than two thirds of them.
The city is also very beautiful and has a great archaeological museum!
Following the visit to the tombs, we decided to go into the city. At first, I thought there were only ruins to see, but the city itself was surprisingly large and very beautiful.
Moreover, the archaeological museum of this town was very splendid. First of all, the building is very beautiful because it was the mansion of the original lord.
The museum houses coffins, treasures and some of the wall paintings from the Etruscan tombs discovered near Tarquinia. There were a lot of exhibits and it was very interesting to see.
The coffin in particular is very large and artistic, and it's not often that you can see something so magnificent up close.
It was a better city than I expected and I wanted to stay a little longer, but because I had only applied for two hours of street parking, and because it was the first day of sightseeing, I was worried about getting caught up in traffic violations, etc., so I rushed to see the museum that was in the city and left the city. It was very regrettable. I would like to go back to the city itself. It would have been better to stay in the city the day before. It is definitely on the list of many people who want to revisit.