Visit Date: May 3, 2019, approximately 5:00 PM, overnight
The last stop on our tour of the Marche region is this town, Ascoli Piceno. It is a beautiful old town on the border of the three provinces of Marche, Umbria and Abruzzo. It was once called Asculum and was also the battlefield of the Poeni War. It is the capital of the province of Ascoli Piceno in the Marche region, so it is large in size and therefore not chosen as a beautiful village, but the town is beautiful and worth a visit.
We will be staying one night in Ascoli Piceno. As usual, I arranged an apartment on Booking.com about 2 days in advance. I think there are more and more apartment deals on Booking.com these days.
I had already informed the manager of the apartment of my arrival time the day before. I had already informed the caretaker of my arrival time the day before, and we had no problem communicating in English. We met him in front of the apartment at 5:30 pm. The room was a little bit fairy tale, but very comfortable and reasonable. The manager was also very nice. The supermarket is right in front of the apartment, which is nice.
Booking.comより:Casa Malen
In addition, it is a parking lot, but I used it because there was a large private parking lot on the south side of the old town. The old town is on a hill, but there is an elevator, so it is easy to move. In addition, because the exit of the highway is on the south side, access was also easy.
After a briefing on the apartment facilities, we headed out. We still had some time before dinner, so we walked around Piazza del Popolo and Piazza Aringo. First, Piazza del Popolo. The Palazzo dei Capitani with its impressive clock tower and the church of San Francesco caught my attention.
We couldn't enter the palace at this time, but we could enter the church of San Francesco. There were many cafes in this Piazza del Popolo, and although it was not yet the real tourist season, it was crowded with many people.
The buildings and atmosphere of Italian cities are good, but there are peculiar Italian dirtinesses those are sometimes noticeable, but this city was not like that. In general, towns and villages in the Marche region were clean and neat wherever we went, and I felt that there was almost no Italian dirtiness. Even in the north, there are some dirty places. So we were able to walk with peace of mind, and it was nice to stroll around. Except for the fact that the weather was not good.
Next, we went to Piazza Aringo, which was a few hundred meters away from Piazza del Popolo. There was a museum and a tourist information center here, but it was already closed. There was also the Cathedral on the east side. We couldn't enter here either on the day we arrived or the next morning.
However, on this day, there was a "fried food festival" event here, and local wine and olive oil were on sale, so the place was crowded with people. If it was a little later in the day, there might have been more people.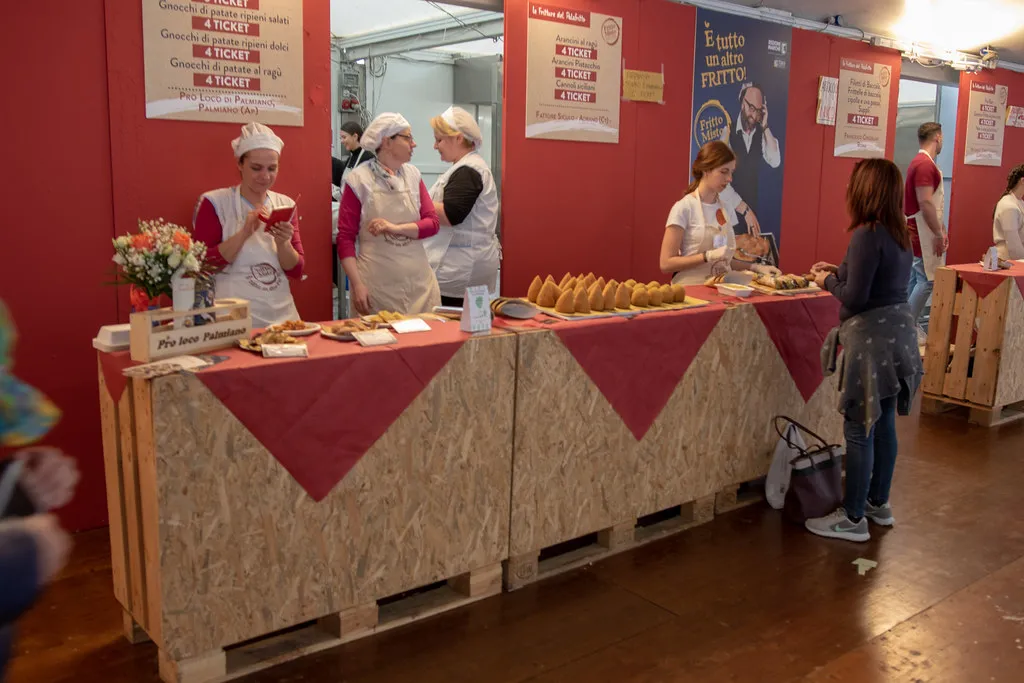 Fritti and beer here was not bad, but we prefer to eat a local meal, so we held back. Instead, we decided to buy some olive oil which looked delicious.
The man enthusiastically explained the beauty of this olive oil to us for almost five minutes, but it was all in Italian and we couldn't understand what he was talking about.
Anyway, we decided to take dinner firmly, but we did not have a special reservation. Therefore, we chose a restaurant that seemed to be casual with a good reputation on TripAdvisor at random at that day. There are many restaurants only in the capital of the province.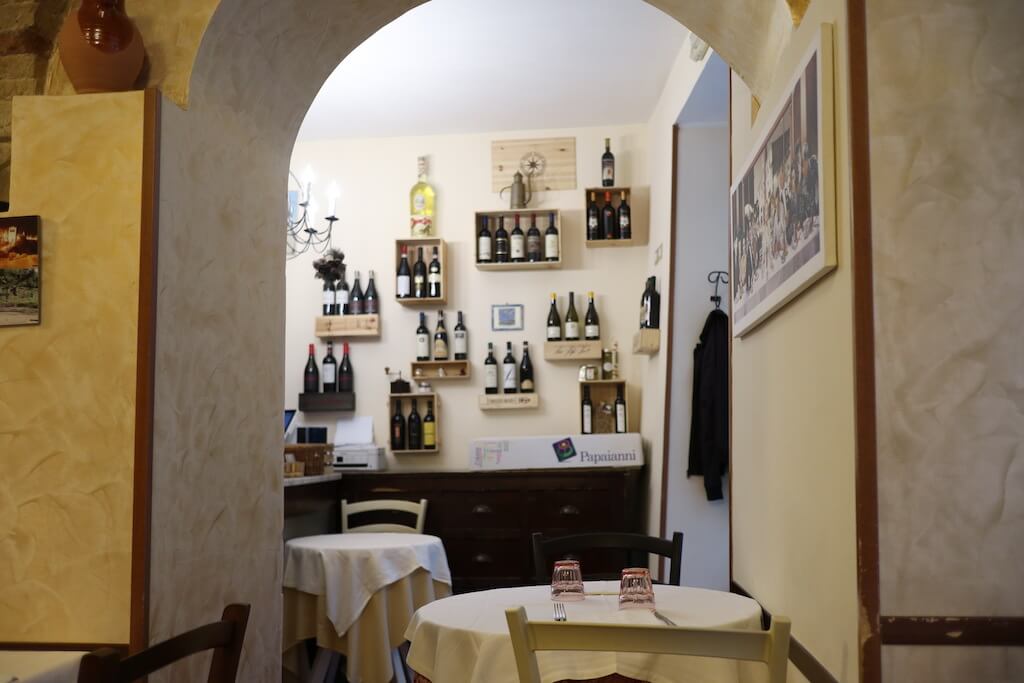 お店のURL(tripAadvisor):La Locandiera
We started by ordering some of the local specialty foods, as you can see in the picture below. The one on the left is a speciality of the region. This is "Olivet Ascolane", which is olives stuffed with minced meat, battered and fried. You can find this all over Italy and sometimes in Japan too. This is the place of origin.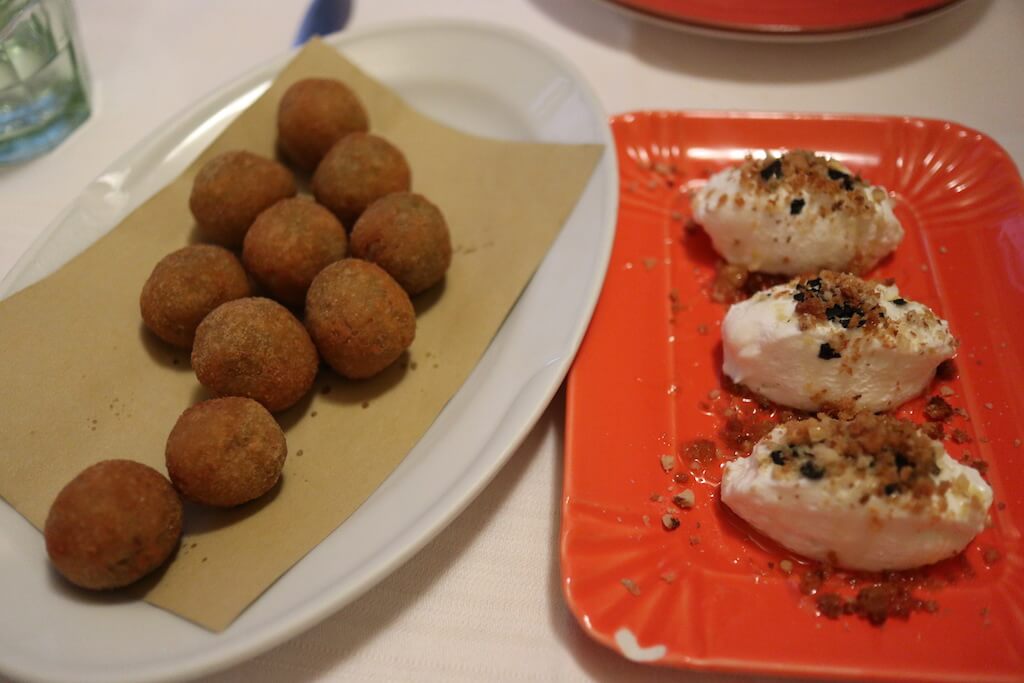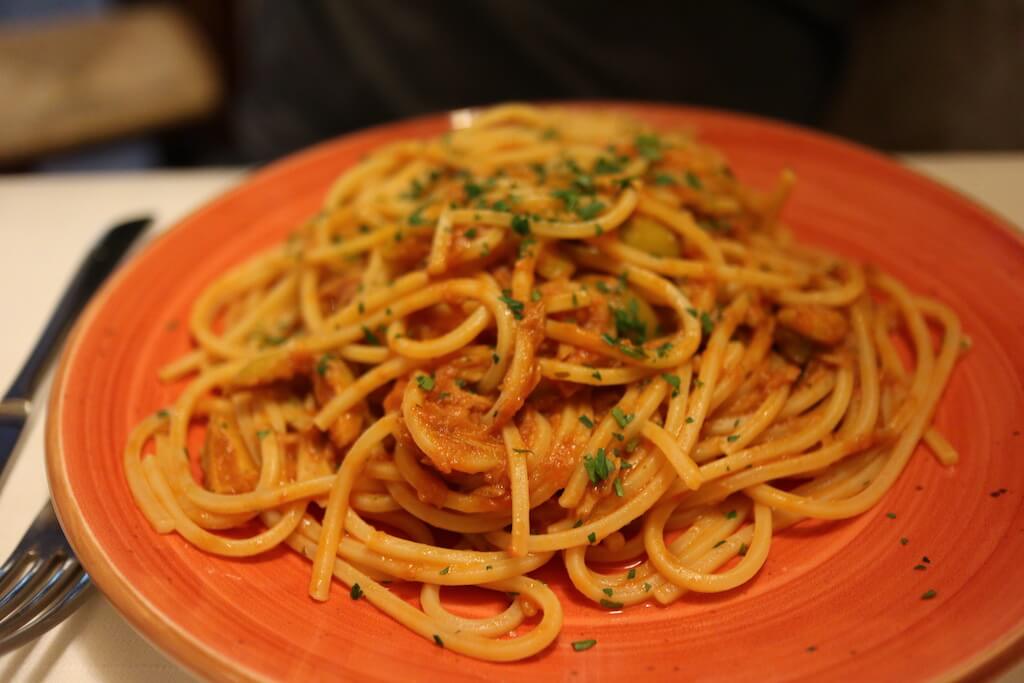 It was certainly a local specialty, so was it my imagination that it seemed completely different from what I would eat elsewhere? Even if that were the case, the food at this restaurant was delicious overall. I was satisfied with my choice of a good place.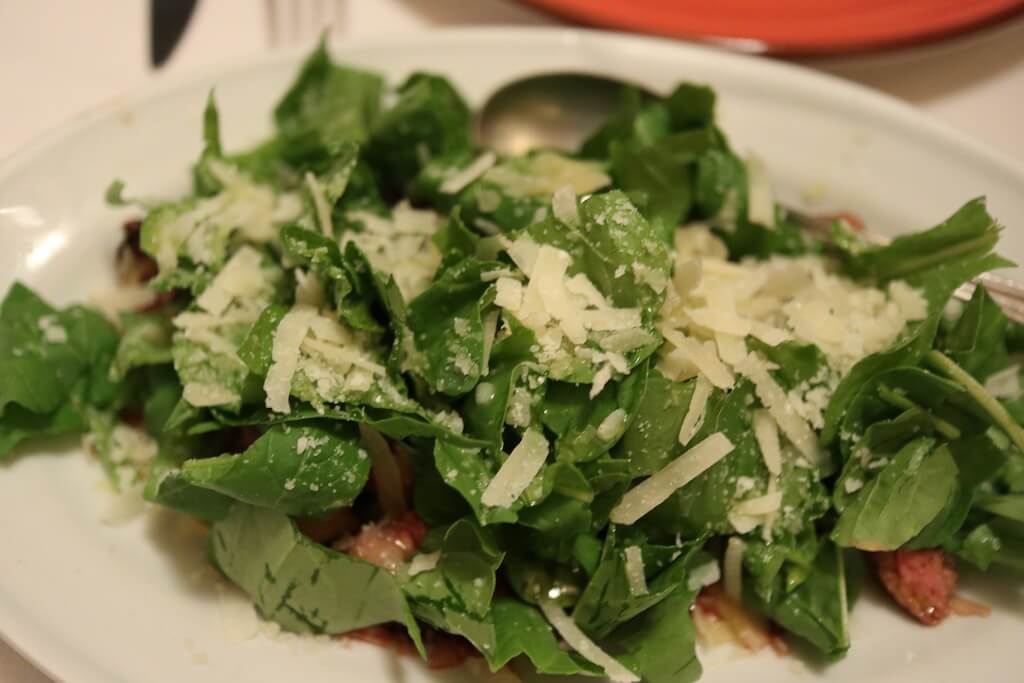 The wine was a local table wine. It was Sangiovese. It was cheap and tasty.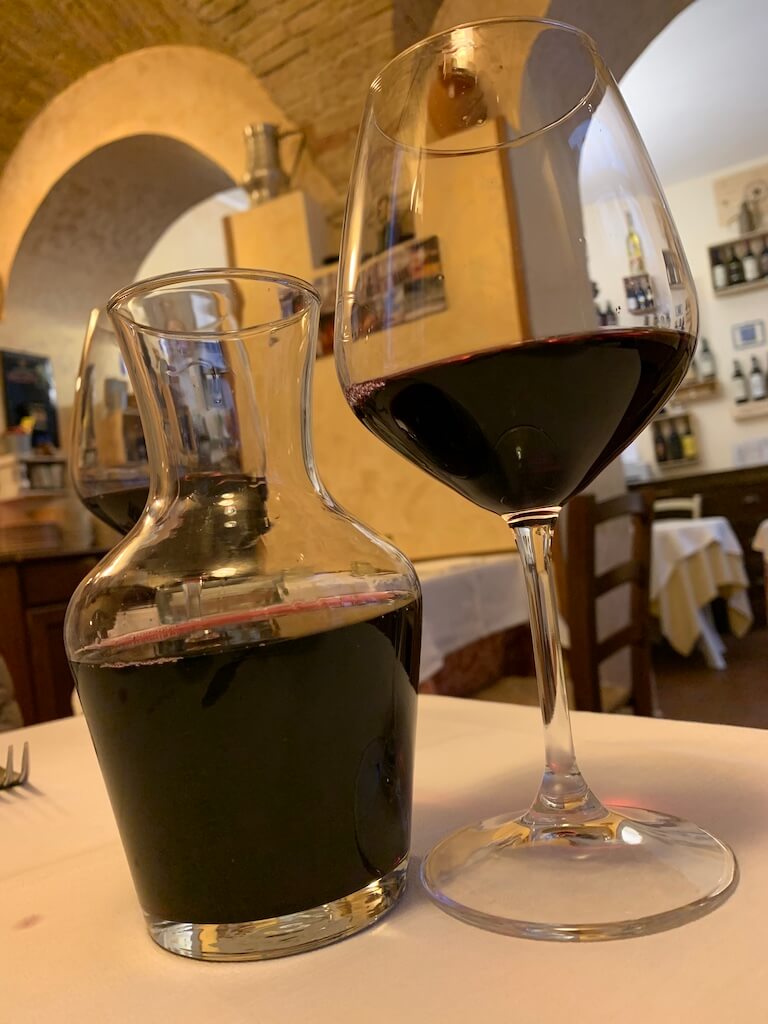 Ascoli Piceno eventually left the next morning after arriving at night. Enjoyed the food, would have been nice to do a little more sightseeing. Traffic access is not good, but it was a town worth revisiting enough.