Date and Time of Visit: September 14, 2017, approximately 3:00 p.m.
I`ll be writing this series for a while.
I'm going to resume my series on the most beautiful villages in Switzerland, which I did last year right after I quit my last job. To be honest, it was a disappointment. I can't deny the fact that the way to this village was tough and it was raining, but it's a common thing in the tour of beautiful villages.
Cabbio-Muggio is a small village located between Lake Como and Lake Lugano in the lake district of northern Italy.
The day started in the town of Pontresina, near St. Moritz in Switzerland. We drove along almost the same route as the "Bernina Line", which is also recognized as a World Heritage Site. It's an exhilarating route that takes you up to an altitude of 2,500 meters, but it only seems that way when the weather is good. On this day, the weather was cloudy and sometimes rainy. The weather was cloudy and sometimes rainy, and it was foggy near the pass, which was the worst condition. (Unfortunately, even in September, it gets down to 0 degrees Celsius in this area depending on the weather.
As I will show you later, there is a place on the Bernina line called "Postiavo", which was chosen as one of the most beautiful villages in Switzerland. This was the first stop of the day. From Postiavo to Cabbio Muggio, we passed through to Tirano in Italy, which is the terminus of the Bernina line as well as the train, and then turned west. On the way, we entered Switzerland again to stop at another beautiful Swiss village, Soglio (to be introduced later), but we continued through northern Italy to Lake Como.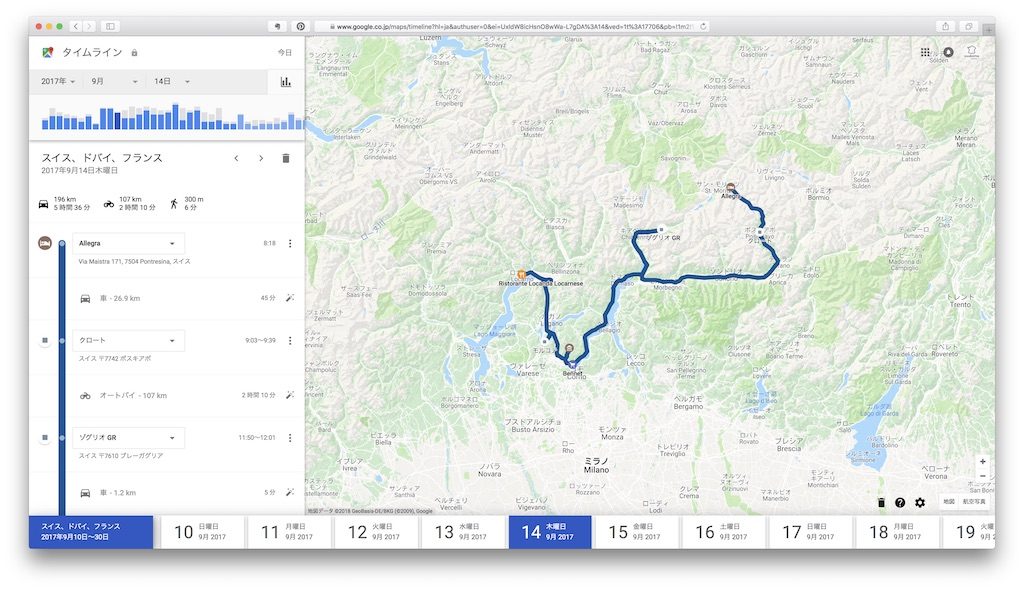 This was a very boring road with no high speed and a lot of traffic. Finally, we arrived at Lake Como, but the road along Lake Como was very narrow, and there was a lot of traffic, as I experienced when I traveled to northern Italy on another occasion. There was not much time to enjoy the scenery.
It's hard to convey in words, but we had a hard time driving and we were depressed. Finally, we passed Lake Como and entered Switzerland again. When we finally arrived at the village, it looked like this…. This is disappointing, isn't it?
This is probably my first and last visit. But this is also the best part of visiting beautiful villages. But this is also the best part of visiting the most beautiful villages in Italy. What a country Italy is… (continued)