Visit Date: May 2, 2019, at approximately 4:00 p.m.
The village of Colinaldo is a medieval town surrounded by strong walls, located in the hills between Ancona and Urbino. It's only 20 minutes away from Mondavio, which we visited just before, and after following the Google Map navigation, we reached a great panoramic viewpoint where we could see the village from afar.
This looks so promising!
From that panoramic view point, I went down the steep hill once and climbed up the steep hill again to the next hilltop, where the village of Colinaldo was located. I parked in the parking lot outside the city wall and started sightseeing.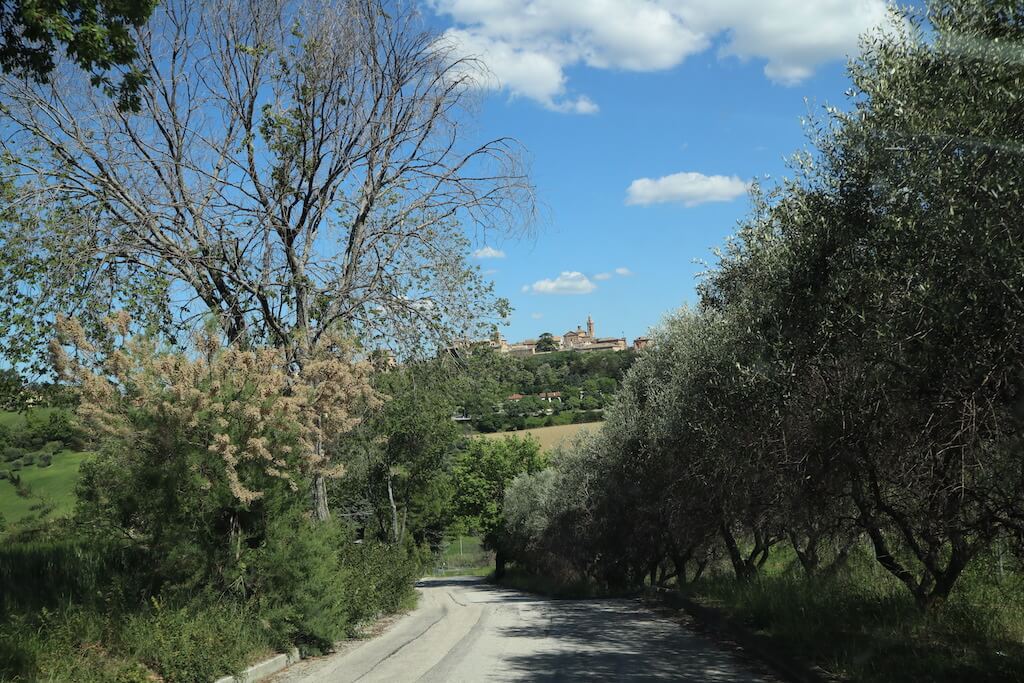 It seems that there are about 100 steps.
At the top of the stairs is the City Hall.
A little further up the hill, there was a church. It is the church of Santagosti.
According to the sign on the front of the building, on the left side of the building is the tomb of Santa Maria Goretti, who was born here and canonized in 1950, and on the other side, on the right side, is the tomb of Alessandro, the man who murdered her.
This man, Alessandro, had been in love with her, and when she refused to have a relationship with him, he killed her. But Maria Goretti told her mother, "I forgive him for Jesus' sake. I want you to come to heaven with him," she said. Alesandro was imprisoned for 24 years, but when he was free, he went to see a person named Mamma Assunta (I didn't get a detailed explanation, but she was probably related to Mariagoretti or his mother? ) and asked for forgiveness.
参考サイト:SANTA MARIA GORETTI
Now, although Colinaldo is a small village, I was impressed that there were many shops on the street facing the town hall. I had a strong impression that the village was very beautifully arranged.
Is the back alley mainly a residential area? It was beautiful here, too.
Driving in the Marche region is a very luxurious experience, with views of the Adriatic Sea and wide open hills, with occasional glimpses of beautiful villages like Colinaldo. Driving is easy as there are only a few ups and downs over the hills.
Next, we headed to the small, beautiful village of Materica, where we chose to stay for the day.