Date and Time (Original) – 2023:07:31 15:45:04
On this day, I visited Monpazier, which was my third stop. In fact, I had also visited here once in May 2013. Ten years ago, it wasn't yet the height of the tourist season, so the village was quiet. However, this time it was the peak of the tourist season, and it was quite busy. It was difficult to find a parking spot, but luckily I found a space near the entrance of the village.
Découvrez Monpazier (Dordogne), l'un des Plus Beaux Villages de France
Découvrez Monpazier (Dordogne), considéré comme le modèle des bastides édifiées au Moyen Âge dans le Sud-Ouest : histoire, patrimoine, lieux de visite incontour...
When I visited this village ten years ago, I was deeply moved by its beautiful scenery. This time, that feeling was unchanged. However, the weather was a bit chilly on my previous visit, whereas this time it was hot.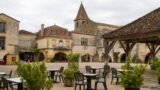 Monpazier(モンパズィエ)- フランスで最も美しい村巡り2013 No.17 -★★★★★
訪問日時:2013年5月12日午後3時頃ドルドーニュ地方の美しい村の多くは、イングランドとの関わりが深い地域です。というのは、1154年に、アキテーヌ女公エリアノールがやがてイングランド王となるヘンリー2世と結婚した時、その時のこの地がその
For sightseeing, I walked around the village, visited the church, and took photos in the central square. Of course, the Dordogne region is known for foie gras, so I didn't forget to buy that as a souvenir. There are many charming villages in Dordogne, and I have visited many times. Every time, I look forward to buying the local foie gras. This time was no exception.
I stayed for just under an hour. I was feeling well, and since there was still time for sightseeing, I plan to visit another village, which has been chosen as one of the most beautiful villages in France since 2017. It's about 40 minutes away from Monpazier.
For more information about the village, please see below.
---
Monpazier:
Monpazier is a commune located in the Dordogne department, which is part of the Nouvelle-Aquitaine region in southwestern France.
Bastide Town: Established in 1284 by King Edward I of England, Monpazier is a prime example of the "bastides" that were built during the Middle Ages in southwestern France. Bastides are fortified towns that were designed following a regular grid pattern with a central square. They were built during the 13th and 14th centuries, mainly in the regions that witnessed conflict between England and France.
Historical Significance: Recognized as one of the most beautiful villages in France ("Les Plus Beaux Villages de France"), Monpazier has retained its original layout and architecture remarkably well. The central Place des Cornières, surrounded by old stone houses with arcades, is a major attraction.
Attractions: The town has a number of notable buildings including the Church of Saint Dominique, built in the 13th century, and the House of the Doyen, which dates back to the 17th century.
Cultural Events: Monpazier hosts several events and markets throughout the year, adding to its vibrancy and attractiveness to both locals and tourists.
Dordogne Department: Located in the Nouvelle-Aquitaine region, the Dordogne department is renowned for its rich history, prehistoric caves, fortified 'bastide' towns like Monpazier, and beautiful river landscapes. It's also a hub for gastronomy, especially truffles and foie gras.
Nearby Attractions: The Dordogne region is replete with castles, medieval towns, and caves. Château de Biron is just a short drive away from Monpazier and is worth a visit.
If you ever get an opportunity to visit this region of France, Monpazier and its surroundings in the Dordogne offer a delightful dive into history, culture, and natural beauty.
---