Visit date: September 20, 2017, overnight
I went around Switzerland and France for about 3 weeks as a paid vacation from my previous job, and I visited the most beautiful villages in France for the first time in 7 years since 2010 when I started the tour. From this time onwards, I'll introduce some of the villages I visited.
What's Conques like?
Conques is a picturesque village located in the Aveyron region of southern France. It is situated along the steep slopes of the Dourdou River and is recognized as one of the "Plus Beaux Villages de France" (Most Beautiful Villages of France).
Founded in the 7th century, Conques was a significant stopover point on the medieval pilgrimage route to Santiago de Compostela in Spain. Today, it remains an essential stop for modern-day pilgrims and tourists alike, who come to appreciate its rich historical and architectural heritage.
One of the most notable landmarks in Conques is the Abbey Church of Sainte-Foy, a Romanesque masterpiece built between the 11th and 12th centuries. The beautiful church, a UNESCO World Heritage Site, boasts intricate stone carvings, remarkable stained-glass windows, and stunning golden artifacts such as the "Statue-Reliquaire de Sainte Foy."
Another reason to visit Conques is the village's charming architecture, featuring narrow stone-paved streets, half-timbered houses, and beautiful gardens. The settlement has been meticulously preserved, and visitors often feel like they have stepped back in time.
In addition to its beautiful architecture and historical significance, Conques is an ideal starting point for exploring the picturesque countryside of the Aveyron region. Visitors can enjoy a variety of outdoor activities, such as hiking, cycling, and fishing in the area's scenic rivers.
In conclusion, Conques is a must-visit destination for anyone seeking a beautiful and historic experience in southern France. The village's preserved medieval charm, stunning Romanesque architecture, and breathtaking natural surroundings make it a truly enchanting and captivating location.
First visit to the Aveyron treasure "Conques" in 7 years
The first village is Conques, in the Aveyron department. I told you last time that I revisited mainly Corrèze and Dordogne, but this place is a bit far from them, in Aveyron. But this department is also a treasure trove of beautiful villages. It is no exaggeration to say that Conques is one of the most beautiful villages among them.
https://www.yuu-koma.jp/?p=3521
When I visited the village 7 years ago, it was at dusk and I was taking a video while entering the conch. As soon as I saw the view of the village, I was so moved and excited by the beauty of the place that it was left on the video I took at that time.
The name "Conques" comes from the fact that it was built on the slopes of a valley in the shape of a shell (Coquillage). Conques was at its most prosperous in the 11th and 12th centuries, when an abbey was built here. They coincide exactly. This is the period in which the major works of Romanesque architecture of great value were created.
The charm of Conques is its buildings made of limestone yellow and greyish-red stones, which attract travellers. The abbatiale Sainte-Foy in Conques is one of the components of the World Heritage Site "Pilgrimage Route of Santiago de Compostela in France". The abbatiale Sainte-Foy is the symbol of the city. This beautiful Romanesque church is one of the most beautiful churches in France.
Things that have changed or have changed since seven years ago
What's changed.
First of all, the number of tourists. Konkuk was famous as a beautiful village crowded with pilgrims seven years ago, but as far as I could see at that time, most of them were probably individual tourists. However, when I visited this time, I saw many group tourists. And I think that every hotel was almost full.
I stayed at the hotel in front of the Sainte-Foy church 7 years ago without any problem, even though I didn't make a reservation. It was a very nice room and not expensive. (I guess it is expensive for a hotel in this area…)
By the way, this is the hotel where I stayed at that time. It is the place on the right.
This time it was here. The price was higher but the comfort was not so bad. 7 years ago was better.
I also heard that the number of Japanese tourists is increasing. Nowadays, Conques is listed in the "Chikyu no Arukikata", or maybe JTB has created a tour that includes "Saint Cirque Lapopie", the most beautiful village in France that also represents Aveyron, although it is not close to Conques.
By the way, this is Saint-Cyr-Lapopie. This village is also one of the most beautiful villages in France.
Then there was parking. I think back then you could park on the street as normal, just past the main street in the village. I think it was free. Now, however, you can't park inside the village, and there is another large parking lot at the entrance (exit) of the upper side of the village, either at Long Po Wan, which is between the entrances to the village, or outside the village, around the road that runs overlooking the village.
There is a man in the village who watches from 9:00 am to 6:00 pm, and you can pay him some euros. I remember that there was a parking lot near the entrance of the first village, Lompoin, where there was enough space for a big tourist bus. Group tourists seem to use this parking lot. However, the width of the road to the village is quite narrow and the slope is steep, so it's amazing that a bus can climb up…
Things that don't change.
It is, after all, this scene. I'll show you some of the photos from 2010.
It is the best view from here.
However, the shooting place was different from seven years ago. Was it moved though there was a space where it was possible to take a picture stopping a car in any way even then?
It's always beautiful… I want it to stay like this forever.
Meeting in Conch
Well, 7 years ago, I was having dinner at a hotel in Conch. While most of the people around me were Western tourists, there was only one other Asian tourist besides me. It was a couple older than me and we were seated next to each other. I could hear their Japanese, so I knew they were Japanese immediately, but I thought, "Wow, there are rare Japanese people who come here?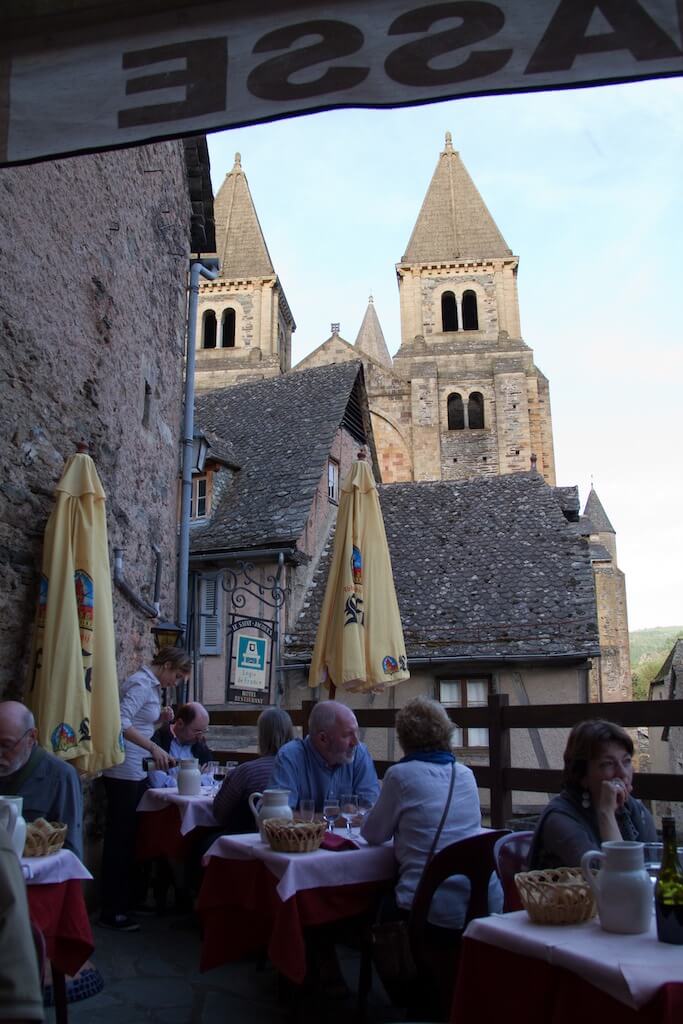 "Are you a local? "Are you on your own? "Is he a regular guy?" and so on. I was happy because I had been traveling without much conversation, and I also like to talk, so we talked a lot, and we hit it off.
What was particularly impressive was that when I told him that of course I was coming here by car, he said he had no idea how on earth he could drive a manual car while looking at a map alone. That's right, in those days, the Google Maps navigation system that we now take for granted had not been released, and we had to drive while looking at a paper map or a Michelin map bent in various directions. In the countryside, place names were small and difficult to understand, so even the non-driving passenger had a hard time navigating. He was very surprised that he could do it all by himself.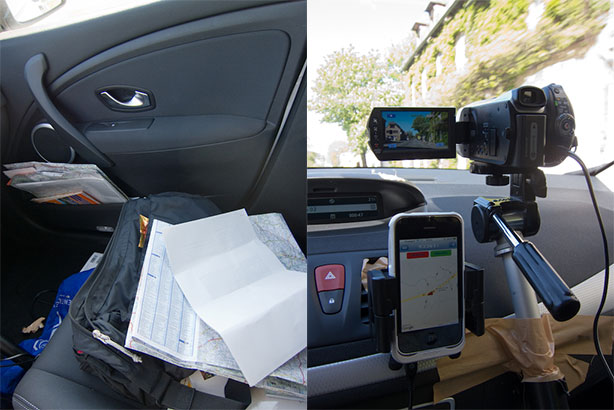 2010 was also the year when the rental of MiFi, which is mobile Wi-Fi, started (it is the whole body of Imoto's Wi-Fi now), so I could use my smartphone abroad, but at that time, there was still no overseas Pake-hodai. Imakoko Now I miss it. As you can see, I put a lot of maps on the passenger seat and drove while picking them up and looking at them each time. In addition, I was actively taking videos. I was really busy lol.
And with that in mind, we had dinner at a different hotel than we did then. To be honest, I didn't remember what we had 7 years ago, but I still clearly remember only the scene and situation of the meal.
We met and had dinner with this couple again in Salla, as our travel itineraries were roughly the same. We also shared a meal together in Toulouse in 2014, also during our mutual trip to France. We haven't loved each other since then, but we are still dear friends who love to drive in Europe.